'If you step out and take a walk on the streets, you will see hundreds of people like me.'
'They relate to me. I am their representative.'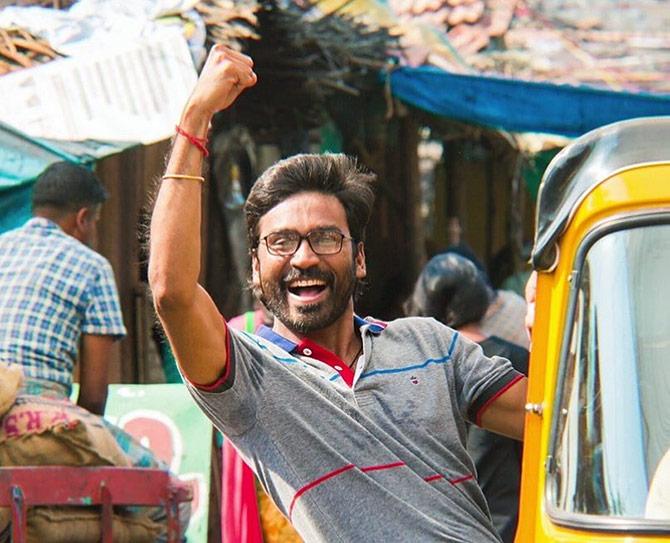 IMAGE: Dhanush in VIP 2.
Even as Kajol had butterflies in her stomach, Dhanush enjoyed working with her on their new film, VIP 2.
A sequel to the cult Tamil hit Velai Illa Pattadhari, it has been directed by Dhanush's sister-in-law and "best friend" Soundarya.
Besides acting in it, Dhanush, who has also scripted the film, discusses VIP 2 in some detail with Rajul Hegde.
How did you get Kajol on board?
After I finished writing the script, I felt that only someone like Kajol ma'am could pull off Vasundhara's role. So we thought why not rope her in?
We knew that she hadn't done a film in another language in 20 years, but we did not want to give up without trying.
We narrated the script to her and she decided to do it purely on its merit.
That gave us more confidence about the script.
I don't think any other actress would have pulled off Vasundhara's character the way she did.
She was perfect for the part, so we did not have to make any changes.
We are happy with the way the film has shaped up.
She is a spontaneous actor, like me.
Which of her films have you liked?
I grew up watching Kajol ma'am's films. Gupt, Fanaa, Dilwale Dulhania Le Jayenge are my favourites.
It was great to work with such a talented and seasoned performer. It elevated my performance as well.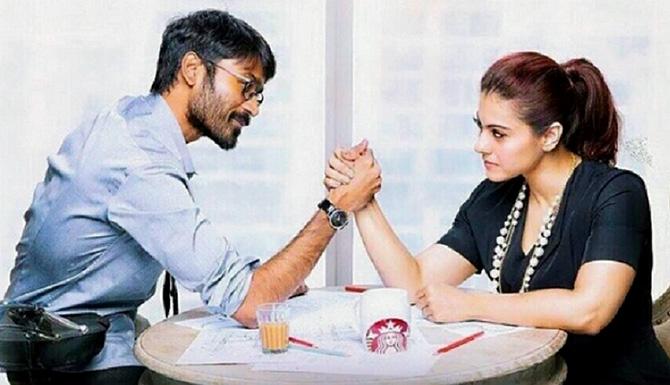 IMAGE: Dhanush and Kajol in VIP 2.
Did you get intimidated by her?
No. I am a very confident actor, so I have never been intimidated by anyone.
I have faith that I can do justice to the characters I play.
If somebody is better than me, I learn from them quickly and try to match up. (Smiles)
VIP 2 will be dubbed in Hindi. How much things have changed for you since you worked in Raanjhanna and Shamitabh?
I am still in the process of learning the language.
I want to learn, but it's difficult to learn a new language after a certain age.
I can pick up words here and there. I can understand 50 per cent, but speaking it is difficult.
Films have a wider market now. Language is not a barrier. Only content is important.
That is a very healthy and necessary change.
Both Baahubali and Dangal have set great examples.
What Dangal did internationally was phenomenal.
Even when I was shooting for my Hollywood film, the crew was talking about Dangal.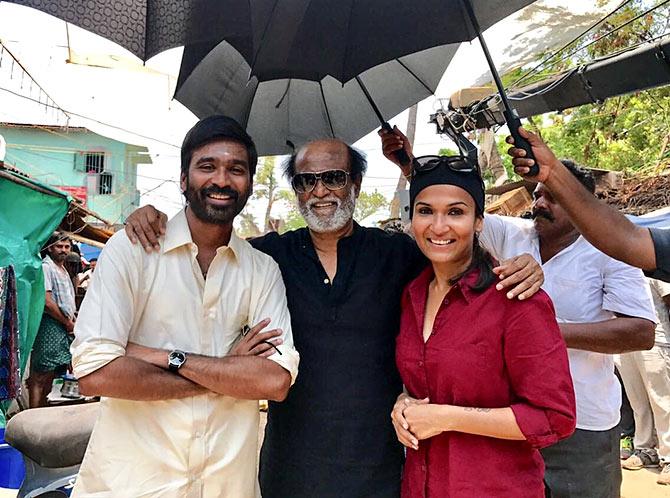 IMAGE: Rajinikanth visits his daughter Soundarya and son-in-law Dhanush at the wrap-up of VIP 2. Photograph: Kind courtesy Dhanush/ Twitter
What was it like working with your sister-in-law Soundarya, who is the director of VIP 2?
Soundarya also happens to be my best friend.
As an actor, communicating with her was easier because we have known each other for the last 15, 16 years.
I have seen her develop as a filmmaker, so I know her strengths.
I had fun working with her. I am not going to lie; the writer (Dhanush refers to himself) and the director kept fighting, but the actor was obedient (smiles).
After Raanjhanaa's success, people expected you to take up more Bollywood projects.
I have a very unique look (pointing at himself).
I have to choose my roles carefully.
I know my strengths and weaknesses.
Therefore, I have to wait for the right script so that I can see myself in that role. But I will do something soon.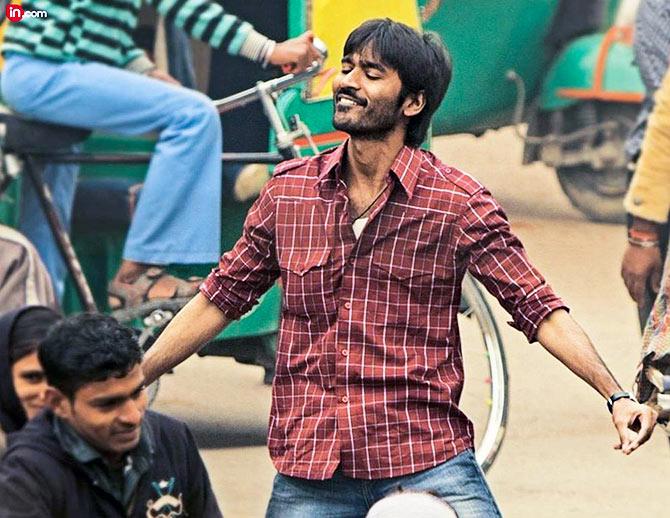 IMAGE: Dhanush in Raanjhanna.
Will you bulk yourself like Prabhas or Rana Daggubati did in Baahubali?
I feel my physique is my strength.
If you step out and take a walk on the streets, you will see hundreds of people like me.
They relate to me. I am their representative. (Laughs)
I might take up Aanand L Rai's next project once he wraps up the Shah Rukh Khan starrer.
Actors like Rajinikanth, Chiranjeevi, Mammootty, Venkatesh and Mohanlal tried their luck in Bollywood, but it didn't work out.
Some superstars and directors chose to stay there and focus on the specific language even though they were offered many films here.
You can't conclude by saying nobody clicked. Some clicked, some didn't. Some choose not to, even though they had successful films.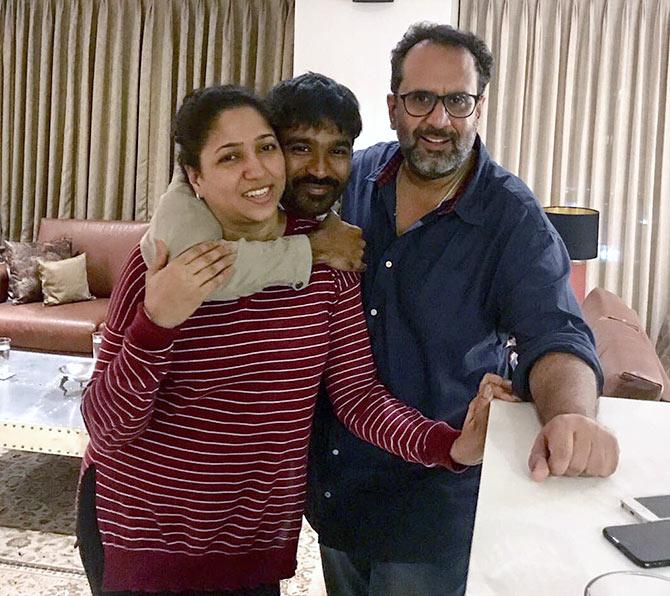 IMAGE: Dhanush with Aanand R Rai and his wife. Photograph: Kind courtesy Dhanush/Twitter
Which Bollywood directors would you want to work with?
I have already worked with two of my favourites -- Aanand L Rai and R Balki.
Next, I would love to work with Raju Hirani. He has inspired me a lot.
Every time I watch his films, I feel life is beautiful. We have to applaud him for spreading positivity through his films.
Do you want to be known as a star or as an actor?
I want to be both. There is a thrill in being called a star. (Smiles)
Tell us about your Hollywood film, The Extraordinary Journey of the Fakir.
It was a completely different world.
It was tough adapting to a new world, new method, language, culture... but once you crack that, it's great fun.
I learnt a lot as an actor, director and technician.
This character of mine (of a street magician) travels to different countries. So I got to see different cultures, food and people.
There are some amazing performers like Berenice Bejo and Barkhad Abdi. It was a great opportunity to learn from them.
I plan to collaborate and produce English films in future.