'I don't know if I am the youngest, but I must be the happiest!' Riddhi Sen tells Subhash K Jha.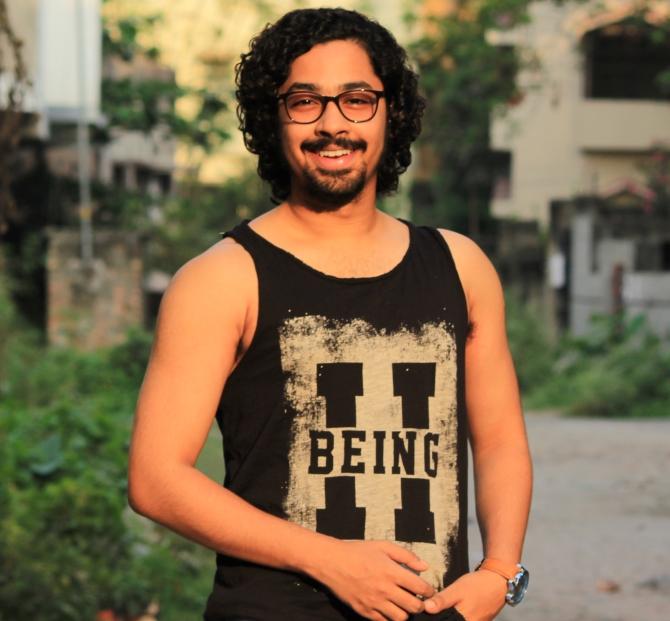 The 65th National Awards has honoured 19-year-old actor Riddhi Sen for his performance as a transgender in Kaushik Ganguly's Nagarkirtan.
No stranger to awards and recognition even at this young age, Riddhi is overjoyed at being the youngest actor to win the National Award in the Best Actor category.
"I don't know if I am the youngest, but I must be the happiest!" Riddhi exclaims.
"I was shooting for a film when I was informed that I had won a National Award. So I celebrated in the best way possible -- by working!"
"My mother always taught me that hard work is the only means to achieving one's ambitions," says Riddhi.
"Acting is all I have known from my childhood."
Riddhi, who is born in a family of theatre and film actors, started his acting career when he was 11.
"I was doing theatre in my father (stage and film actor Kaushik Sen)'s theatre group (Swapanasandhani) from long before that."
At 15, Riddhi was honoured with the West Bengal government's prestigious award -- the Mahanayak Samman -- for his performance in Open Tee Bioscope.
Riddhi rejected the honour on political grounds. Isn't he too young to be mixing art with politics?
"I don't agree," he replies. "Politics can never be separated from art in our country, no matter what an actor's age."
"I said no to that honour because first, I didn't think I was worthy at that young age of an award named after the great Uttam Kumar. Secondly, there was a lot of things in West Bengal's politics that I didn't like."
Chief Minister Mamata Banerjee must have been very upset?
"She still is, I think. But one has to be fearless in what one does. Otherwise, I'd have never accepted the challenge of doing Nagarkirtan," he says.
About his National Award-winning part in Nagarkirtan, Riddhi says, "Not for a moment did I consider rejecting the part just because it was unconventional."
"What is the point of being an actor if you don't dive into personalities that are unknown to you?"
Riddhi says he played the transgender in Nagarkirtan as a woman rather than an unfinished woman.
"I studied the mannerisms and grace of my mother who is my greatest influence, and my girlfriend. I imbibed their personalities and made sure I didn't mimic them," says Riddhi.
"I never thought of the impact that the character would make or that I'd win a National Award for it."
"One doesn't do a role after assessing its influence. One does it because it is there waiting to be brought alive."
Rituparno Ghosh, family friend and the late and much missed film-maker, went through a struggle similar to the character in Nagarkirtan.
"Our family was very close to him. I did observe him. But like I said, I played my character as a woman, not as man struggling to be a woman. The film and the character are very relevant because of what is happening in the character," Riddhi says, referring to Article 377.
Any ambitions to be in Bollywood?
"I have done parts in Sujoy Ghosh's Kahaani, Omung Kumar's Bhoomi and in Leena Yadav's Parched, where I played Tannishta Chatterjee's wayward, sexist, son," he says.
"These were not large parts in terms of footage, but my mother has always taught me to look at the larger picture," he says.
"Being in significant films is more important than counting the number of scenes and shots I have."