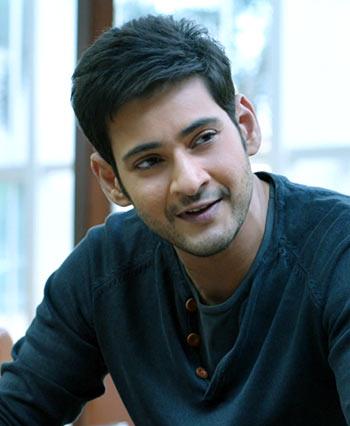 Koratala Siva has come a long way since he first rose to fame with Mirchi, the Prabhas starrer action drama that he had scripted and directed.
Before turning to direction, Siva had written dialogues for Brindavanam, Munna, Okkadunnadu, Oosaravelli and scripted Bhadra besides the current blockbuster, Srimanthudu with Mahesh Babu in the lead.

While Srimanthudu continues its exceptional run at the box office, Siva speaks to Rediff.com's Radhika Rajamani in an exclusive interview about his cinematic journey so far.
What is your reaction to the success of Srimanthudu?
I was a bit nervous initially though we had worked hard.

The result has been better than we had expected. We are receiving appreciation from all corners, from people from all walks of life.

Reward makes us work with renewed energy. It has made me responsible. I can write better now.
How did the idea of Srimanthudu come about?
It was started with the idea of giving something back to society.

I thought if I could write a story on those lines without being preachy, it'd turn out to be entertaining.

So I developed the character of Harsha and made it realistic. The character is the black sheep of his rich family.

He doesn't attend parties and is quite the thinker.

Harsha is an intelligent and capable guy who is waiting for something to happen in his life. I wanted him to do a strange thing -- a total contrast to what he is and he lands up in a village and adopts it.
Did you think of this as a risky proposition, especially after you had superstars Mahesh and Jagapathi Babu onboard?
I found the story engaging. I found it had commercial value.

There is a clash of thought between the father and the son. Both the actors loved it when I narrated it to them. They did not see it as an experiment.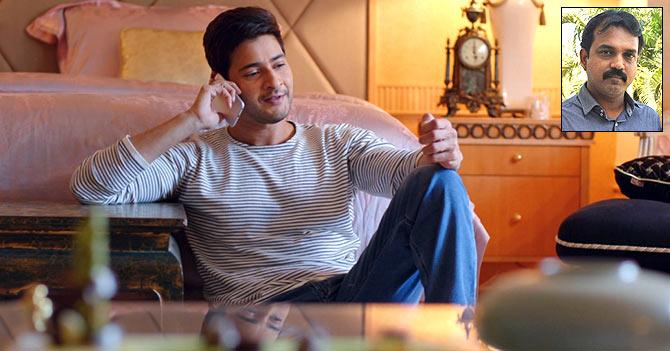 Image: Mahesh Babi in Srimanthudu, inset director Koratala Siva
Were there any people who inspired you to write such a film?
There were many strong people. I found many optimistic people as well.

Among the older generations, I found positive thinking people and not those who felt the world is doomed.

There are people in business who are giving back three fourths of their wealth.

I felt they were the heroes. All this was at the back of my mind. I brought all these ideas into the script.
At what stage did you narrate the story to Mahesh?
I gave him a 45-minute narration with details and characterisation. He loved it. He found it engaging and told me to develop it further. Then I began the detailing.
Did you think of casting Mahesh in the lead before scripting or after you wrote some part of the script?
When I began writing, I had no actor in mind. When the core emotions developed, I felt Mahesh would be apt and I knocked at this door.

When I got his reaction I developed it keeping his image and style in mind.
It is not often that one sees a meaningful film in Telugu cinema. You achieved to make one with commercial elements...
It is about the younger generation. They are not materialistic. They are mature. They are making their parents think.

In the olden days it was all about earning a living and saving up enough for the future.

Now everyone is into philanthropy.

Incomes and the standard of living have improved.

The mentality has changed. The world is like a global village now. The way of thinking has changed quite a bit too. So I felt that the script will not bore people.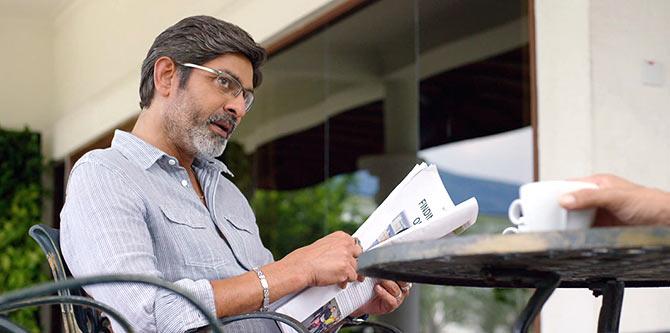 Image: Jagapati Babu in Srimanthudu
How did you decide to cast Jagapati Babu as the father and Rajendra Prasad as the brother?
The father is a billionaire. He has to have a mixture of a tough attitude and style quotient.

He is someone of stature.

There are many discussions between the father and the son. I thought Jagapati Babu was the best fit for the role.

I was hesitant since he isn't very old. He wanted me to narrate the script first.

After hearing it, he told me that he was ready. As far as Rajendra Prasad's character is concerned, I wanted someone who people believe in and look up to. So I felt Rajendra Prasad was the most suited for the part.
The pairing of Mahesh and Shruti Haasan was good and their chemistry worked. How did you decide on Shruti?
I wanted a confident woman for the part. To pair with Mahesh, the girl also needed to be glamorous, beautiful and independent, and Shruti met all our requirements.
You seem to have inspired many from the young to the old with your rural development angle...
The intention was not to give a message. I did not want to be preachy. The character Harsha can inspire people (while Mahesh performed intensely). Many people got inspired and I got personal comments about this also. People thought about giving back also!
Are you enjoying the success?
I am enjoying it in my own way. I am nervous to go back to the basics. I have to pick up new emotions. The responsibility has increased.
Have you started working on your next project?
Not yet.
What made you get into film direction?
I am passionate about cinema.

But getting into this industry was by sheer accident.

I watched films and I loved telling stories. I was into writing in college.

Since I was interested in writing, I turned a writer as one of my relatives -- Posani Krishna Murali -- was an established writer in films.

I assisted him and learnt the basics and then I started writing for films for a while before becoming a director.
You worked with two big stars Mahesh and Prabhas (in Mirchi). How was the experience working with them?
When I was watching them on screen, I used to think they are big and it would be tough to travel with them.

When I turned to direction, I found they were grounded and natural. They are lovely people and make you feel comfortable.
What do you find more challenging -- writing or directing?
While direction is physically stressful, scripting is more challenging.