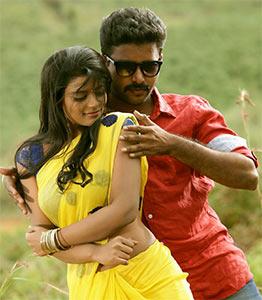 Debutant director Caarthick Raju's Thirudan Police starring Attakathi Dinesh and Iyshwarya Rajesh hit the screens last weekend.
A well written, well-executed, feel good comic entertainer, the film got positive reviews from both critics and movie buffs.
The film is co-produced by SPB Charan in association with J Selvakumar of Kenanya films and has music by Yuvan Shankar Raja.
In this interview with S Saraswathi, director Caarthick talks about his refreshing take on a regular revenge saga, the performance of his lead actors and giving up a very successful career as a computer graphics expert to fulfill his long cherished dream of directing his own film.
Your film has been receiving rave reviews. How does that feel?
I feel very happy, very excited. I took a huge risk getting into this industry.
For 14 years, I specialised in Computer Graphics and visual effects, working with top directors in over a 100 films.
I am in my 40s and have two daughters aged 7 and 12. Giving up a job that I had worked hard for, a job in which I was well settled and had earned a good reputation was not an easy decision to make.
I was in a crucial period in my life and my friends cautioned me against the risks in this highly unpredictable and uncertain industry.
My mom and wife supported and encouraged me all the way. They never doubted my capabilities and wanted me to go ahead with my dreams. They deserve all the credit for this success.
If you were so apprehensive, why take the risk?
The world of cinema has always fascinated me.
As part of my job, I used to visit shooting locations to coordinate and advise the technical team and actors about the effective application of visual effects and computer graphics in their films.
I watched how they worked and was totally hooked. Slowly my interests grew into a passion, a dream, and I started working on a script.
It was not a spontaneous, overnight decision; I worked on scripts for three long years, before taking the decision to quit my job and concentrate on making my dream into a reality.
How did you get SPB Charan to produce your film?
For six months, I struggled to get someone interested in my project. Selvakumar of Kenanya Films is a close friend. He heard about my predicament and agreed to be part of the team.
But it was only when SPB Charan, who at that time was looking out for interesting scripts, agreed to be the co-producer that things finally started looking up.
Thirudan Police was not a film that SPB Charan would normally commit himself to; he has an impressive list of critically acclaimed films.
I believe it was the climax of the film that got him really excited. Though a regular revenge drama, he enjoyed my narrative technique and treatment of screenplay.
Once he was on board, he took on the entire responsibility. I had no previous experience, had never worked as an assistant director, but he trusted me and believed I could do it. He gave me a free rein and never interfered with my work.
The climax and humour seem to have worked big time for the film.
I believe that we need to have a certain responsibility in portraying a character. We cannot deviate too much from what is realistically possible.
My character was a lowly police constable. Even if it is the climax, I did not want to show him decimating the villain, who was a much higher-ranking official. It would create a negative impact.
Also, a mass hero like, perhaps, Vijay, who I worked with in Pokkiri, could make it look authentic, but a constable suddenly taking on the Commissioner would be a little hard to digest.
There is a lot of negativity attributed to our Police Department. I wanted to focus on the positives. So I deviated from the regular climax, giving it a funny twist, which I think worked for me.
Did you write the script with Dinesh in mind?
I was very impressed with Dinesh's performance in Attakathi. I thought he would be perfect for the character I had in mind.
In the initial days of the shoot, Dinesh was under tremendous strain. He joined us four days after completing work in Cuckoo and it was extremely difficult for him to keep his eyeball straight.
He was committed to the project even before Cuckoo, and since we had already waited six months, he did not want to delay us further.
Another thing that impressed me was that Dinesh did not mind taking a back seat. Though he played the lead role, Bala and Rajendran had equally significant roles.
He was always appreciative of their efforts, totally comfortable with sharing the limelight.
Both Bala and Rajendran have been appreciated for their performances.
Rajendran has a specialty. He can be equally impressive as a terrifying villain as well as a bumbling wimp with undercurrents of humour. I enjoyed his performance in Boss Engira Bhaskaran.
Bala impressed me with his excellent performance in the short film, Pannaiyarum Padminiyum, in which he had essayed the role of Vijay Sethupathi.
Iyshwarya Rajesh had little to do in the film.
Initially, she did have a substantial role. But we wanted to tighten the second half and were forced to trim several scenes. Unfortunately, many of her scenes had to be cut.
In fact, we even debated whether to use the Moodupanikkul number, but in the end decided to retain it.
You say you have worked for over a decade in computer graphics, why did you not make a film in your line of expertise?
Making a film using computer graphics is not easy. It involves a lot of time and a huge budget. This being my first film, I cannot expect to get that kind of commitment.
Also, since I have specialised in this field, people would expect something truly spectacular.
I love comedy. Most of my scripts, I wrote with Santhanam in mind, building the story around the comic elements.
I knew I would be comfortable working with comedy. This being my first film, I wanted to do a good and honest job, keeping things as simple as possible.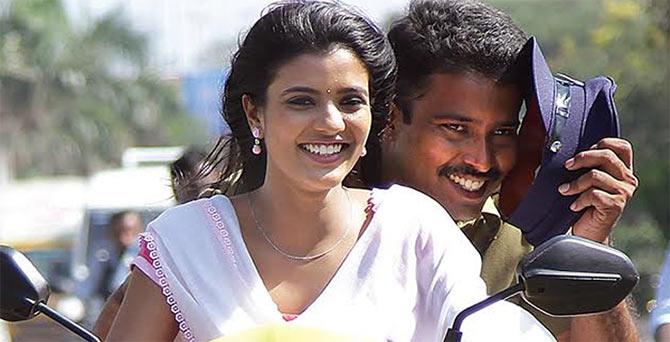 As a debutant director, what challenges did you face?
Fortunately for me, once I had the backing of the producers, things were quite smooth sailing.
I was working amidst friends. Selvakumar is a long-time friend. I have worked in a couple of films with SPB Charan previously and Yuvan is his close friend. He agreed to compose the music.
Then later, Vijay Sethupathi, who is a friend of Dinesh, very sportingly agreed to join us for a cameo. SPB too agreed to appear in a crucial scene.
This film would not have been possible without the support of friends.
The closing credits, too, seem to have made an impact with the audience…
Editor Praveen deserves credit for this very innovative idea.
The film explores the bond between a disciplinarian father and a good-for-nothing son, who eventually comes to understand his father.
Pravin suggested we post individual pictures of the entire cast, as well as the technicians, with their fathers, along with the end title.
Regrettably, and quite surprisingly, many of us did not have the pictures, including myself.
We did have pictures with our mothers, but not our fathers.
This concept added a nice touch. I wanted the audience to go back with the bittersweet memories of the times spent with their fathers.