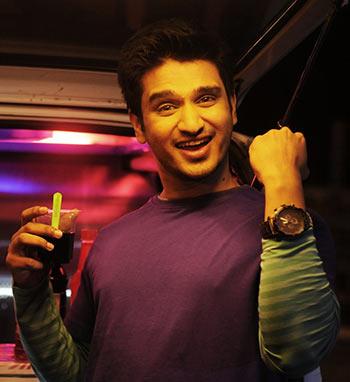 'My character in Surya Versus Surya cannot come out in daylight.'
Actor Nikhil Siddhartha talks about his latest film.
With back-to-back hits in Swamy Ra Ra and Karthikeya, Nikhil Siddhartha is on a roll.
He hopes to complete a hat-trick with Surya Versus Surya, directed by first-time director Karthik Ghattamaneni, who is a director of cinematography (DOP).
The film will release on Thursday, March 5.
In this interview with Rediff.com contributor Radhika Rajamani, Nikhil talks about Surya Versus Surya and his future plans.
How did you come to sign Surya Versus Surya?
I was introduced to director Karthik through my earlier director Chandu Mondeti. He was the DOP of my earlier film Kartikeya.

During the shoot of the film, I noticed his skill. One night I sat and watched his short films and I liked his work.
He narrated the story of Surya Versus Surya when we were shooting in Kumbakonam. I liked it.
You are looking for meaty scripts these days.
Yes, I believe the film starts with the script. If the base is strong, the film will be good.
In the last two years, I must have got 90-100 scripts. I chose just two (Swamy Ra Ra and Karthikeya).
The film deals with a genetic disorder called porphyria...
It is a rare disorder -- one person in one crore suffers from it.
Karthik (the director) had read a news item about it and developed the story around that.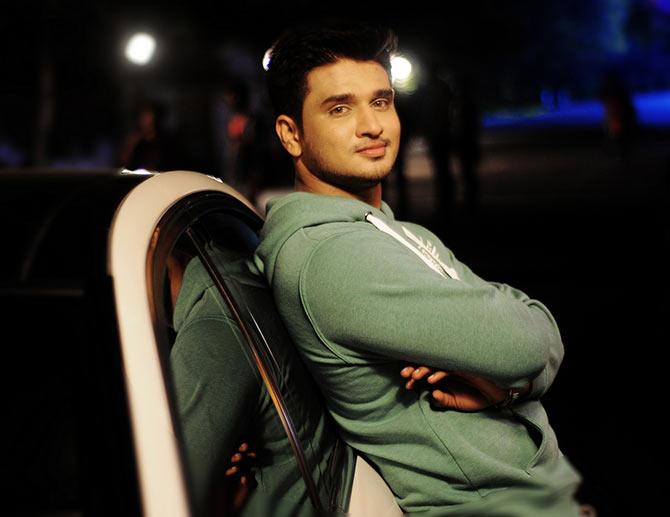 Nikhil Siddhartha in Surya Versus Surya
Is it true the character you play cannot stand daylight?
Yes, he can't come out in the day time.
He is a lonely person till the girl comes into his life. He has low self-esteem and is a negative guy.
Once the girl comes in, things change. There is a transformation in his character and he begins to enjoy life.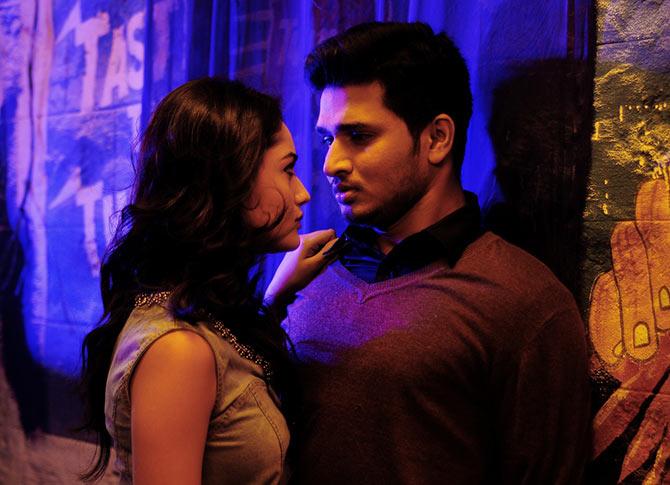 Nikhil Siddhartha and Tridha Chowdhury in Surya Versus Surya
How do you prepare yourself for your roles?
In Karthikeya, I had to put on weight in order to look strong. In this film, I had to look like an 18-19-year-old innocent, so I had to lose weight.
I shed 10 kilos by cutting down on carbs and having more carrot, cucumber and fruits.
Did you do any research on the disorder?
Yes I did, like I did for playing the medic in Karthikeya.
I learnt that some people tan when they are in the initial stages of the disease and some burn in the later stages of the disease.
I play a racer in the film so my director asked me to go to Runway 9 and Go-karting at night.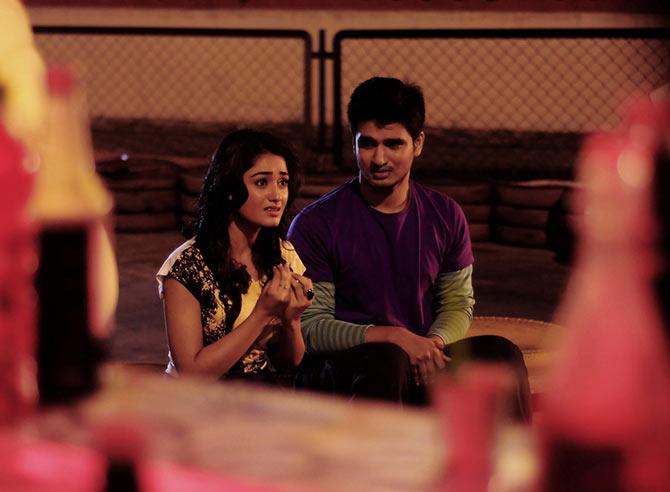 Nikhil Siddhartha and Tridha Chowdhury in Surya Versus Surya

Is Surya Versus Surya a romantic entertainer?
Yes. I have not done this genre before. This film is a pure love story with comedy.
There is no villain -- the sun is the villain! I am fighting the disease and fighting against the sun!
How did you get on with Madhu (of Roja fame)?
She plays my mother and she's very good looking!
We needed someone with personality, who has a son dealing with a strong problem.
She rocked in Roja. I used to see all her films when I was young. I am lucky to have acted with her.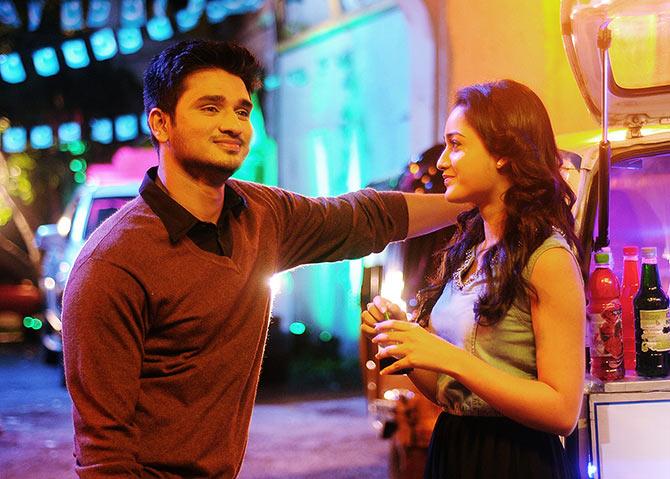 Nikhil Siddhartha and Tridha Chowdhury in Surya Versus Surya
You share space with Tridha Chowdhury...
She has done four or five Bengali films. She has signed a three-film contract with UTV and has done ads for Santoor, Clean and Clear etc.
My director thought she was apt as Sanjana, the character she plays.
She looks like a kid and is talented. She lights up the screen.
How was Karthik as a director?
Karthik would tell us how to act. Generally, when a cinematographer is a director, he focuses on the shot, but Karthik concentrated on extracting performances from us.
What's next on the agenda?
I will go to Tirupati to offer my hair, maybe the day after the release of the film.
I want to do a short acting and film course from the New York Film Institute sometime in May-June.
There are many movies in the pipeline which I will announce later. Right now it's only Surya Versus Surya.