'We may have played a small part, but being a part of the film that has won the prestigious award Palme d'Or is definitely a great honour.'
Suresh Balaje and George Pius, who own the Wide Angle Creations, were the line producers on the French film Dheepan that won the top prize at the Cannes International Film Festival.
French film Dheepan won the highest prize -- the Palme d'Or -- at the recently-concluded 68th Cannes International Film Festival.
Directed by French director Jacques Audiard, the film narrates the poignant tale of three Tamil refugees thrown together in the aftermath of the Sri Lankan Civil War, trying to make a new life in a new country, while pretending to be a family.
The film has two Indian connections: Chennai-based theatre artiste Kalieaswari Srinivasan, who plays the female lead, and the Indian production house Wide Angle Creations, which collaborated on the film.
In this conversation with Rediff.com contributor S Saraswathi, the enterprising duo behind Wide Angle Creations, Suresh Balaje and George Pius talk about their experience in Cannes, working with a French crew.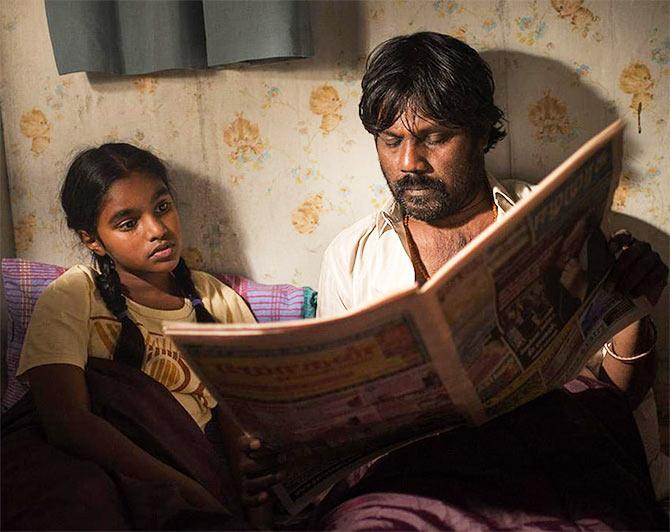 Image: A still from Dheepan
On winning the coveted Palme d'Or
Suresh Balaje: It feels fantastic. Even being selected for the official screening in the competition section of the festival is a matter of great pride.
And winning the award was incredible. In fact, we did not know about the award till we returned and got a call saying the film had made it.
This was my second trip to Cannes. I had attended the event in 1999, when director Shaji N Karun made Vanaprastham with Mohanlal, my brother-in-law. He was also the co-producer of the film. It was an Indo-French co-production. Vanaprastham had been selected in the Un Certain Regard section (the non-competitive section) at Cannes.
In Dheepan, we were the line producers. We may have played a small part, but being a part of the film that has won this prestigious award is a great honour.
George Pius: When we first got a call that the film was selected for the competition, we were busy with pre-production work for Kamal Haasan's new venture Thoongavanam.
Since we had been a part of the film, we wanted to be at the official screening, celebrating with all the people that we worked with. So despite the hectic schedule, we made the trip.
For Jacques Audiard, this was the third time that his film has been selected in this category. His earlier films, A Prophet and Rust and Bone were part of the official screening, but it was finally Dheepan that won him his first Palm D'Or.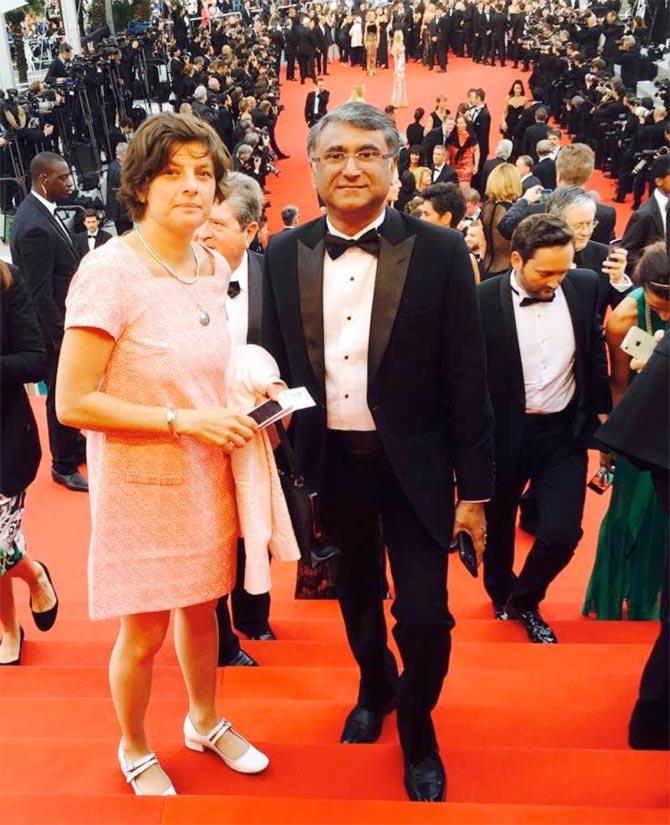 Image: George Pius with a guest on the red carpet at the Cannes Film Festival
The Red Carpet Experience
Suresh Balaje: I had seen it all once before, but it was much bigger than I remembered.
I knew that Jacques was a popular director in France, but was totally stunned by the kind of respect and ovation he got, both before and after the screening.
We were already in the theatre when Jacques walked in with the main actors. There was this camera that was showing you what was happening outside with hundreds of photographers and the paparazzi going crazy.
After the screening, there was a standing ovation, which lasted for a few minutes. It was a continuous applause with Jacques removing his hat and throwing it to the people, holding the actors' hands, acknowledging all the love and appreciation.
George Pius: This was my first experience at Cannes, and it was wonderful. Our French counterparts took very good care of us. We had two dinners with the entire group, one before the screening and the other at the after party on the day of the screening.
We walked the famed red carpet and experienced firsthand all the glitz and glamour of this prestigious festival.
But the best part was the reception the film got. We could see the euphoria and the huge expectations from a Jacques Audiard film.
The standing ovation truly moved me; I realised that I was part of a beautiful film.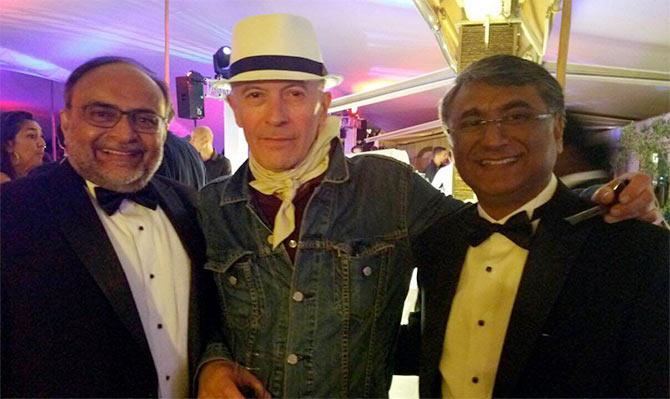 Image: Suresh Balaje, director Jacques Audiard and George Pius
Working with a French crew
Suresh Balaje: Dheepan happened because of an earlier film titled Son épouse.
We had worked very successfully on a number of projects, when, through a common friend, we were approached by a French production house. The film was to be directed by Michel Spinosa. He was here in India for a few months, researching his script.
The film had some big names. Barring the central character, an Indian actor called Janaki, it also had Yvan Attal and his partner in real life, a big star herself, Charlotte Gainsbourg.
The whole film was shot in and around India, with a small portion in France. They were very happy with our work, and it was through their recommendation that we got an opportunity to assist in Dheepan.
Only a small portion of Dheepan was shot here; most of it was in France. They came, we met, we had a couple of meetings in France as well, some Skype calls and things finally fell into place.
They needed our services outside France, getting location permissions, clearances, getting people organised and other details were facilitated through us.
George Pius: It was lovely working with them. They are highly organised. They come with a fixed schedule, do their homework and know exactly what the shot requires. They do rehearsals and have script reading sessions with the actors.
It was about seven or eight days of shooting. We had put up a huge refugee camp set and there was a little bit of shooting in the waters, on fishing boats.
One day we had to shoot with 300 junior artists and Jacques decided to rehearse one day and shoot the next. We had everything, including the equipment and all the junior artists in costume for the rehearsal.
The next day, when we were actually shooting the scene, each and every one knew precisely what was expected from them.
We had heard that Jacques was usually very stressed out while shooting, but when he came here, he was totally relaxed. He enjoyed the Indian experience as much as we enjoyed working with them.
Reminiscing about the past
Suresh Balaje: The traditional banner started by my father K Balaje was called Sujatha Cine Arts. That was way back in 1966.
He produced many films, Rajinikanth' s Billa and Kamal Haasan's Vazhvey Maayam among them. I worked in a few films under him as associate producer.
But Wide Angle is a fairly new company. My friend and partner, George Pius and I started this company in 2006 with the aim of catering to the corporate world venturing into cinema. We basically work as service providers to these big corporate houses.
The old family name and the years of experience in this field have, of course, been very helpful.
Our first film was Kireedam, with Reliance Entertainment, in 2007. This was followed by the very successful Yavarum Nalam, a bilingual that was released in Hindi as 13B with Madhavan in the lead.
Son épouse was our first collaboration with France as far as Wide Angle is concerned.
Dheepan came second. This will definitely open more windows for us in terms of being recognised as people who can handle foreign projects.