Kadvi Hawa has some very bad news for us all.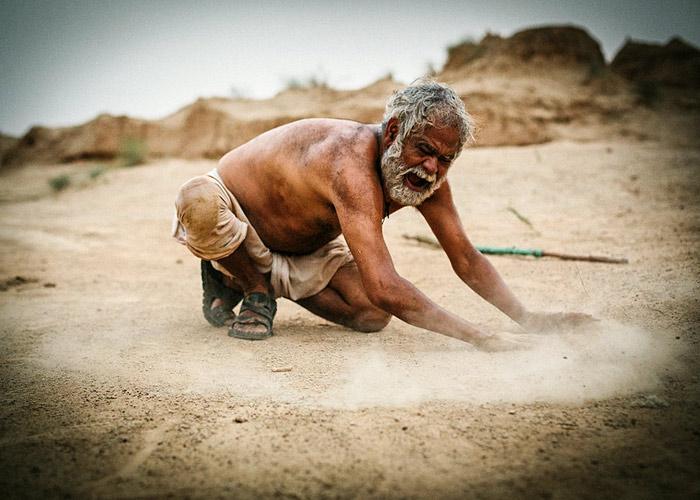 A timid, old man walks barefoot on a parched piece of land. Dressed in a white dhoti, he has no use for a shirt that gets drenched in his sweat.
The blistering heat is slowing down his stride. His aching body is fighting his existence.
The grief of not being able to see is now lost to him.
One step follows another as he treads cautiously, hoping that the length of his arms will warn him of the dangers ahead. He stops after a few yards to stare at the sun in a moment of fury. Then quickly bows down his head to offer a silent prayer to the skies. For the sake of his children, he hopes to feel the rain again.
Through the eyes of this man, India's first feature film on climate change, Kadvi Hawa (Bitter Winds), will show what degrading environment can do to the planet and its people, who have had little or no role in accelerating it.
Padma Shri awardee and filmmaker Nila Madhab Panda's take on the changing climate is a departure from how popular cinema has envisioned the cause and effects of global warming.
While documentary filmmakers continue to partner with researchers and environmentalists to explore the minutiae of nature's detrimental damage, sci-fi has transported people into a post-apocalyptic world where surviving a large-scale devastation or travelling through the cosmos to rekindle life in a new dimension are the only available options. Panda describes his film as an emotional story that will hit the people hard and then stay on with them.
Panda was shooting a documentary for Discovery in the coastal belt of Odisha -- where he was born and raised -- when he saw something that he couldn't neglect.
"I had known of a set of villages, collectively known as Sadbhaya (seven villages) in Odisha. When I went there after a few years, only two villages had survived. The elders took me to a place where they used to gather as young men. A hand pump, one of the few sources of groundwater for the villagers, was completely submerged in water," said the director, whose film I Am Kalam made the critics take notice of his storytelling abilities.
Panda says he wants the world to see climate change not through intellectual debates but as a real phenomenon.
The film revolves around the lives of two families fighting the extremities of harsh weather.
Critically-acclaimed actor Sanjay Misra brings to life the character of the visually-impaired, old farmer, Hedu, in the poverty-stricken Mahua village of Rajasthan, which once thrived on agriculture but has since dried up. The village falls under the drought-prone Bundelkhand region that includes large parts of Uttar Pradesh and Madhya Pradesh and some parts of Rajasthan.
"A blind man, who has no carbon footprint, has been chosen to show people what they have done to the planet," says Misra. "When you spend your free time by the rivers and in the mountains and witness the landscape changing, global warming becomes a personal subject," adds the actor who was raised near the banks of the Ganga in Varanasi.
On the other extreme end of the spectrum is a loan recovery agent, Gunu Babu, played by the Ranvir Shorey, who's dubbed as 'Yamdoot' in the parched villages.
'Yeh jahan bhi jaata hai, do-chaar toh latak jaate hain (wherever he goes, at least a few kill themselves)' is a passing dialogue in the film. While he's viewed as the antagonist, his back story will reveal how he's in a hurry to migrate his family from a cyclone-prone area in Odisha.
The wrath of the extreme weather that people face in India is an appalling but well-known reality. Over 300 people have been killed by the recent floods in Uttar Pradesh, Bihar and Assam, and scores of debt-ridden farmers continue to end their lives in Marathwada, Bundelkhand and other drought-prone regions.
"The problem is that people in our country get used to bad news and are unable to picture what can get horrendously worse," says Misra.
The film's visualisation will attempt to take these blinds off.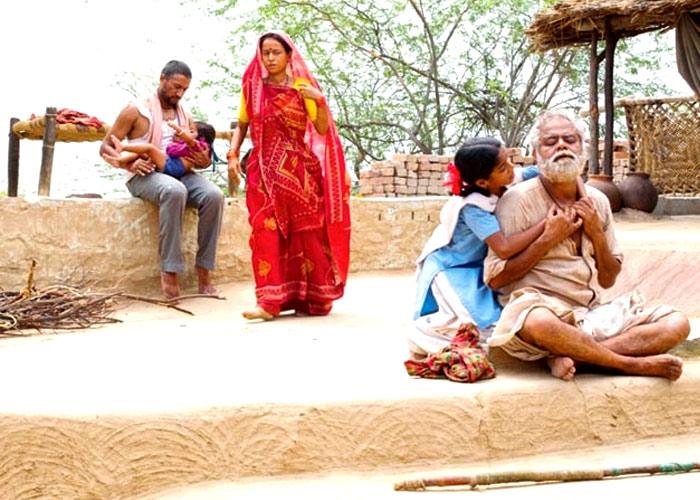 Even the tough film crew from Mumbai -- accustomed to shooting in difficult terrains -- was taken aback by the reality of the subject.
"We shot the film in peak summer with temperatures ranging from 48 degrees to 50 degrees Celsius. While our crew was reeling under the sun and we were looking for shade after each shot, there were these kids playing on the street barefoot," remembers Shorey from the shooting in Bundelkhand. "A slight increase in temperature can make it humanly impossible for these people to survive."
As it continues to become even more unpredictable, weather remains the hot topic for small talk.
"Aapke Mumbai main kaisa mausam hai? Yahan to aise hi hai, kuch had tak toh aadat ho gayi hai, ab hum kya kar sakte hain (How is the weather in Mumbai? This is how it is here, we are getting used to it, what else can we do)," Misra remembers a conversation with an elderly villager.
Kadvi Hawa is a title carefully chosen to resonate with the subject.
However, the female lead, Tillotama Shome, who plays the character of Parvati, says the story also manifests into different social issues of our time.
"Climate change is not the subject but a character in itself if you see the topography and landscape in the film. You may say the film is about climate change and I may see it as highlighting the issue of disability and poverty," says Shome.
She adds that while climate change is a very relevant subject, it's the script that made her choose the film.
The lead characters were inspired by the research that went into conceptualising the film.
Writer Nitin Dixit says he transcribed what he saw and heard for himself when he travelled thorough the districts of Bundelkhand where farmers are most perturbed by the extreme weather.
"Young men would while away their time playing cards and the elders didn't seem to mind it. In villages where the only livelihood is farming, decimated for seasons at times by chronic droughts, families say the frivolous gambling at least keeps their children from thoughts of running away or killing themselves," Dixit says adding, "Rendering the chilling realities into the script was a painful experience."
Unusual for Bollywood, dignitaries from the United Nations are throwing their weight behind the film.
Under Secretary General and Executive Director of the UN Environment Programme, Eric Solhem, attended the unveiling of the film that is set to release in November. He says that the subject will gain more prominence when it's delivered to the masses with impact.
"If you're bored knowing about something that has not yet hit you, your understanding will remain limited," says Solhem.
There's talk that the movie, which fell short of receiving a national award and had to settle for a special mention, might be screened at some UN conferences on climate change. The UN, however, has not endorsed the movie officially.
"Watching a film is not like taking a moral science lecture; there's nothing that you already don't know," says Shome. "To change the reality is not easy. Just telling the truth won't save the environment," she adds.
Diving deeper into the subject, Shorey says, "We are pushing the planet's temperature up in a way that it will react and destroy us. The time for action is now."
The actors say their work will be their contribution to saving the planet.
Kadvi Hawa is set in the backdrop of natural calamities, but does it go further? Panda says it's not his job as a filmmaker to offer a solution to this global concern.
"The subject is dear to me, but I also want the film to be loved, earn over Rs 100 crore and go on to win an Oscar," he says.
Irrespective of how the film does on box office and whether it wins any awards, it rakes up a grim subject. It is the viewer's discretion to be entertained or be awakened.