Sharmila Tagore was just 25 years old when she played mom to Rajesh Khanna in Aradhana!
Bollywood is not very kind to women.
While an actor is never too old to romance a heroine half his age, an actress in her mid-30s is considered an unsafe proposition.
Which makes it even more remarkable when these glamorous women defy such flimsy mindsets and play a character twice her age.
After the men, it's now time to look at how some our best-known beauties aged for the camera.


Tabu, Haider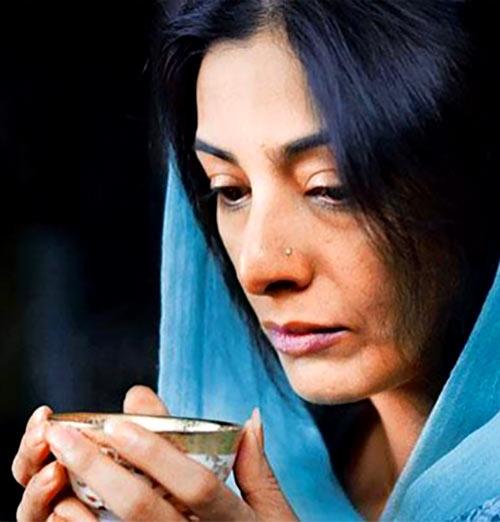 Image: Tabu in Haider
Never to shy away from deglam parts, Tabu embraced the role of a teenage boy's mother in Chandni Bar while still in her 30s.

It's no surprise the 43-year-old National-award winner gamely agreed to play Shahid Kapoor's mother in Haider.


Madhuri Dixit, Sangeet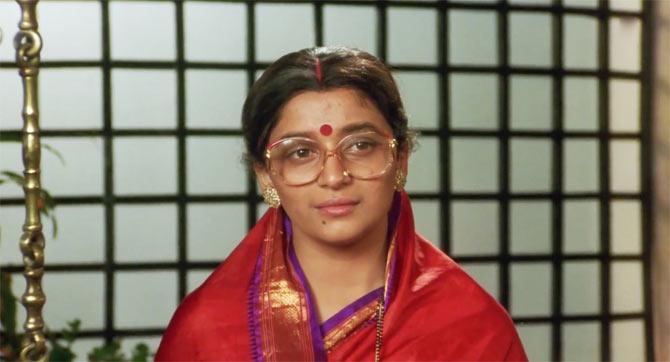 Image: Madhuri Dixit in Sangeet
Playing both mother and daughter in K Vishwanath's schmaltzy drama, Madhuri Dixit, almost in her mid-20s, does well in the younger girl's role but shines as her 60-something subdued, soft-speaking mother.


Preity Zinta, Veer Zaara
Image: Preity Zinta in Veer Zaara
Part of Veer-Zaara's charm lies in how Shah Rukh Khan and Preity Zinta dedicate a lifetime in each other's anticipation. And the perky 29-year-old (at that time) is uncharacteristically somber as senior Zaara.


Priyanka Chopra, 7 Khoon Maaf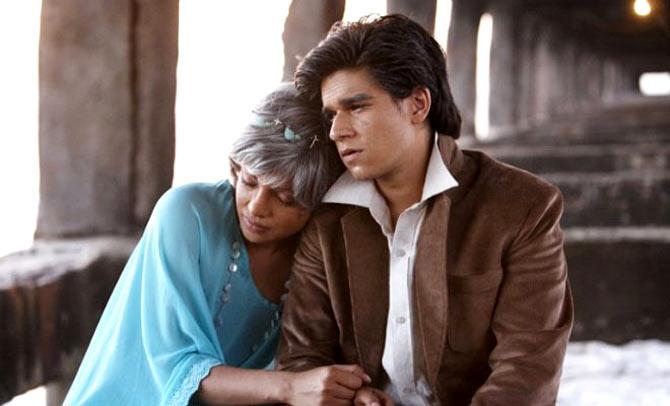 Image: Priyanka Chopra and Vivaan Shah in 7 Khoon Maaf
Vishal Bhardwaj's sinister 7 Khoon Maaf chronicles the events of Priyanka Chopra's, life from the time she was 20 till she hits senior citizenship through the course of her seven ill-fated marriages.
Like PZ, she was 29 when the film came out. PC also donned a fluffy silver wig in the final few minutes of Barfi!.
Aishwarya Rai Bachchan, Action Replayy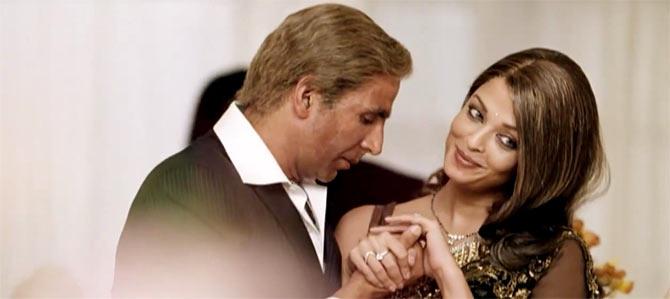 Image: Akshay Kumar and Aishwarya Rai Bachchan in Action Replayy
The world cannot stop singing praises of her beauty but Aishwarya Rai is quite cool about painting her hair grey if the role demands it. Be it Umrao Jaan, Guru or the uber hot mom of Aditya Roy Kapoor in Action Replayy, Ash is ageless.


Rekha, Sada Suhagan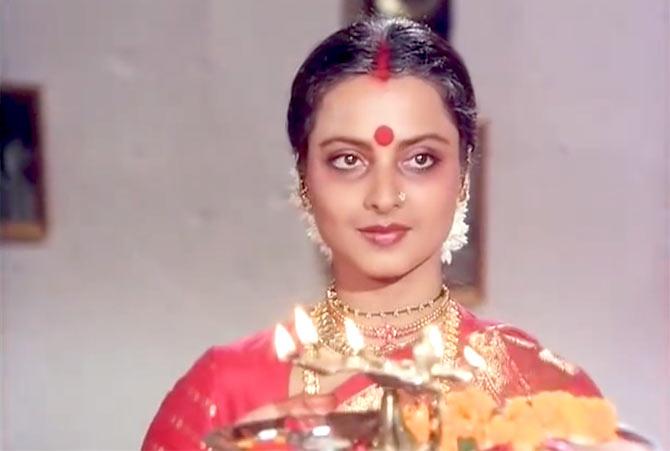 Image: Rekha in Sada Suhagan
At 32, Rekha sportingly slips into saasu maa mode with some token grey in her tresses and the mandatory under eye dark circles for the typically 1980s melodrama, Sada Suhagan.


Raakhee, Shakti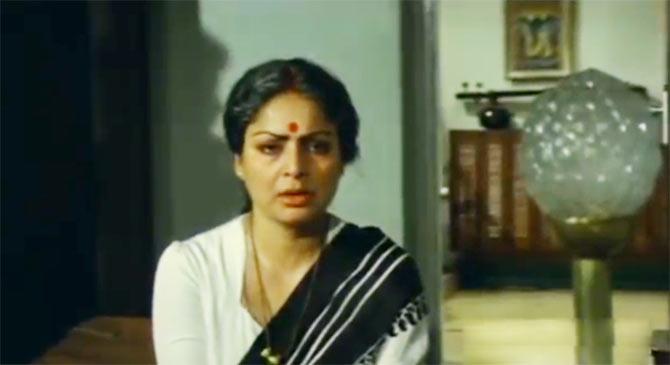 Image: Raakhee in Shakti
Few actresses can boast of playing lover and mother to the same guy. As queasy as it sounds, can you believe Raakhee was only 35 when she agreed to play mommy to Amitabh Bachchan and two-decades her senior Dilip Kumar's wife in Shakti?


Shabana Azmi, Amba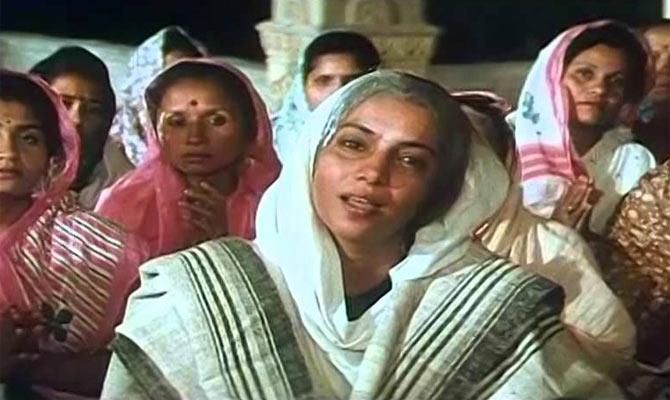 Image: Shabana Azmi in Amba
Be it Avtaar or Amba, Shabana Azmi never deterred from playing 'granny' parts even at age Hollywood gals star in rom-coms.


Smita Patil, Amrit
Image: Smita Patil in Amrit
Smita Patil was only 31 at the time of her untimely demise. So you can imagine how young she must be when essaying a neglected old parent in the weepie, Amrit co-starring Rajesh Khanna.


Sharmila Tagore, Aradhana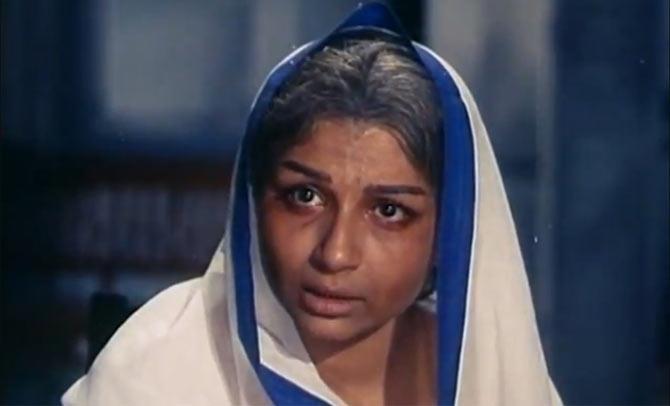 Image: Sharmila Tagore in Aradhana
In one of the milestone films of her career, Sharmila Tagore went from siren to serious as Aradhana's epitome of sacrifice. The actress played both wife and mother to Rajesh Khanna in a double role. She was 25 years old then.


Meena Kumari, Mere Apne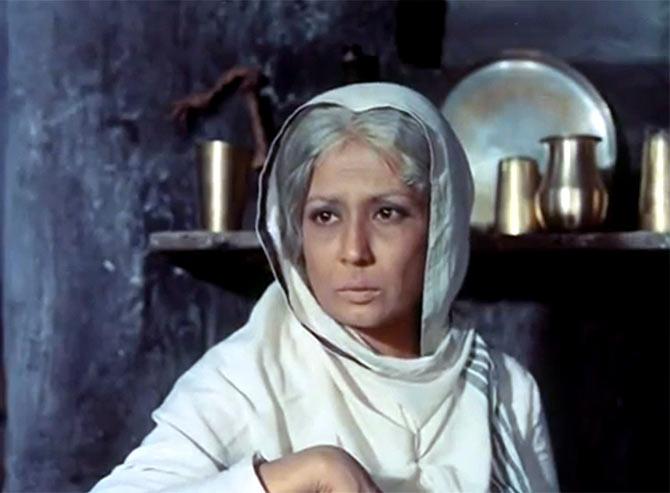 Image: Meena Kumari in Mere Apne
Just a year short of turning 40, Meena Kumari is scary good in her incredible disguise and trembling delivery as the benevolent "naanimaa" who brings about peace between two rivaling gangs of her neighbourhood in the Gulzar classic.