Salman (Mohammed Ghouse) Khan, a 23-year mechanical engineer from Bangalore, was announced winner of Zee TV's dance reality show Dance India Dance at the grand finale last weekend.
He won the Sunheri Taqdeer Ki Topi (the golden hat) and a Rs 50 lakh contract with the channel. He also got an opportunity to star in Boney Kapoor's film, Wanted, starring his namesake Salman Khan and Ayesha Takia. The film will be directed by Prabhudeva.
He tells Rajul Hegde how excited he is:
So, how does it feel to win Dance India Dance?
It's amazing and out of the world! I thank the Almighty for everything.
Which was your best performance?
My best performance is yet to come. What you have seen on Dance Indian Dance is just a jhalak. I have many favourites but if I start, the list its endless. Some of them are my chau dance, the Khushboo Purohit and Alisha Singh duet...
So are you excited to meet your namesake on the sets of Wanted?
Very excited! I'm looking forward to meeting him and performing with him in the film.
When you first entered the competition, did you ever think you would reach the final, and even win it?
I entered the competition to win. I wanted to do everything because God gave me such a big opportunity. But I concentrated on my performances. I wanted to give my best performance.
What motivated you to take part in the competition?
I had come here to dance in a healthy competition. I never cried on the show because I didn't want anyone to say I got sympathy votes. I wanted to win through my dance.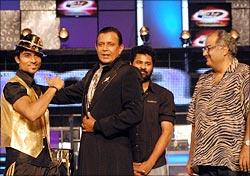 Tell us about your mentor Remo D'Souza.
Remo sir is the best thing that has happened to me. I thank the Almighty for giving me such a good mentor. I have won this competition only because of him.
You were not judges' favourite but the X factor in you seemed to click.
When we were shortlisted from 18 contestants, we were chosen for our performances and not for our stunts. I was awarded the Khubsoorat performer award of the week. To look more beautiful, I added stunts in my dance. That added spice to my performance and that brought me so far.
Which was your toughest performance?
Frankly, I have been in pain or have bled every week. I have even come straight from the hospital and performed for two episodes. During my fire act, I got frightened for a moment because I burnt my eyelid. I could have lost my eyesight.
All the precautions were taken but anything can happen at the last moment.
[It took over two hours for Salman to get dressed in his fire-proof costume for the fire act. There were a total of five layers of cloth and insulating material to save him from any injury or mishap. The face is also framed by a mask that leaves little scope for the person behind the mask to look in front. After the performance, he was rushed to a hospital where he was admitted for second degree burns.]
What will do with your prize money?
I have not thought about it. I only thought of competing, dancing and winning. From here, I need to move ahead because it's just the beginning.
Who was the most deserving person besides you?
Among the three finalists including Alisha and Siddesh Pai, I was the most deserving contestant because I slogged and sacrificed a lot for the show.
Whose eviction upset you?
Prince Gupta because he is like my brother.
Who is the best dancer in Bollywood, according to you?
Hrithik Roshan.
What were you doing before coming to Mumbai?
I am a mechanical engineer and was looking forward to my post graduation degree in UK or Australia. When I got this offer, I decided to give it a shot.