'My chacha's music is sweet and intoxicating.'
Patcy N reports from Roshan Se Roshan Tak, a rare Bollywood concert.
Photographs and Video: N V Reuben.
Music merged with memories at an unusual Mumbai concert last weekend.
Sudesh Bhosle, Alka Yagnik, Kumar Sanu, Udit Narayan, Abhijeet were among several singers who paid tribute to composer Rajesh Roshan and his late legendary father Roshan with reminiscence and song.
The Roshans turned up in full force for Roshan Se Roshan Tak, the concert hosted in the somewhat unlikely location of Borivli, north west Mumbai.
Present were, of course, the man of the hour, accompanied by his wife Kanchan, daughter Pashmina, brother Rakesh Roshan, sister-in-law Pinky, niece Sunaina, and, of course, the nephew.
Touchingly, both brothers -- the famed director and the talented composer -- remembered their dad Roshanlal Nagrath, or simply Roshan as he preferred to be called.
Few folks reading this feature would recall that Rakesh and Rajesh's dad created such musical jewels like Na To Karavan Ki Talaash Hai and Zindagi Bhar Nahi Bhoolegi Woh Barsaat Ki Raat (Barsaat Ki Raat); Nigahen Milane Ko Jee Chahata Hai and Laaga Chunari Mein Daag (Dil Hi To Hai); Rehte The Kabhi Jinke Dil Mein and Rahen Na Rahen Hum (Mamta); Chuppa Lo Yun Dil Mein Pyar Mera (Devar) among many others.
Fittingly, the evening commenced with Aaya Hai Mujhe Woh Zalim Guzra Zamana Bachpan Ka and Rahein Na Rahein Hum from Devar and Mamta respectively, the films which Roshan Senior composed music for in 1966, the year before he died of a heart attack aged just 50.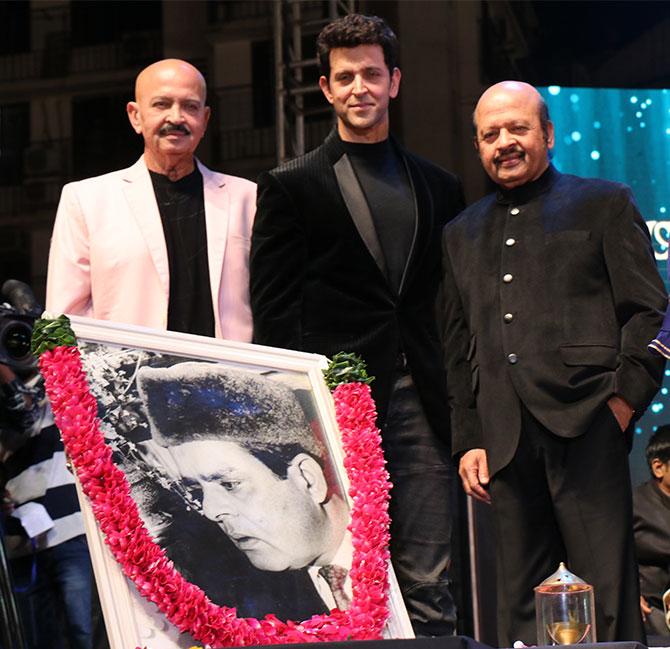 IMAGE: Rakesh and Rajesh Roshan pose with a portrait of their father Roshan. Hrithik never met his grandfather; he was born seven years after the composer passed away.
"I was 16 and Raju (Rajesh Roshan) was 12 when our father died," Rakesh Roshan told the audience. "We have tried to keep him alive through our work. Hrithik has further spread the fragrance through his work."
"He was only 50 when he died," Rajesh Roshan pointed out. "I remember he died laughing. He was at a party when he had a heart attack and died."
Rajesh, then 9, recalled watching his father recording Man Re Tu Kahe Na Dheer Dhare for Chitralekha at the Mehboob Studio in Bandra.
"He was very calm and composed," the son remembered 54 years later. "He had closed his eyes and was listening to Mohammed Rafi sing."
"I am always yelling in my recording studio!" he revealed with a smile.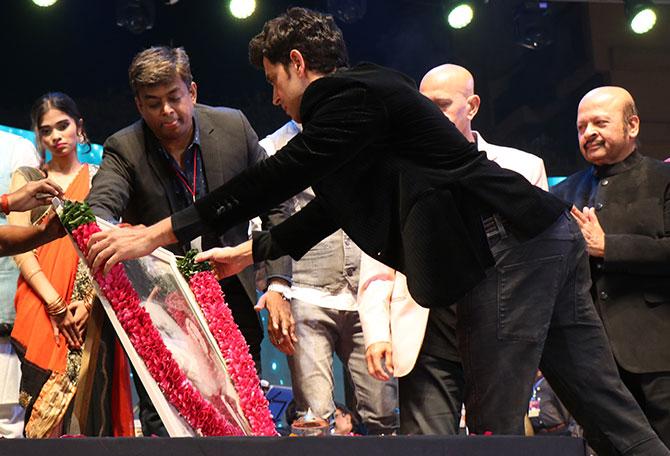 IMAGE: Hrithik garlands his grandfather's portrait. The actor was close to Ira Roshan, his paternal grandmother, and once confessed that his fondness for Bengali sweets came from his grandma, a Bengali.
"My chacha's music is sweet and intoxicating," Hrithik Roshan told the assembled media gathered for the superstar's sound bytes.
"As a child, I would tag along with my chacha. I lived in his room, bathed in his bathroom..." Hrithik recalled of the days the Roshans lived in an apartment in Santa Cruz, before his father's directorial successes enabled the family to move to its own building in Juhu, also in north west Mumbai.
"Occasionally, my chacha would ask me, 'Duggu, yeh music piece achcha hai? (Is this music good?)' and I would innocently give him an answer." Hrithik said of his father's only sibling, the man who has composed the music for every film Rakesh Roshan has directed.
"I remember when he was recording for Yaarana (which starred Amitabh Bachchan. He asked me which piece was better in the Tere Jaisa Yaar Kahan sing. He kept the one I suggested, so I have contributed to Yaarana's music," Hrithik told reporters with a laugh.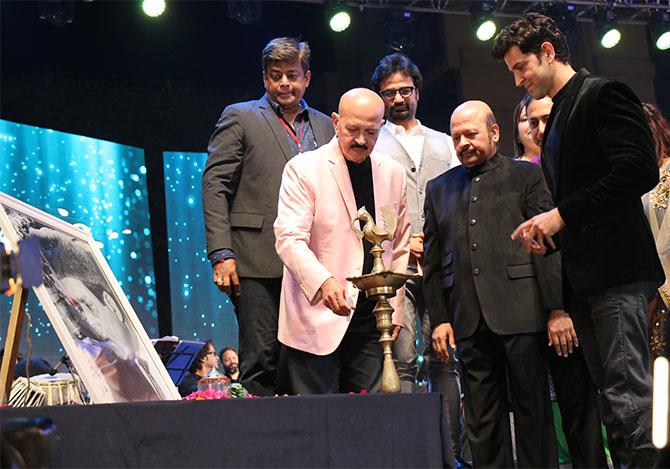 IMAGE: Roshan Senior won his only Filmfare Award in 1963 for his score for Taj Mahal, which had gems like Jo Vada Kiya Woh Nibhana Padega, Paao Chhoon Lene Do, Jurm-e-ulfat Pe.
Rajesh Roshan recalled the time he had got into a fight with his elder brother while composing Tumse Badhkar Duniya Mein for Kaamchor in 1982.
The first two lines of the song: Na Dekha Koi Aur Zubaan Par Aaj Dil Ki Baat Aagayi were dummy lines Rajesh had written.
"Rakesh got upset and asked why I was writing the song when he was paying Indeevar to write the lyrics," Rajesh remembered, adding, "There was a lot of argument, but Indeevar said the lines were good and that they should be retained."
Rajesh also revealed that he had written the words for the song that launched his nephew's acting career: Pyar Ki Kashti Mein.. Leharon Ki Masti Me, Pawan Ke Shor Shor Me, Chale Hum Jor Jor Me Gagan Se Door...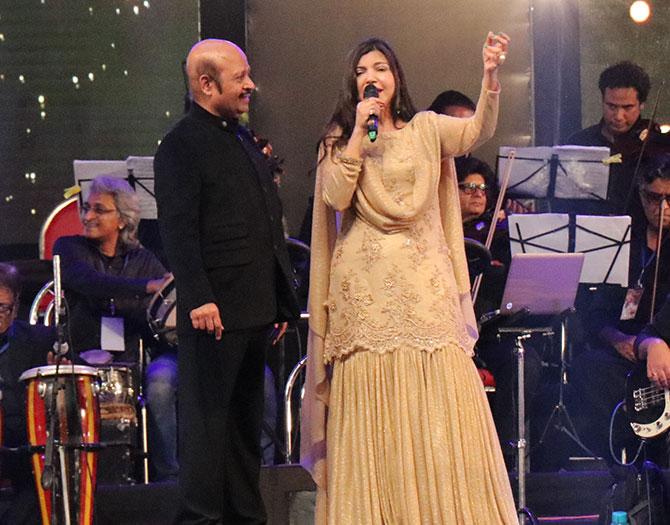 IMAGE: Alka Yagnik sings Jaati Hoon Mainfrom Baazigar.
"My first full fledged song, my break in Hindi films, was because of Rajubhai," Alka Yagnik told the audience.
"I got a call in Kolkata to sing a song for him," she recalled, "the film was coincidentally called Hamari Bahu Alka. My first duet was with Amit Kumar in Hum Tum Rahenge Akele."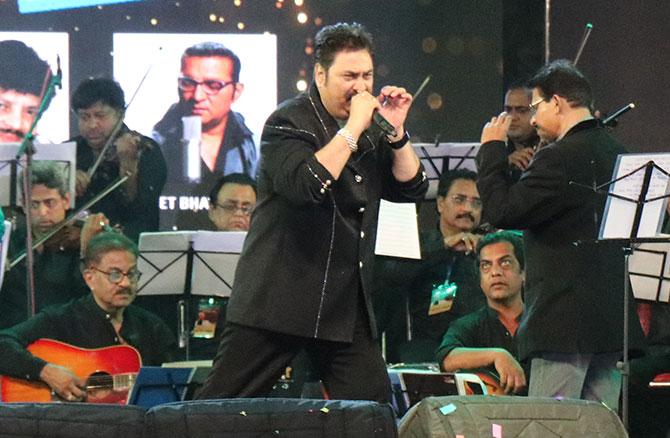 IMAGE: Kumar Sanu sings Jab Ko Bhigaad Jaye from Jurm(1990).
"Sanu came to me with a cassette in which he had sung a song sung by Kishore Kumar, Baad Muddat Ke Hum Tum Mile Mudke Dekha from Kaash," Rajesh Roshan remembered of his first meeting with the singer.
"When I heard it, I thought it was Kishore's voice and that he was bluffing to me. After the song got over, I realised it was indeed Kumar Sanu," the composer added.
"When I first heard Alka and Sanu's voice, I knew they would be big singers one day."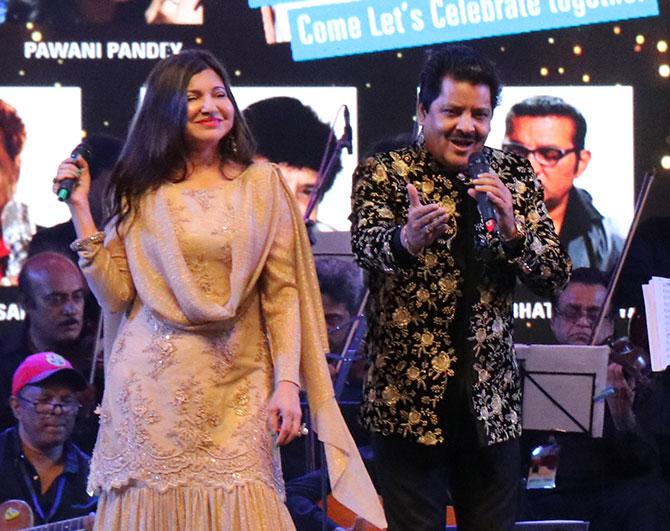 IMAGE: Udit Narayan sings Dil Mera Har Bar Yeh Sunne Ko from Kaho Naa... Pyar Hai.
It was Rajesh Roshan who gave Udit Narayan -- then a singer of Nepali songs -- his big break in Hindi cinema with Unees Bees in 1980.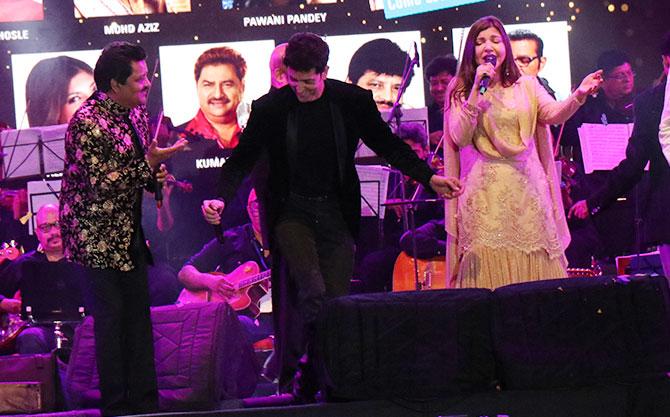 IMAGE: Alka Yagnik and Udit Narayan invite Hrithik on stage when they sing Dil Mera from Kaho Naa... Pyaar Hai, Rakesh Roshan's film which launched his son's movie career and inspired a craze about Hrithik not seen since Rajesh Khanna's time.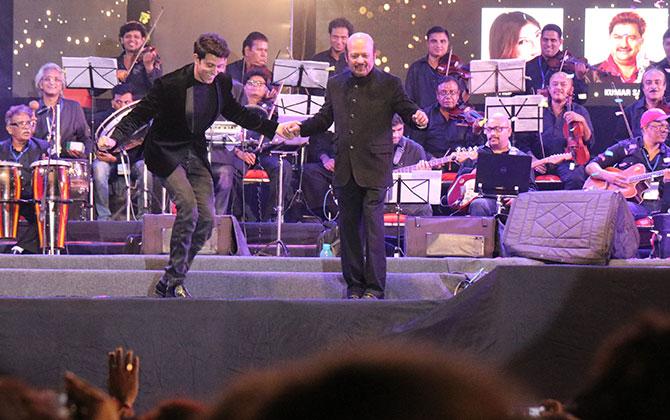 IMAGE: Rajesh and Hrithik Roshan match steps.
"I love composing songs for Hrithik because he is a talented dancer," the uncle confessed, almost sounding like a fan boy.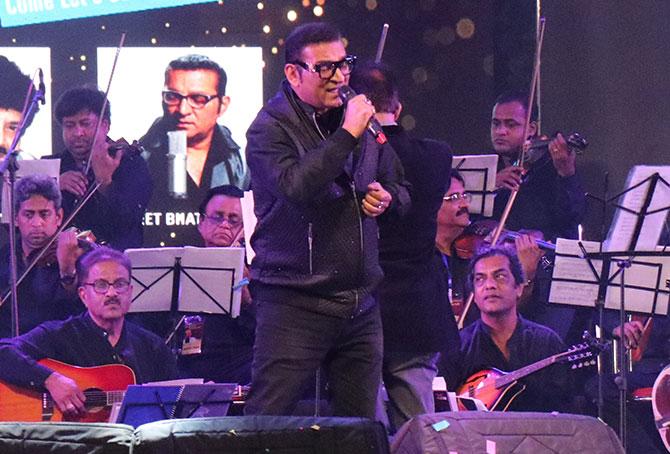 IMAGE: Abhijeet sang the Kishore Kumar songs Dil Kya Kare from Julie and Chu Kar Mere Maan Ko from Yaarana.
Rajesh Roshan remembered the filming of the song Chu Kar Mere Maan Ko.
Amitabh Bachchan called him from Calcutta, where he was shooting, and said he could not perform the song as it was too fast.
Bachchan asked Rajesh Roshan if the tempo could be changed.
Rajesh Roshan convinced Amitabh over the phone that he was sure the song would be a hit.
And indeed it was.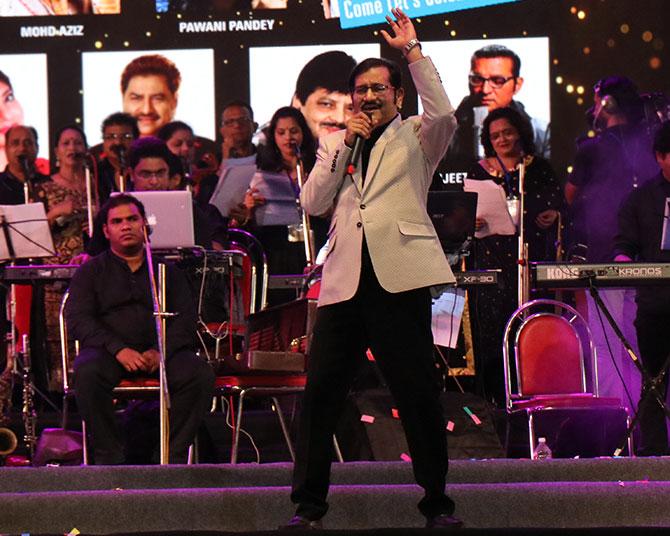 IMAGE: Sudesh Bhosle was the pick of the singers at the Roshan Se Roshan Tak concert. A pity that today's composers infrequently use his versatile voice.
Sudesh Bhosle first encountered the name Rajesh Roshan was when he painted the hoardings for Julie
Bhosle's dad ran N R Bhosle Arts which created movie posters and hoardings. The young Sudesh would assist his father with the work.
The first time Sudesh sang for Rajesh Roshan was for King Uncle, a film Rakesh Roshan directed. He was Jackie Shroff's 'voice' in the songs.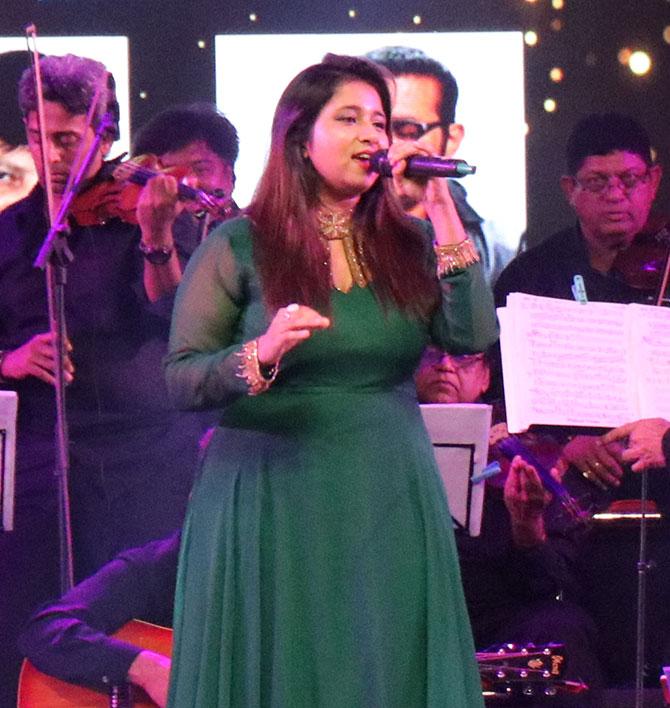 IMAGE: Sa Re Ga Ma Pa L'il Champs finalist Pawni Pandey joins Sudesh Bhosle in the Pardesia song from Mr Natwarlal. The songs sung at the concert were not limited to songs which Rajesh Roshan or his celebrated father had composed the score for.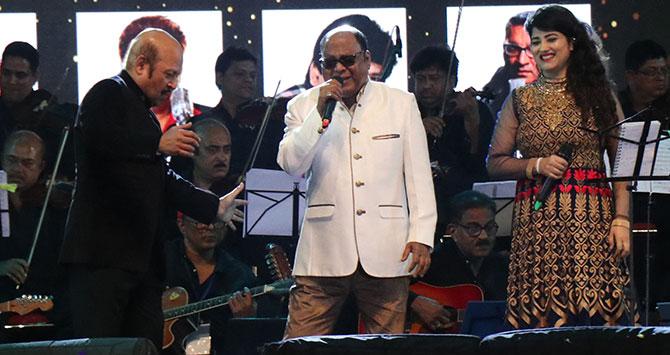 IMAGE: Mohammed Aziz sings Aap Ke Aajane Se, along with Dharna, from the 1987 film, Khudgarz.
Ankita, all of 15, was the youngest singer at the concert. The teenager from Bengaluru sang My Heart is Beating, which Preeti Sagar first made famous in Julie.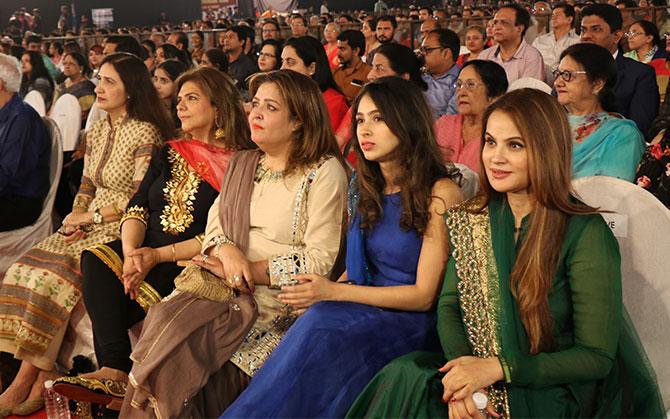 IMAGE: The Roshans: Pinky Roshan and her daughter Sunaina, Kanchan Roshan and her daughter Pashmina.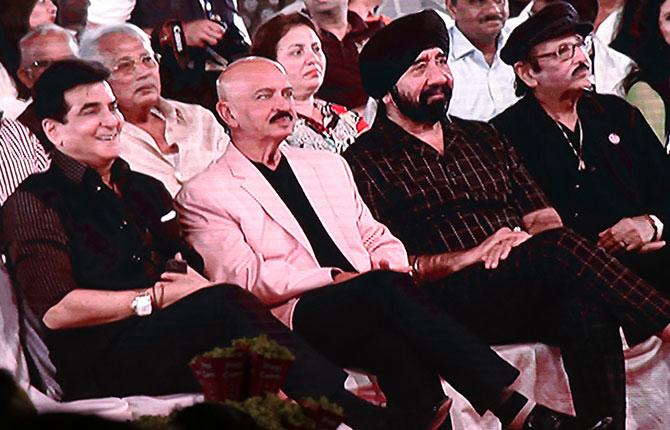 IMAGE: Jeetendra, one of Rakesh Roshan's oldest friends.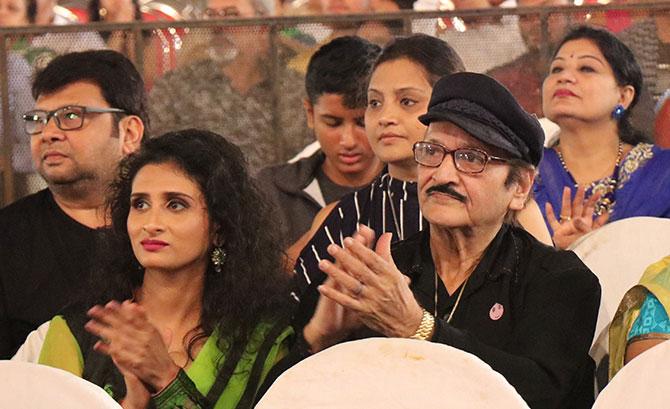 IMAGE: Biswajeet -- the superstar of the 1960s who is rarely seen in public -- with his daughter Pallavi Chatterjee. Biswajeet, who lives almost anonymously in Mumbai, is an old friend of Rakesh Roshan's. His son Prosenjit is, of course Bengali cinema's leading star.