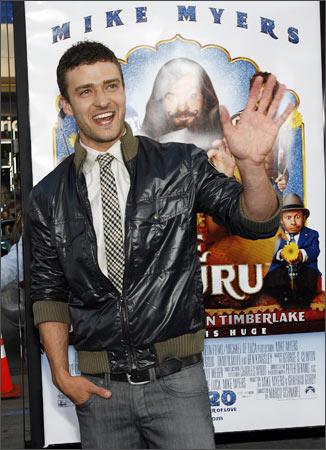 Singer Justin Timberlake has been named the Most Stylish Man in America by men's magazine GQ.
The 28-year-old Grammy winner heads his own clothing line, William Rast, producing items like skinny jeans, vests and graphic T-shirts.
Timberlake revealed that he got his sense of style from his stepfather, Paul Harless, a banker who laid out his suit for the next morning every night and went to work looking 'like Richard Gere.'
"I was like, I want to dress like that! He was just so cool," the New York Daily News quoted Timberlake, as saying.
Second on the list is New York-based deejay and producer Mark Ronson.
Photographer Alexi Lubomirski earned the No 3 spot for his uniform of a blue shirt, jeans and boots -- a look he adopted after his mother told him blue threads would look good with his blue eyes.
Rapper Kanye West came fifth.
Text: ANI | Mario Anzuoni/REUTERS