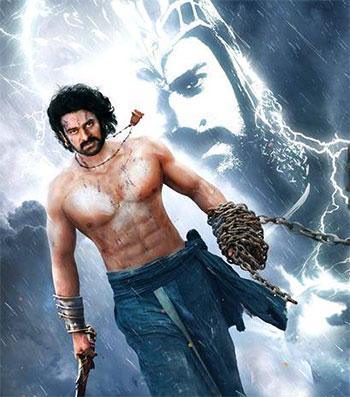 Baahubali scriptwriter K V Vijayendra Prasad says the income tax raid on the film's producers Shobhu Yarlagadda and Prasad Devineni will not hamper the shooting and release of the eagerly-awaited sequel, which releases on April 28.
"We were shooting throughout Friday when the raids were carried out," asserts Vijayendra, who is the director SS Rajamouli's father. "This does not affect our film in any way."
"You must understand that all financial transaction in the Indian film industry are now made through cheques," he adds. "At least I can speak about the financial dealings regarding Baahubali and its sequel with authority. All the expenditure is by cheque and accounted for. No cash payments were made at any point during the shooting."
He feels the impact of Narendra Modi's demonetization of Rs 500 and Rs 1000 notes is more psychological than practical.
"People in the country panicked when the announcement was made suddenly. The cash crunch hit the common man, which is sad. But I feel the Prime Minister's surprise move is meant for the larger good and we must bear some inconvenience for the sake of the nation."
Vijayendra Prasad also threw light on the much anticipated sequel, Baahubali: The Conclusion. "We will complete the film in December and the post-production will begin after that. We are not bogged down by expectations because we did not decide to do another film after the success of Baahubali. The script for the second Baahabali film was completed simultaneously with the first film."
Not that there is no changes and tweaking.
"Of course! We can't be inflexible about art. Of course my son wants changes as we shoot along," he says.
Vijayendra Prasad says he doesn't go on the sets every day. "I go periodically to see what changes are required and we incorporate them accordingly. Baahubali is a creation of collaborative cooperation. All of us are committed to do the two films before we move on. Leading man Prabhas had attractive offers from Bollywood and elsewhere after Baahubali released last July. He turned them down as he has committed three years of his life and career to Baahubali and its sequel."
Vijayendra discounts any possibility of a third Baahubali film. "We planned it as two films. Baahubali: The Conclusion is the companion film. After that, we are done."
The scriptwriter is also busy doing a sequel to Rajamouli's Rowdy Rathore and Shankar's Naayak, the latter in Hindi and featuring Anil Kapoor again.
He will also turn director with a film titled Kabir, based on the demolition of the Babri Masjid. It will be produced by Pahlaj Nihalani.
"It's not a controversial subject at all. It's about national integration," assures Vijayendra.