Meryl Streep: 'When the powerful use their position to bully others, we all lose.'
Jennifer Lopez: 'There is no time for despair, no place for self pity, no need for silence, and no room for fear.'
Julia Louis-Dreyfus: 'I want you all to know that I am the daughter of an immigrant.'
Every awards ceremony in Hollywood this year, says Monali Sarkar, has seen A-list celebrities talk about diversity, inclusion and politics, sometimes even mentioning President Donald Trump and his policies by name.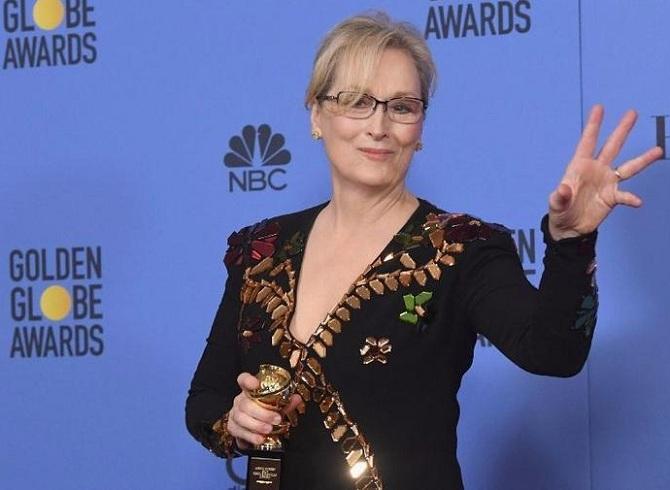 Meryl Streep turned her Cecil B DeMille lifetime achievement award at the Golden Globes into one of the most scathing attacks on Donald Trump.
'There was one performance this year that stunned me. It sank its hooks in my heart. Not because it was good... It was that moment when the person asking to sit in the most respected seat in our country imitated a disabled reporter... It kind of broke my heart when I saw it and I still can't get it out of my head because it wasn't in a movie. It was real life.'
'This instinct to humiliate when it's modeled by someone in the public platform by someone powerful it filters down into everybody's life. Disrespect invites disrespect. Violence incites violence. When the powerful use their position to bully others, we all lose.'
As Rediff.com's Raja Sen noted, 'We know Streep can do anything; it's what she chooses to do that makes her a true legend.'
Photograph: Kevin Winter/Getty Images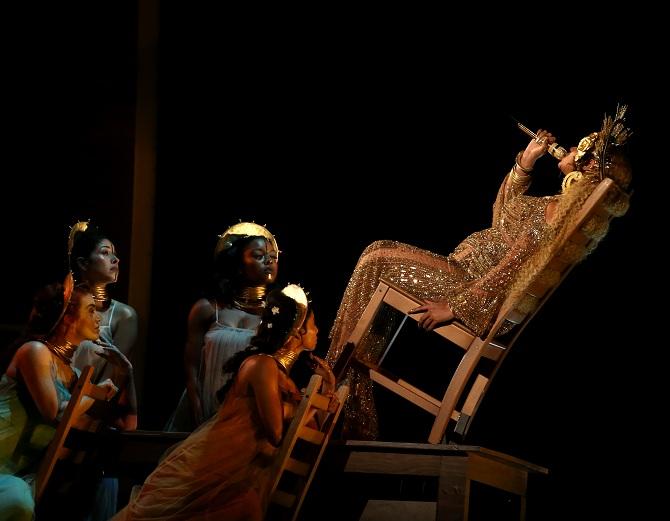 While accepting her Grammy for the Best Urban Contemporary album for Lemonade, Beyonce said, 'My intention for the film and album was to create a body of work that would give a voice to our pain, our struggles, our darkness and our history. To confront issues that make us uncomfortable.'
'It's important to me to show images to my children that reflect their beauty so they can grow up in a world where they look in the mirror -- first through their own families, as well as the news, the Super Bowl, the Olympics, the White House and the Grammys -- and see themselves. And have no doubt that they're beautiful, intelligent and capable.'
Photograph: Lucy Nicholson/Reuters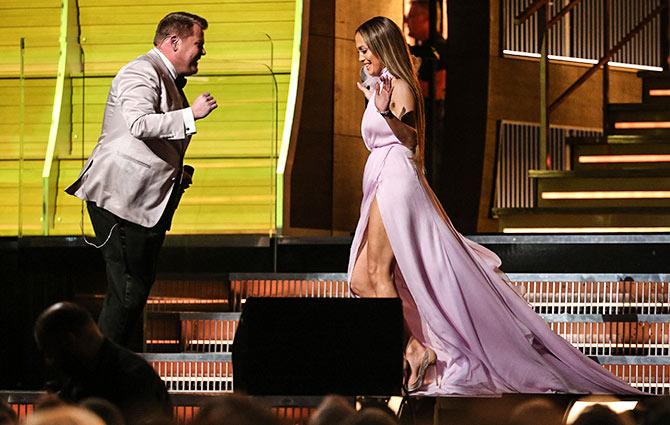 Before she presented the Grammy for Best New Artist to Chance the Rapper, Jennifer Lopez said, 'At this particular point in history, our voices are needed more than ever.'
'As Toni Morrison once said, this is precisely the time when artists go to work. There is no time for despair, no place for self pity, no need for silence, and no room for fear. We do language, that is how civilisations heal.'
'So tonight, we celebrate our most universal language, music, as we honour the voices of the past and the present.'
In a comic vein, Grammys host James Corden earlier rapped: 'Live it all up because this is the best, and with President Trump we don't know what comes next.'
Photograph: Lucy Nicholson/Reuters
Katy Perry and Skip Marley, wearing an armband that said 'Persist', performed Chained to the Rhythm at the Grammy Awards as a giant video projection of the US Constitution loomed over the stage.
With a refrain of We Think We're Free, the song's lyrics talk about being lulled into a 'comfortable bubble.'
Skip is the grandson of Jamaican reggae legend Bob Marley, whose songs often protested against oppression and social injustice.
Photograph: Lucy Nicholson/Reuters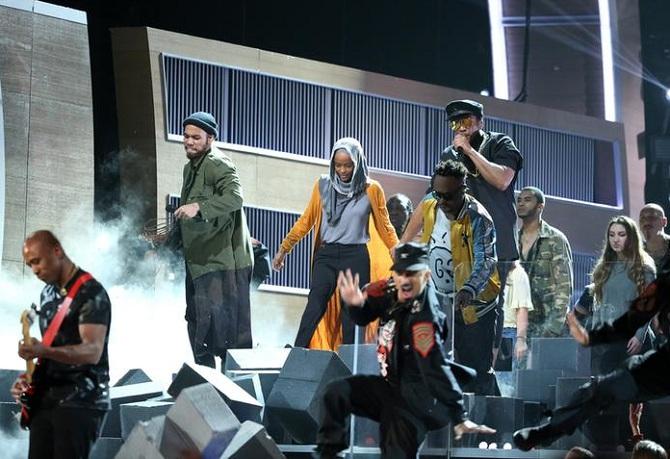 Hip-hop pioneers A Tribe Called Quest -- along with Anderson Paak and Busta Rhymes -- broke down a wall during their performance at the Grammy Awards.
In their politically charged medley they called out 'Agent Orange,' a nickname for Trump, sarcastically thanking him for his 'unsuccessful attempt at the Muslim ban.'
At the end of the song, women wearing headscarves joined the performers onstage accompanied by cries of 'Resist!'
Photograph: Lucy Nicholson/Reuters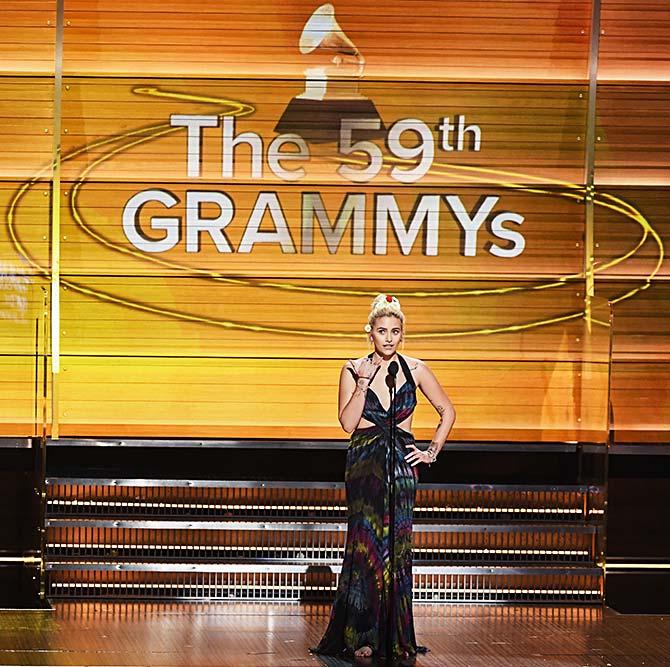 Michael Jackson's daughter Paris, at the Grammys, spoke up for those protesting the construction of the Dakota Access Pipeline.
'We could really use this excitement at a pipeline protest, guys,' she said. 'Hashtag no DAPL.'
Photograph: Kevin Winter/Getty Images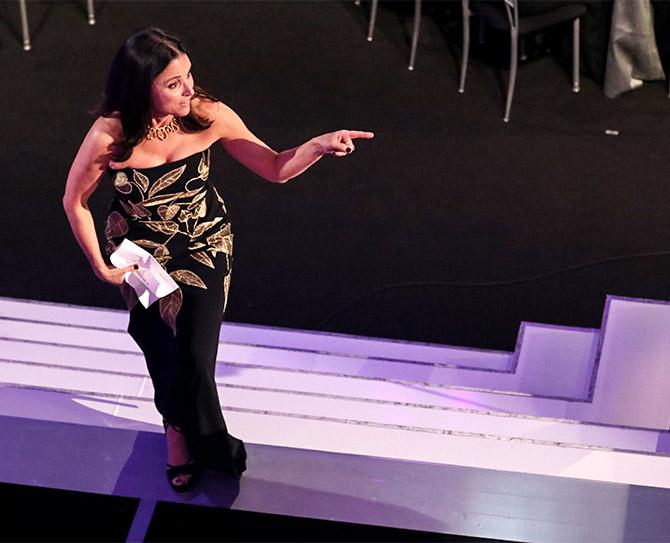 Julia Louis-Dreyfus, who won Best Comedy TV actress at the Screen Actors Guild Awards for her role in HBO's political satire Veep, spoke out about Trump's immigration ban.
'I want you all to know that I am the daughter of an immigrant,' she said. 'My father fled religious persecution in Nazi-occupied France, and I'm an American patriot, and I love this country, and because I love this country I am horrified by its blemishes. And this immigrant ban is a blemish and it is un-American.'
Photograph: Richard Heathcote/Getty Images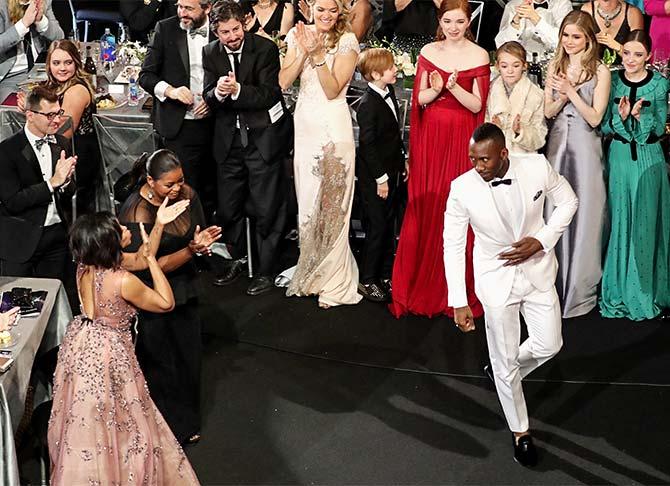 Mahershala Ali, who won best supporting actor at the SAG Awards for his role in Moonlight, noted that he is the Muslim son of a mother who is a Christian minister.
'She didn't do backflips when I called her to tell her I converted 17 years ago, but I tell you now, we put things to the side, and I was able to see her. She is able to see me. We love each other. The love has grown, and that stuff's minutiae. It's not that important,' he said.
Photograph: Richard Heathcote/Getty Images
Viola Davis praised African-American playwright August Wilson, who wrote the play that Fences was based on, when she won Best Supporting Actress for her role in that film at the SAG Awards.
'What August did so beautifully is he honored the average man, who happened to be a man of colour,' she said.
'And sometimes we don't have to shake the world and move the world and create anything that is going to be in the history book.'
'The fact that we breathed and lived a life and was a god to our children, just that, means that we have a story and it deserves to be told.'
'We deserve to be in the canon of any -- in the centre of any narrative that's written out there.'
'And that's what August did. He elevated my father, my mother, my uncles who had eighth and fifth grade educations, and he just encapsulated them in history.'
Photograph: Mario Anzuoni/Reuters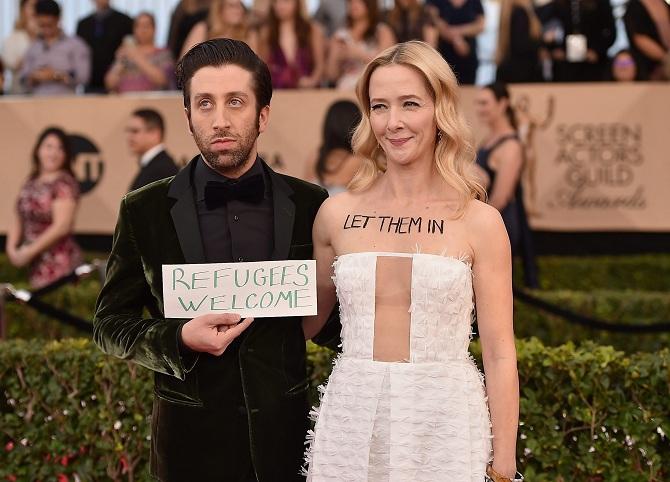 Actors Simon Helberg and Jocelyn Towne took a silent but effective stand on the SAG Awards red carpet.
Photograph: Alberto E Rodriguez/Getty Images
Emma Stone made a veiled reference to President Trump in her acceptance speech for Best Actress for La La Land at the BAFTAs.
'In a time that's so divisive I think it's really special that we were able to come together... to celebrate the positive gift of creativity and how it can transcend borders and how it can help people to feel a little less alone,' she said.
Photograph: Toby Melville/Reuters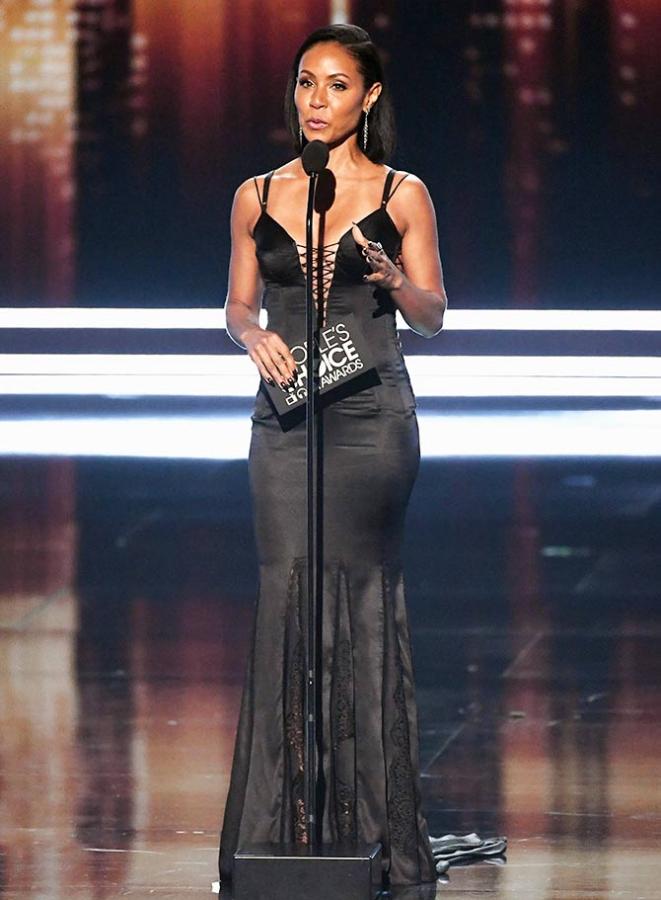 Jada Pinkett-Smith, who boycotted the 2016 Oscars with her husband Will Smith, told Variety that she feels more optimistic about this year's diverse Academy Award nominations.
'It's a beautiful thing to see,' she said. 'We had a lot of exceptional films this year. I'm glad to see that projects like Hidden Figures, Fences and Moonlight are getting recognition.'
'Because of the state that our country is in,' she added, 'as artists it's so important we use our platform to help shine light on how we want to be identified as a country.'
'I look at this as a beautiful step towards that. Just our participation as artists in this time of how we want to represent our country, what is the messaging we want the world to see.'
'As artists we have strong voices. We create strong imagery in regards to the identity of our country. It's important that we take responsibility for that.'
Photograph: Kevin Winter/Getty Images
---