It's the 77th edition of the Golden Globes -- Hollywood's annual party night when the who's who of showbiz turn up in shiny couture, make politically correct speeches, win some, lose some, nibble on delicacies (strictly vegan this year), get drunk and live happily ever after.
Considered the less serious, more flashy lead-up to the Oscars, which follow soon after (February 9), the Globes doled out both safe bets and strange surprises.
Sukanya Verma looks at what stood out in a mostly humdrum affair.
Host with the most?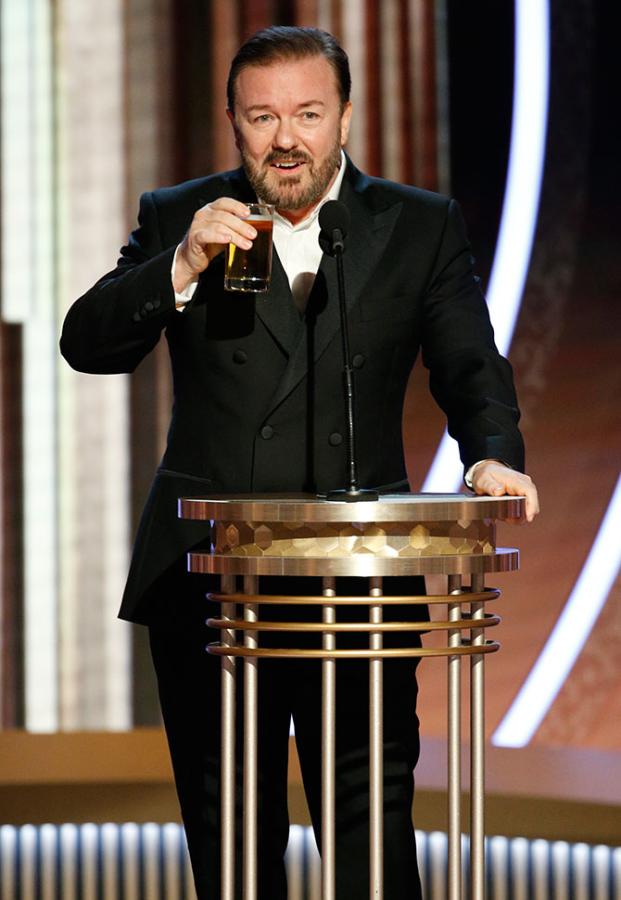 Snarky humour and jibes dominated British comedian Ricky Gervais monologue while he sipped on beer and promised it's his fifth and final stint as host: 'Let's go off with a bang. We're all going to die soon and there's no sequel.'
From Martin Scorsese's height to Apple's double standards to people's penchant for political speeches, Gervais was unsparing.
Especially the latter: 'You're in no position to lecture the public about anything. You know nothing about the real world. Most of you spent less time in school than Greta Thunberg.'
Tom Hanks' hilarious reaction to his diatribe is already a viral meme.
Team Tom Hanks forever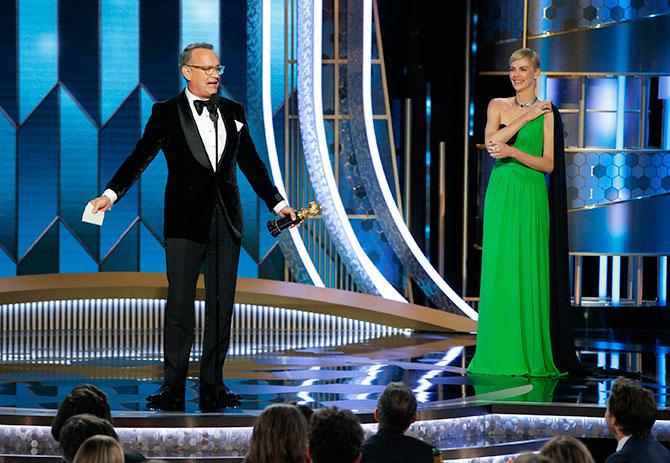 While on Hanks, the recipient of this year's Cecil B DeMille award was easily the most heartfelt thing about the ceremony.
Winner of a whopping eight Golden Globes, the actor cut a picture of humility as he overcome a sniffing nose and welled up tears to thank his collaborators, co-stars and family, appreciate the importance of punctuality and expound on the intricacies of his craft.
Charlize Theron sums it best: 'The most undeniable thing that can be said about Tom Hanks is both deceptively simple and yet overwhelmingly true. He just makes the world a better place.'
The Brad Pitt-Jennifer Aniston saga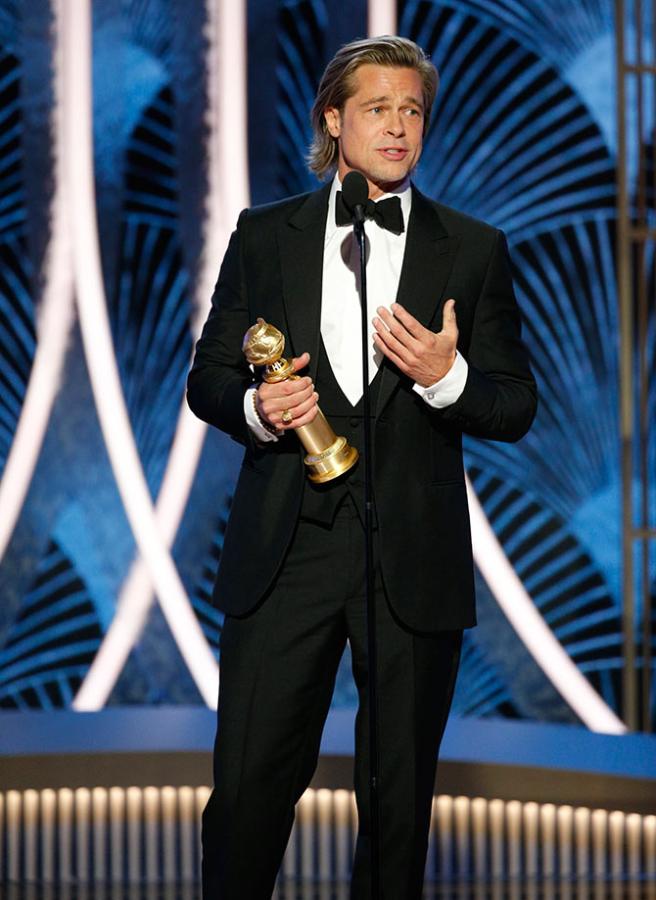 No red carpet reunion but the biggest elephant in the room did get addressed.
So Brad Pitt won Best Supporting Actor for his dishy dude in Once Upon A Time in Hollywood and the camera made sure to document all of Jennifer Aniston's reactions.
The formerly-married duo has stayed on good terms, he even attended her 50th birthday celebration fuelling the paparazzi's lifelong obsession with their relationship status.
The Friend's tickled expression over her ex's charming speech ('I wanted to bring my mom but I couldn't because any woman I stand next to, they say I'm dating and it'd just be awkward') underscored the amity abundantly.
And you thought the camera cutting to capture Rekha and Amitabh Bachchan's detailed reaction every time the other one is on stage was strictly a desi thing.
The speeches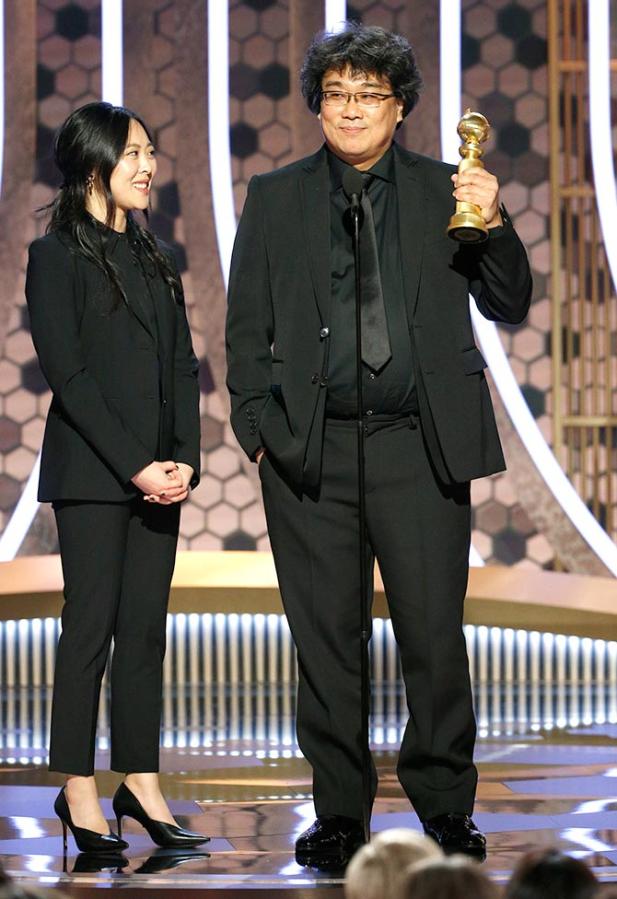 Inclusiveness, women empowerment, kindness, climate change, LGBTQ rights coloured many a winner's speeches despite the opening digs from Gervais and Globes continually ignoring female directors in its nominations.
South Korean filmmaker and Best Foreign Film winner (Parasite) Bong Joon-Ho had some wise words to say his succinct but significant speech: 'Once you overcome the one-inch tall barrier of subtitles you will be introduced to so many more amazing films.'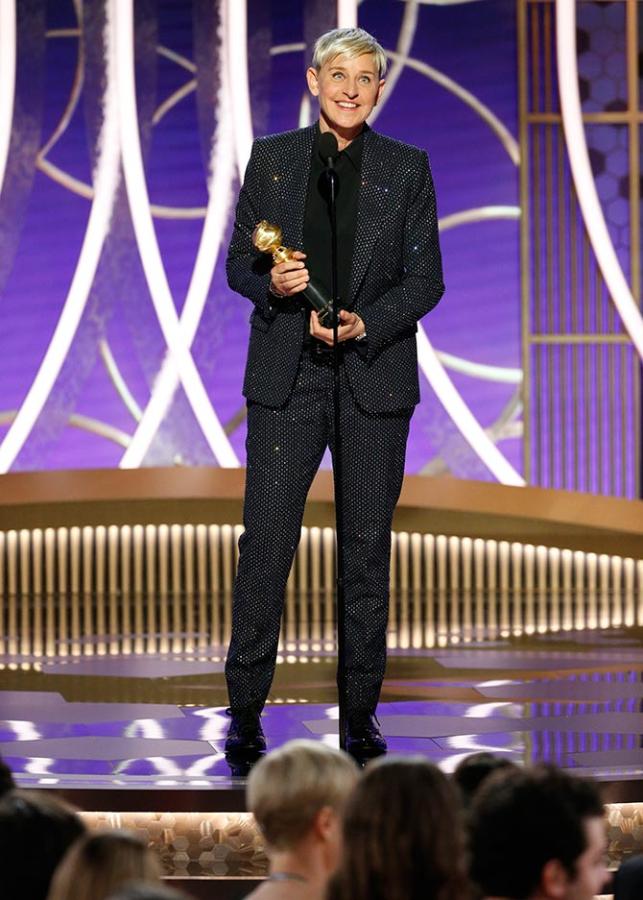 On receiving Carol Burnett Award for Excellence in Television, a visibly emotional Ellen DeGeneres recalled, 'I had a sitcom. And I lost that sitcom. Then I had another sitcom, and I lost that sitcom too.'
'I got to do something I always wanted to do: Make whiskey. Then I got a talk show. I got a talk show. And I was able to be myself. I feel like you all have gotten to know me. I'm an open book.'
Equally fine was her presenter and fellow comedian Kate McKinnon's acknowledgement of how DeGeneres coming out enabled her to accept her own sexual identity.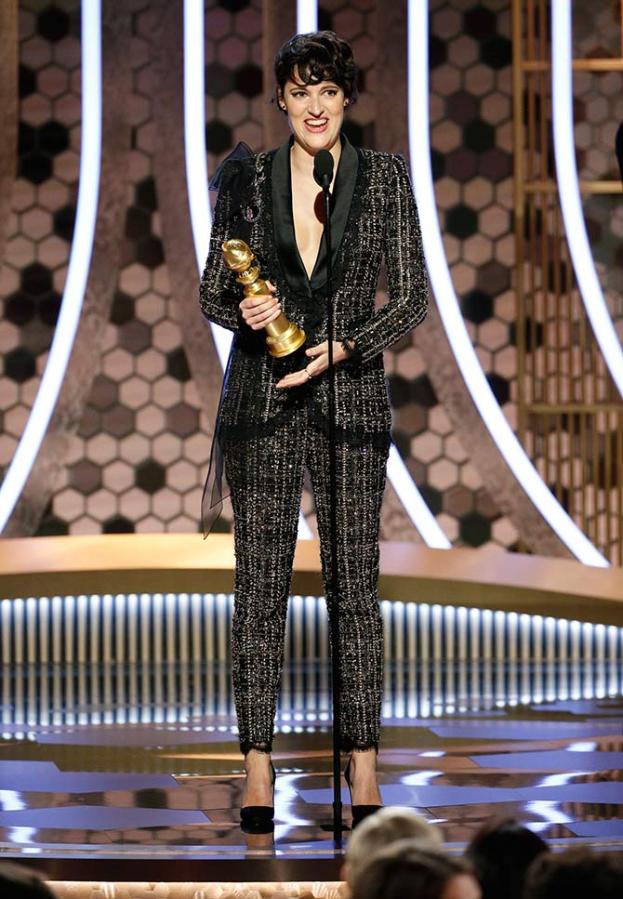 Fleabag sensation Phoebe Waller Bridge oozed her trademark wit as she thanked former US President Barack Obama for 'putting us on his list. He's always been on mine.'
She also thanked co-star Andrew Scott: 'This really comes down to Andrew Scott, really. He can have chemistry with a pebble. I love being Andrew's pebble in this.'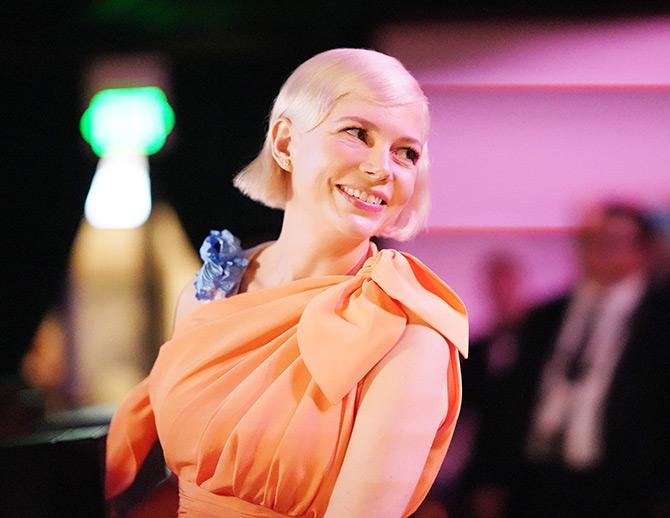 Michelle Williams had something pertinent to say after she took the award for Best Actress in Limited Series for Fosse/Verdon: 'I've tried my very best to live a life of my own making, and not just a series of events that happened to me. But one that I could stand back and look at and recognise my handwriting all over. Sometimes messy and scrawling, sometimes careful and precise. But one that I had carved with my own hand. And I wouldn't have been able to do this without employing a woman's right to choose.'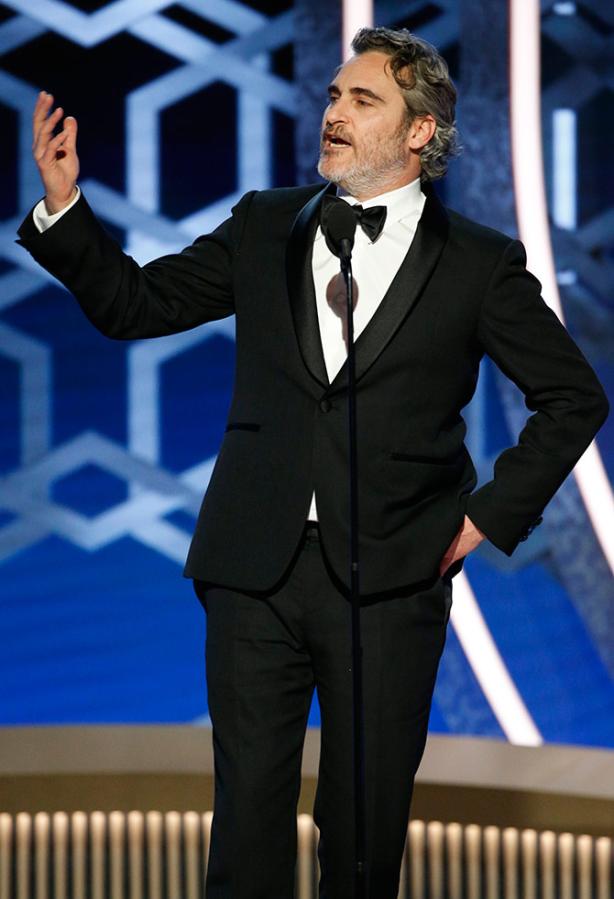 In a strange, somewhat rambling, somewhat grateful acceptance speech, Best Actor for Joker winner Joaquin Phoenix chided his lot: 'It's great to vote, but sometimes we have to take that responsibility on ourselves and make changes and sacrifices in our own lives. We don't have to take private jets to Palm Springs and back.'
The upsets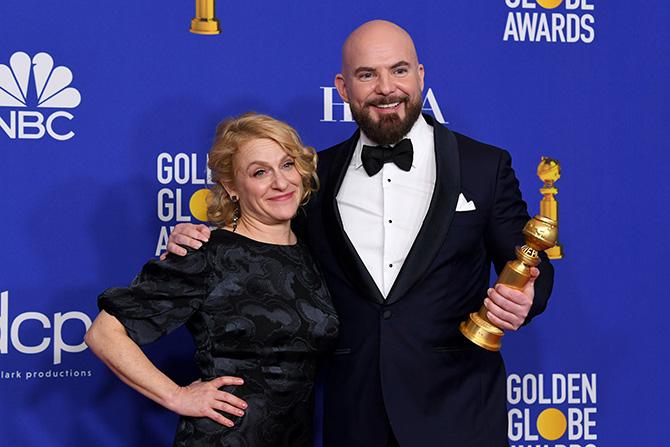 Even as Fleabag, Succession, Chernobyl, Once Upon A Time In Hollywood, Rocketman, 1917 and Joker went back home with more than one win, despite multiple nominations, Globes showed no love for its acclaimed offerings like The Irishman, The Two Popes, Knives Out or Unbelievable.
It was quite a surprise to see the comparatively obscure Missing Link (Arianne Sutner and Chris Butler, above) beat Disney biggies like Frozen 2 and The Toy Story 4 to grab Best Animation Film trophy.
Eddie Murphy's dream to claim a largely predicted win for Dolemite is my Name ended as Globes yet again showed its fondness for British musician biopics opting for Taron Egerton's portrayal as Elton John in Rocketman.
Also, Meritt Weaver's remarkable performance in Unbelievable didn't impress the Hollywood Foreign Press Association as much as Michelle Williams in Fosse/Verdon.
Unbelievable, indeed.
The surprises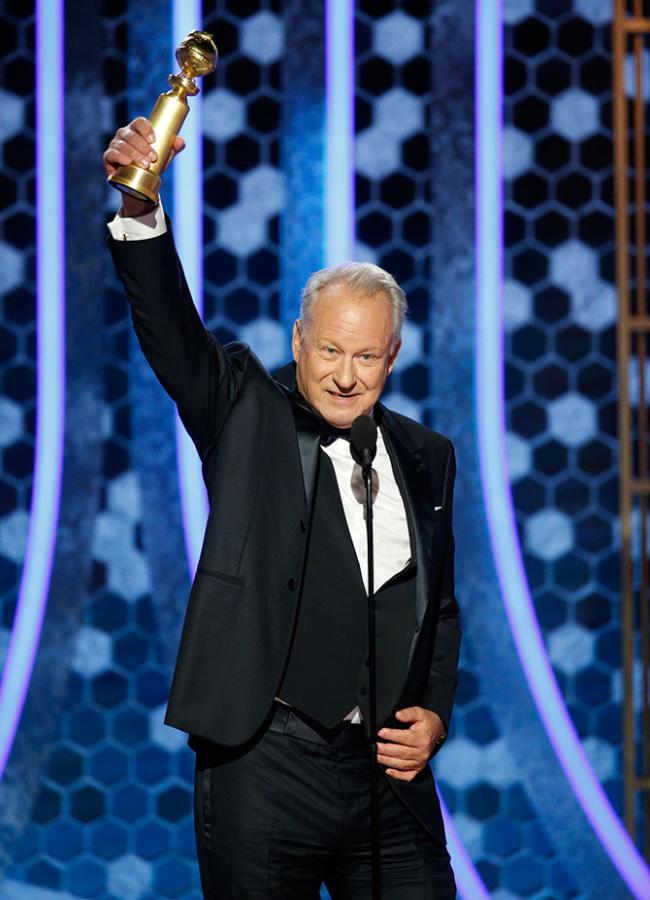 If Swedish actor Stellan Skarsgard was so dumbstruck by his Best Supporting Actor win for Chernobyl, he actually thanked his eyebrows.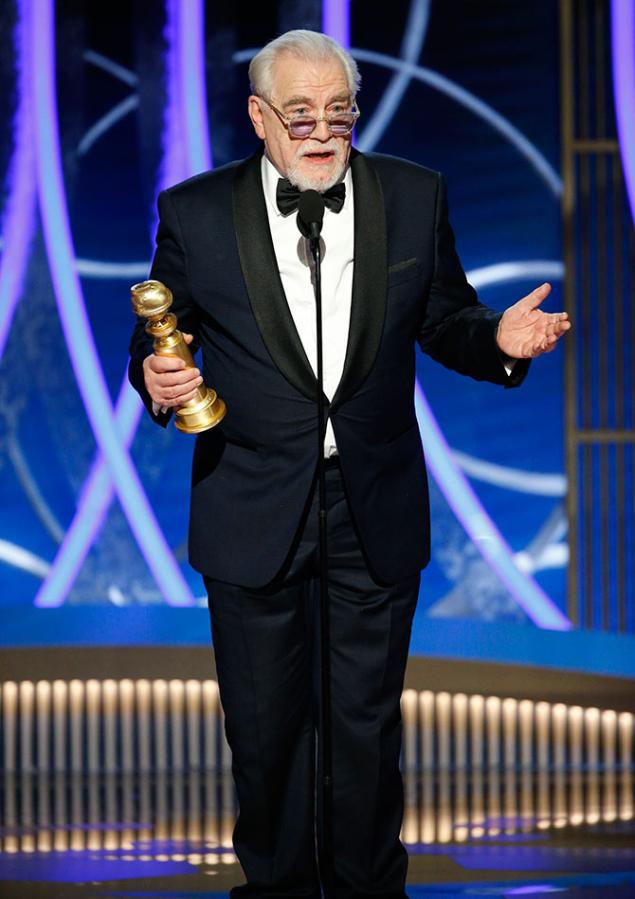 Winner of Best Actor in a Television Series-Drama for Succession, Brian Cox blurted, 'First of all, I want to apologise to my fellow nominees for winning this. I mean, I'm sorry. And that's all I can say. I'm sorry, but I never expected this. And I've been in this business, while next year, I've been in this business for 60 years, and I thought this would never happen to me. I'm a wee bit shocked.'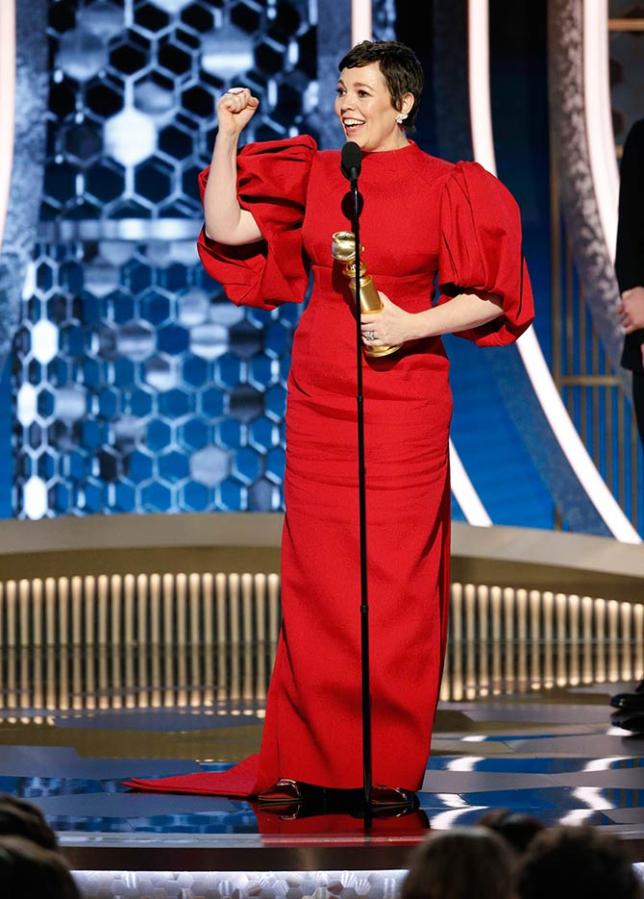 Two-time winner Olivia Colman wasn't expecting a third for playing, what else, a queen in The Crown beating close contender Jennifer Aniston for her edgy return on television with The Morning Show. Her fumbling speech made no bones about it.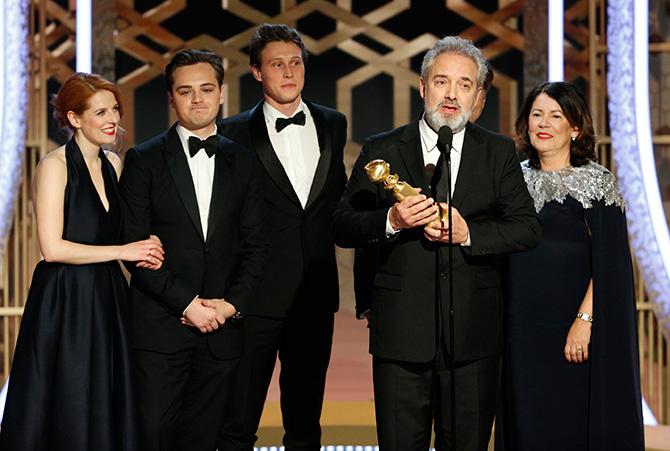 Best Director Sam Mendes trounced heavy competition like Martin Scorsese, Quentin Tarantino and Bong Joon-Ho to bag the Globe for his war drama, 1917.
'Goodness, me. That is a big surprise. Thank you very much,' he gushed before adding, 'there's not one director in this room, not one director in the world, that is not in the shadow of Martin Scorsese. I just have to say that.'
The fashion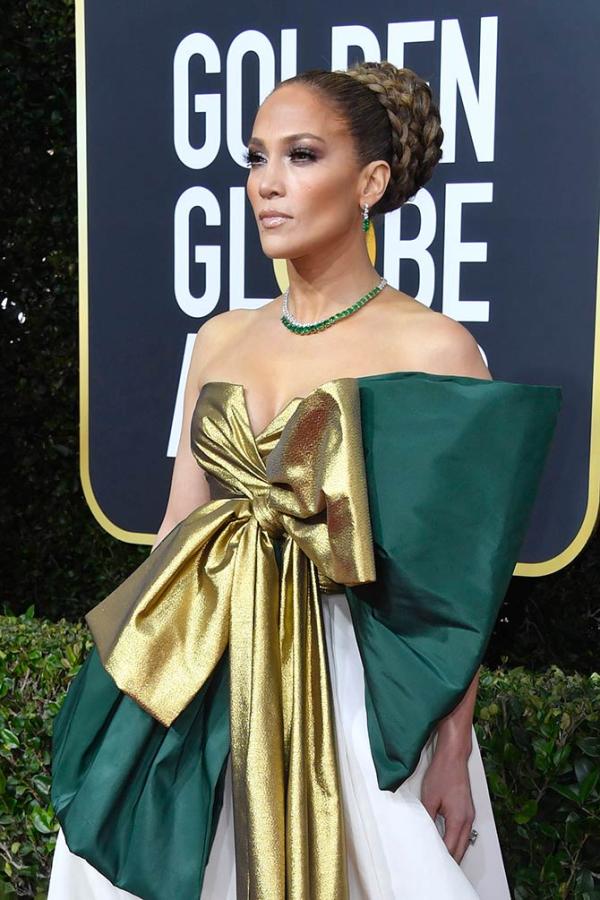 Lest we forget, film functions are all about fashion.
This year, it was all about big sleeves (check Beyonce, Cate Blanchett and Olivia Colman), big bows (saw that mammoth thing on J Lo?) and bold touches (Ansel Elgort's glittery make up, Billy Porter's white feather train jacket).
There was also Charlize Theron draped in something so glaringly green, it's probably a metaphor for the green screen filmmaking Hollywood has dumbed down to.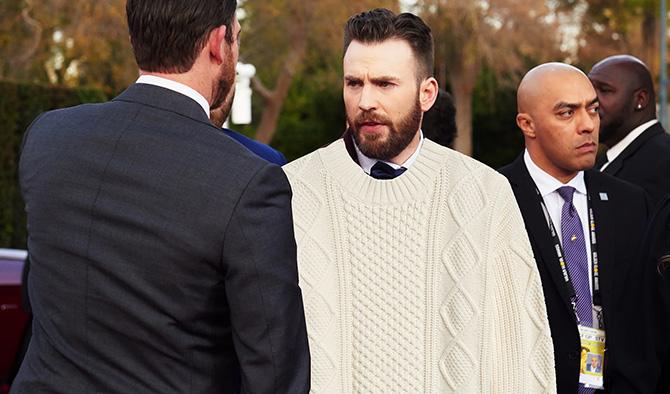 Chris Evans's no-sweater show following his fabulous cable knit appearance in Knives Out disappointed so many, the movie's official Twitter handle offered to make amends in a hilarious photoshop.
The firsts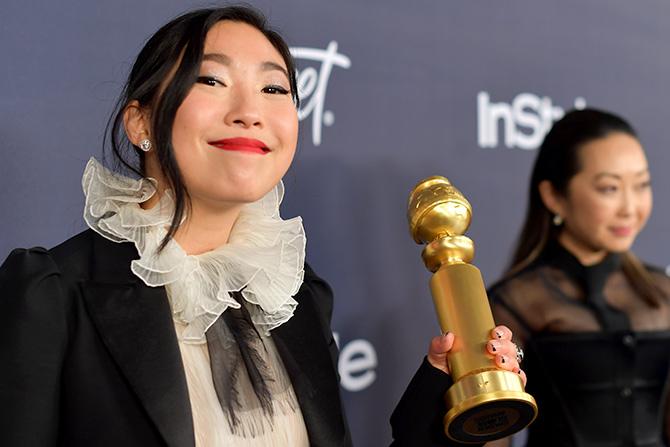 Icelandic musician and the force behind Joker's soundtrack, Hildur Guonadottir is the first woman to ever win a Golden Globe for Best Score solo. Previously Lisa Gerrard shared the honours with composer Hans Zimmer for their work in Gladiator, also starring Joaquin Phoenix as the chief antagonist.
Farewell's Awkwafina is the first performer of Asian descent to win a Golden Globe in a lead actress film category.
Joker's two Globes win has created a record of sorts by being the first comic book based movie to achieve that.
Odd things that caught social media's eye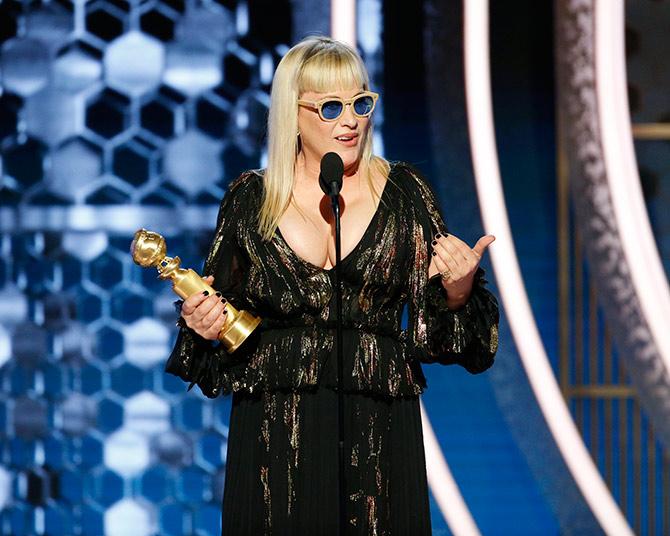 Tiffany Haddish pronouncing Chernobyl, Jason Mamoa's tank top after he took out his coat and sat through rest of the ceremony flaunting his muscles, Pierce Brosnan's long-haired son (for whatever reason), Patricia Arquette's funky shades, Ansel Elgort singing presentation to announce the nominees for Best Original Song and pretty-in-pink Priyanka Chopra gracefully getting up every time someone needed to pass due to poorly positioned seating.
---
Sukanya Verma is the Principal Movie Reviewer for Rediff.com. One of the most perceptive observers of Hindi cinema, Sukanya has a dazzling portfolio of features that have engaged Rediff.com readers for 20 years.
You can read her features at https://realtime.rediff.com/news/-sukanya-verma
She can be contacted at mailto_sukanyaverma@rediffmail.com
---