What went wrong between Sallu and KJo?
How long, exactly, is Aamir's role in Secret Superstar?
Subhash K Jha has the details...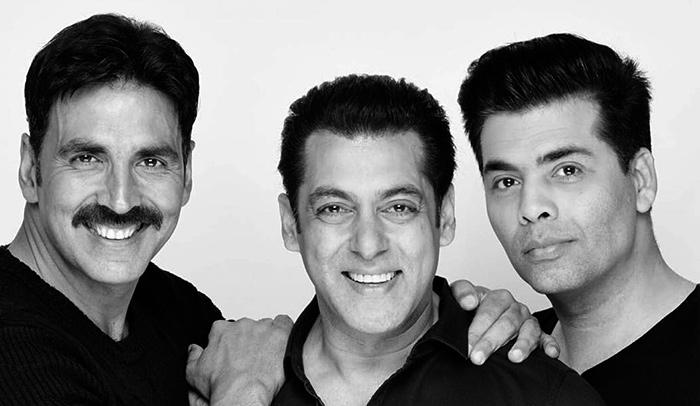 IMAGE: When Akshay, Salman, Karan were going to team up for a film. Photograph: Kind courtesy Akshay Kumar/Instagram
It's over… or did it ever begin in the first place?
Karan Johar's friendship with Salman Khan seemed doomed from the start.
Salman did make a guest appearance in Karan's directorial debut, Kuch Kuch Hota Hai, but thereafter, as Karan's proximity to Shah Rukh Khan became apparent to the entire world, Salman automatically gravitated away from all things 'KJo'.
For many years, the two never crossed paths.
Recently, though, Karan Johar was seen earnestly wooing Salman.
Two years ago, Karan offered him the film Shuddhi on Salman's terms. While Karan crossed his fingers and waited for Salman's yes, the superstar simply procrastinated.
A friend of Salman reveals, "Salman never had any intention of doing Shuddhi. He just kept Karan dangling on for God knows what reason, but when he was with us friends he very clearly and not so politely told us he would never work with Karan Johar."
Then came the announcement about Karan and Salman getting together with Akshay Kumar for a historical, Battle Of Saragarhi.
This time the prospects of Karan getting Salman on board seemed bright because Karan dangled that extra temptation of launching Salman's brother-in-law, Aayush Sharma, in a Dharma production.
Then, something went horribly wrong.
"We don't know what happened. But Karan Johar backed out of his commitment to launch Aayush, leaving Salman livid. He immediately opted out of Battle Of Saragarhi, which will now be co-produced by Karan Johar and Akshay Kumar.
"The only reason Salman agreed to join hands with Karan Johar was Aayush's launch. When Karan opted out of that commitment, Salman saw no reason to stick to his commitment," reveals a source in the know.
Ayush will now be launched by Salam Khan Films.
This development leaves the Salman-Karan Johar equation where it had been abandoned. It is unlikely that Salman will ever work in a Dharma film again.
***
Hmmm! Aamir's Secret Superstar surprise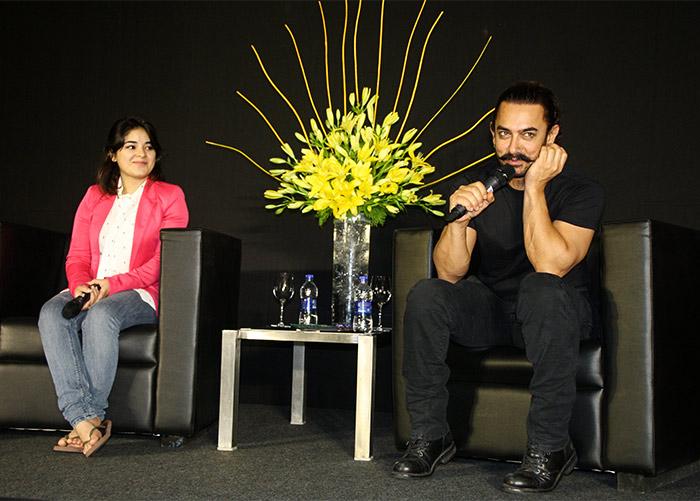 IMAGE: Aamir Khan addresses the media in Hyderabad while his Secret Superstar Zaira Wasim looks on.
The focus of interest in Aamir Khan's new film, Secret Superstar, is not Aamir Khan but Zaira Wasim.
Aamir enters the film halfway through the plot, just as he did in Taare Zameen Par, but according to preview audiences he has barely half an hour playing-time.
A major film personality who saw the film at a special preview says Secret Superstar is another Taare Zameen Par.
"Aamir again plays a mentor-guide. Last time, he played saviour to a dyslexic boy. This time, he's savior to an oppressed girl.
"Darsheel Safary wanted to be a painter. This girl wants to be a singer.
"In both Taare Zameen Par and Secret Superstar, Aamir's character is there to mentor the young protagonist."