Happy birthday, Akshay!
From stunt hero to superstar, Akshay Kumar has come a long, long way.
With no filmi connections to launch or influential godfathers to guide, the actor toiled his way to the top.
Dismissed as just another wooden wannabe in the beginning, he used his expertise in martial arts to perform top-class action and become brand Khiladi.
Along the way, his performances, particularly in the comic genre, acquired confidence and polish resulting in acclaim and awards.
On the personal front, he's happy playing "editor" to actress turned interior designer and author wife Twinkle Khanna with whom he has two beautiful kids: Aarav, 12, and Nitara, two.
Bollywood's most prolific hunk turns 48 today. Here are some glimpses of his fit and fabulous life.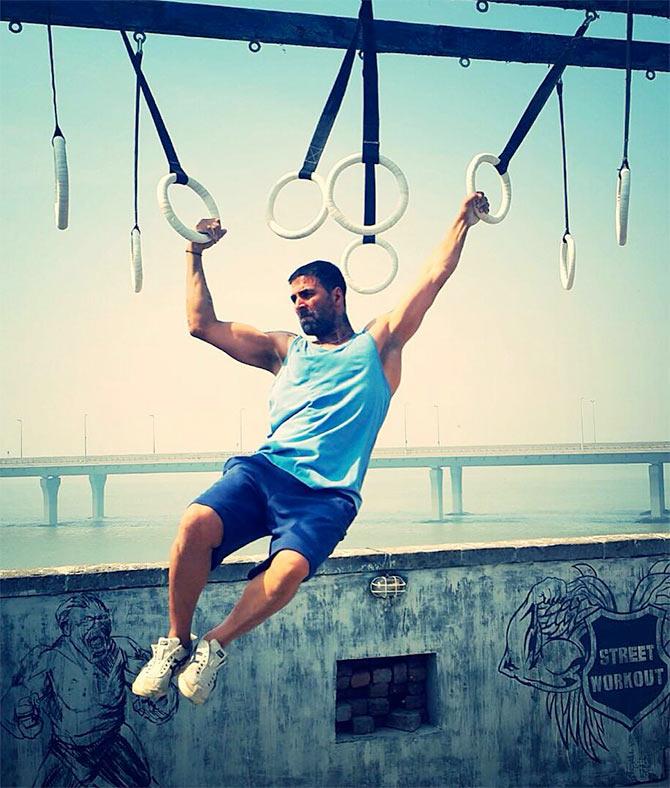 Behind all the high-Adrenalin action on screen are hours and hours of exercise and gym.
Akshay explained it to Rediff.com once, "Stunts are something you have to love from within. One can't do them just for the sake of it. You have to understand the physics and chemistry of it. One has to know what is happening and train your mind and body accordingly. Your ankles, wrists, everything... It is an elaborate process. If I go on, I might end up writing a thesis."
Meanwhile, look at his dedication at a Roman rings workout as part of Brothers prep work.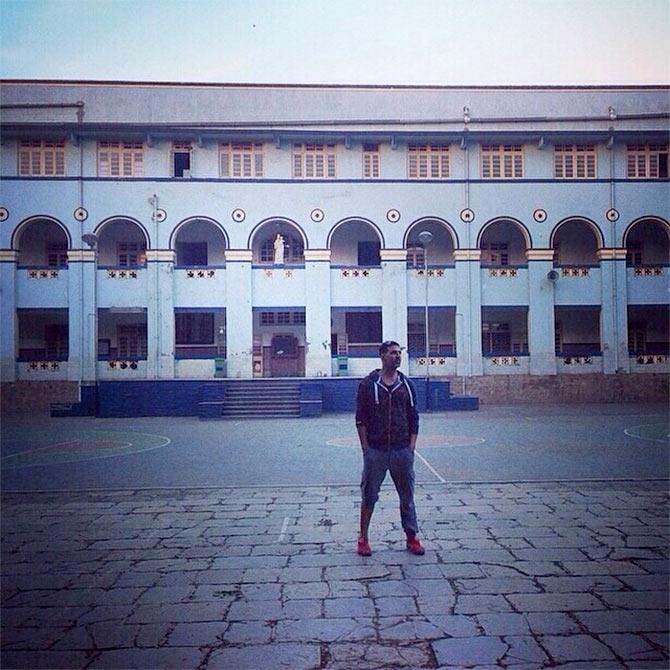 Not too long ago the Baby star made a trip to his alma mater, Don Bosco High School, Matunga, in Central Mumbai.
Although sports took priority over academics, Mathematics was his favourite subject in school.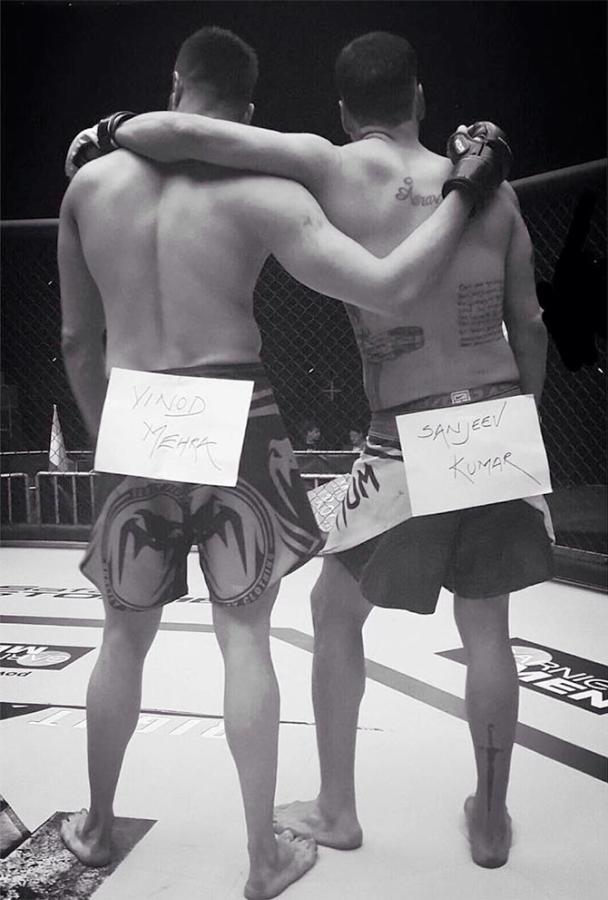 Akshay is quite the prankster insist colleagues. But this one time on the set of Brothers, he got a taste of his own medicine wherein Sidharth Malhotra and he discovered sheets of paper stuck to their butt captioned "Sanjeev Kumar" and "Vinod Mehra."
Incidentally, the late veterans also played stepbrothers in Ravi Tandon's Khuddar.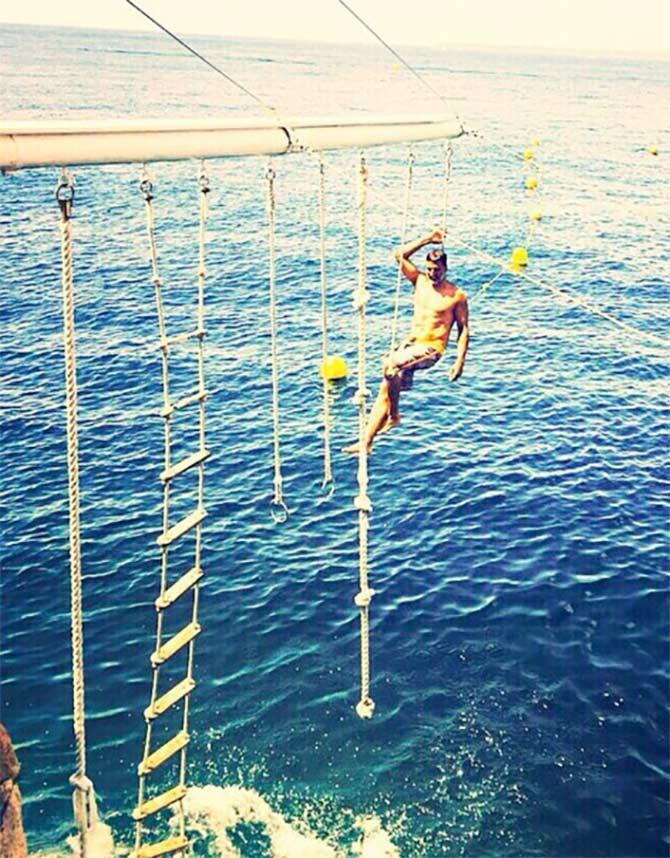 Climbing up dangerous looking rope ladders while vacationing in the scenic French Riviera, it could only be Akshay Kumar.
Sports junkie is right.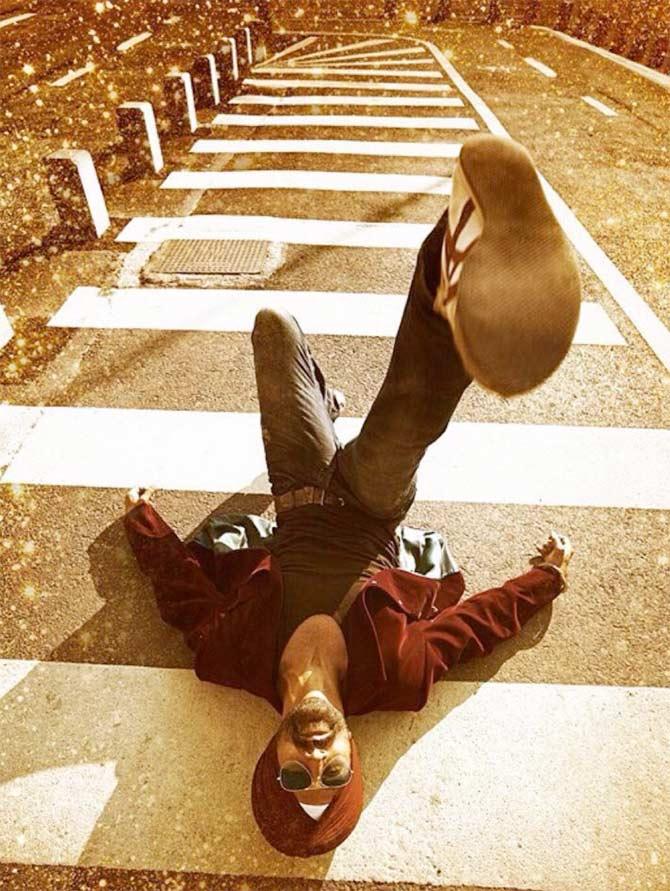 After Singh is Kinng, the actor is all set to rock another Sardar avatar in the unrelated Singh is Bling releasing on October 2.
Even as his 'Singhfie' movement gathers momentum, here's a goofy picture of the sprightly hero on-location in Romania.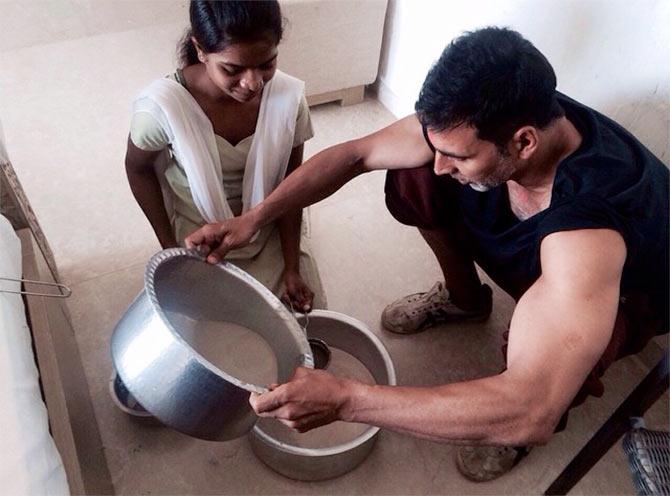 Akshay's foodie ways are no secret. His motto is simple: don't follow any rules, do your own thing, your way.
Going by the looks of his homemade Holi-special thandai, the former MasterChef India host sure knows what he's talking about.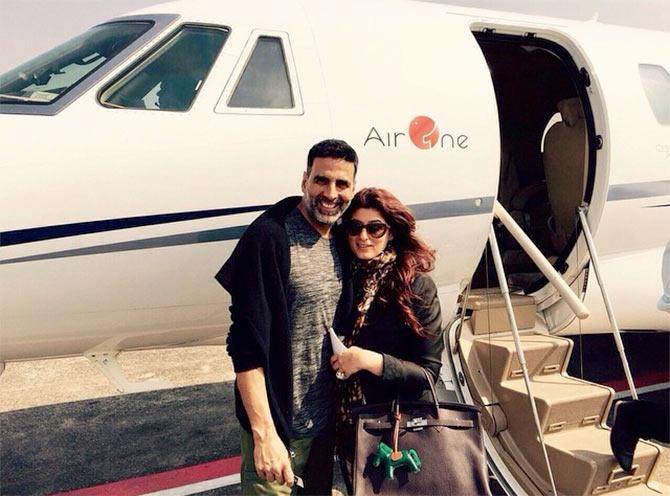 France, South Africa or Goa -- when it comes to holidaying, our man and his funny better half live the high life to the hilt.
What a fine pair they make too!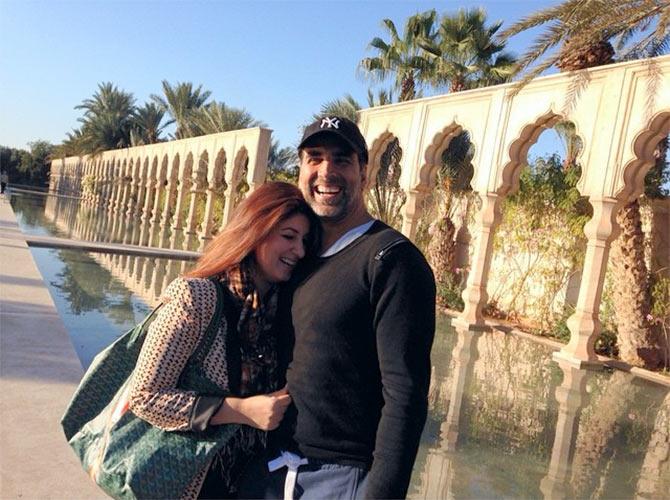 Twinkle and Akshay first met on a photo-shoot.
After that, they worked on two turkeys, International Khiladi and Zulmi.
Three years later, they tied the knot in a low-profile ceremony.
The glamorous duo completed 14 years as husband and wife in January this year.
Another adorable capture of Bollywood's favourite power couple.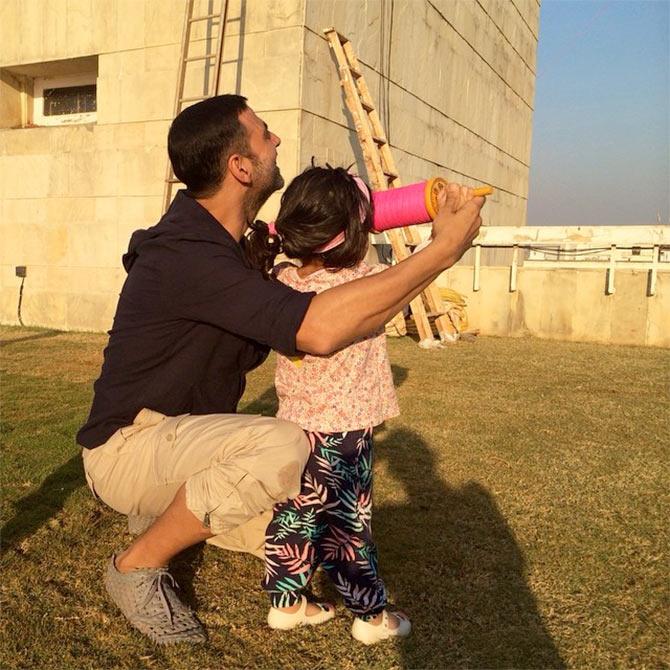 The 'baby' of the family may be a recurring feature in Twinkle's columns but it's easy to spot Akshay's doting dad around little Nitara.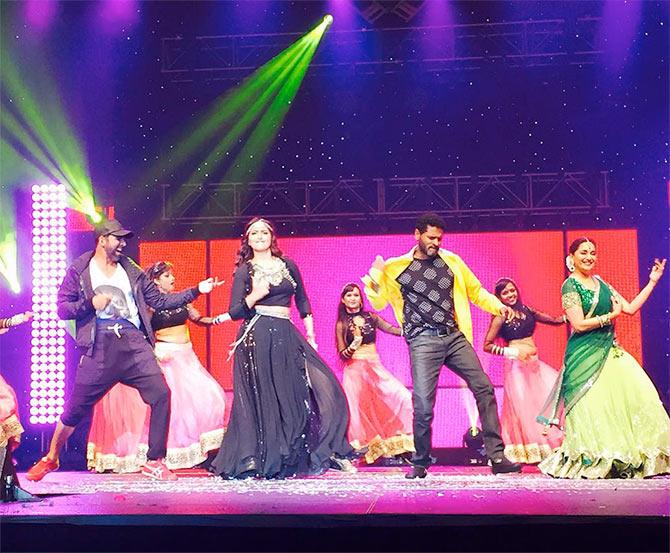 A livewire on screen. And off it.
Only recently Akshay brought the house down during his Fusion tour in the United States along side director buddy Prabhudheva and favourite co-stars Madhuri Dixit and Sonakshi Sinha.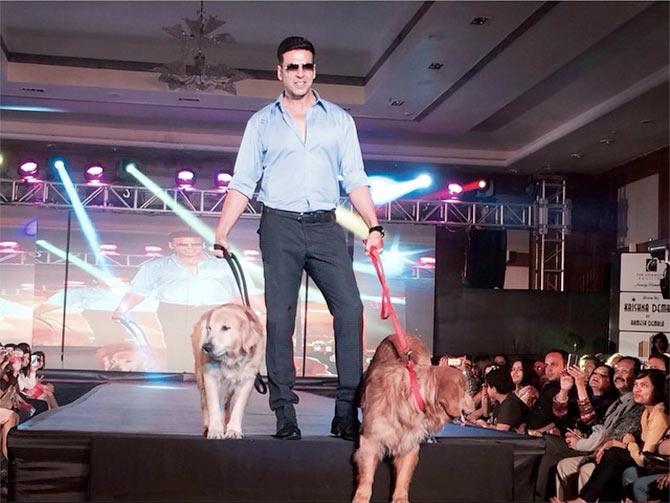 Akki's ramp appearances are famously hatke. Whether it's the infamous unzipping episode or dogwalking to promote a movie, he's ALWAYS game for different.