'My father would have liked Piku and PINK.'
'I don't think he would have liked item songs though.'
She's a legend's daughter.
Acting is in her genes, but she only won her first award at the age of 70.
Her father, the iconic Ashok Kumar, did not want his daughters to act and she respected his wishes, explains his eldest daughter, Bharti Jaffrey.
Later, when she took up acting -- with sporadic forays into theatre and film -- her father was impressed by her talent.
After winning the Best Actress award for My Pot Of Gold at the seventh Dadasaheb Phalke film festival, she wants to enjoy her second innings as an actress.
Bharti Jaffrey believes her father would have enjoyed watching films like Piku and PINK.
She would like, she tells A Ganesh Nadar, to see an award instituted in his name.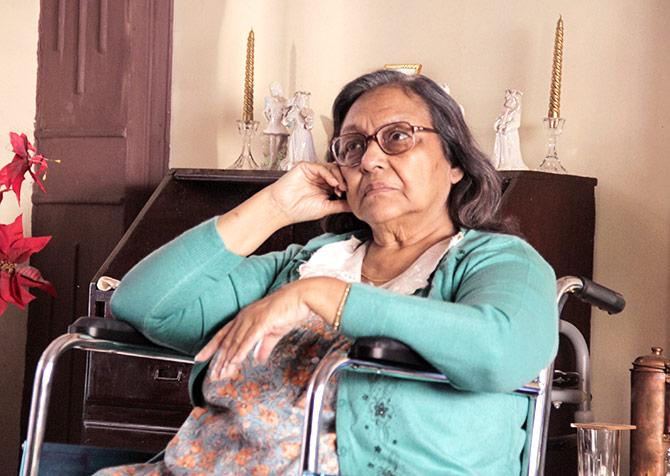 IMAGE: Bharti Jaffrey in My Pot Of Gold.
How did you get cast in My Pot Of Gold?
My friend suggested it via Facebook.
She knew someone who was looking for a lady who speaks English like a Christian.
Priyanka Tanwar, the director, is only 28 years old.
She came to me with the script. She had seen me in the television serial, Saans.
Could you please elaborate on your role in the film?
The movie is dedicated to Priyanka's grandmother. Priyanka had assisted Aamir Khan during the making of his television serial, Satyamev Jayate.
My Pot Of Gold is short -- just 55 minutes -- and follows a day in the life of an elderly woman, her granddaughter and her maid.
This was the first festival we sent it to.
My Pot Of Gold fetched you an award for Best Actress.
I didn't know they give awards for English movies at the Dadasaheb Phalke Film Festival, but I am glad they do.
It feels good to win an award at my age.
My father used to often tell me, 'If you have sincerity, commitment and focus, focus, focus in all that you do, the awards and accolades will come by themselves.'
Are you and Priyanka working on another movie?
Oh yes, we certainly are. We are working on the script now.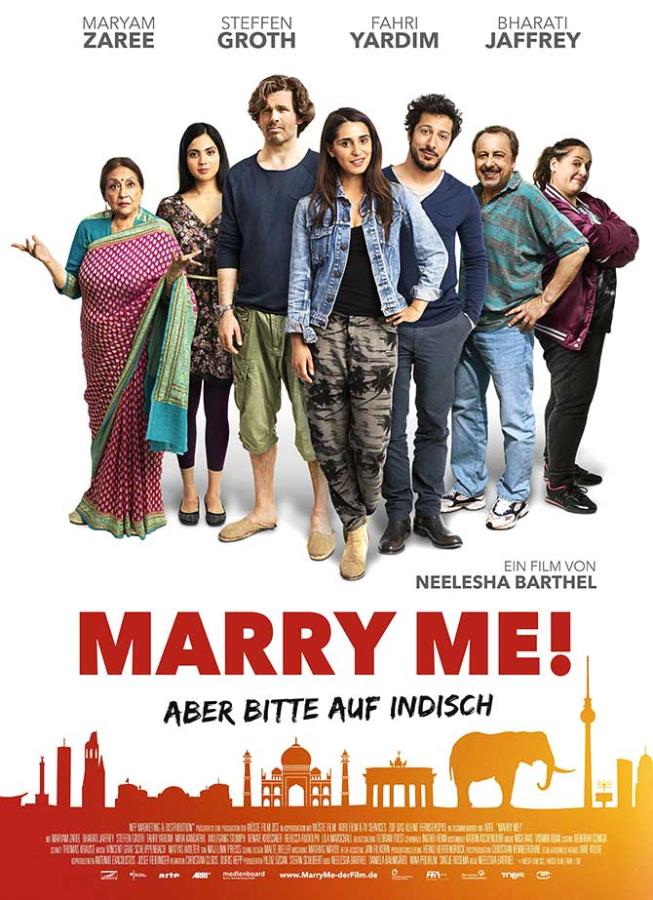 IMAGE: the poster for Marry Me.
What about the movie you are doing with your grandson Varun?
That is an English movie as well. It is called While It Lasts. It is about two strangers, one very old and one very young. They sit on a bench and talk.
Varun is my son Rahul Patel's son. He is now focusing on a television reality show.
Is the rest of your family not interested in a career in films?
My daughter Anuradha Patel is an actress. Her husband, my son-in-law Kanwaljeet, is an actor.
Varun does television shows and short films.
My younger son Rohit is not interested in films. My daughter-in-law Kiran Patel is a well known linguist.
Any other films you've done recently?
I did a German film, Marry Me, two years ago.
I had to learn German and stayed in Berlin for three months during the shoot.
It was so difficult at my age, but I managed.
How did you get selected for Marry Me especially when you had not been acting for such a long time?
My husband was ill for 13 years. He was my first priority. I couldn't think of acting while he was unwell.
I used to teach acting; I had learnt from my sister Preeti (Ganguly, the actress).
And I did do a film in between, in 2002. It was called Devi Ahilya Bai.
I play Devi Ahilya Bai's mother-in-law, Queen Gautama Bai.
My husband, the king, recognises her brilliance and gets her married to his idiot son though she is just a goatherd.
The king marries a second time -- that role was played by Shabana Azmi.
Many years later, I heard of this FTII student, Katrina Suhale, who had made a film under her banner, Bombay Berlin Films, about the Chapekar brothers, who were hanged by the British.
When I met her, she told me she wanted me to do Marry Me.
In 2014, the film's director, Nilesha Barthel, asked me if I would do the role.
I had the second most important role in the movie, but I had to learn German.
It had been three years since my husband passed away, so I agreed.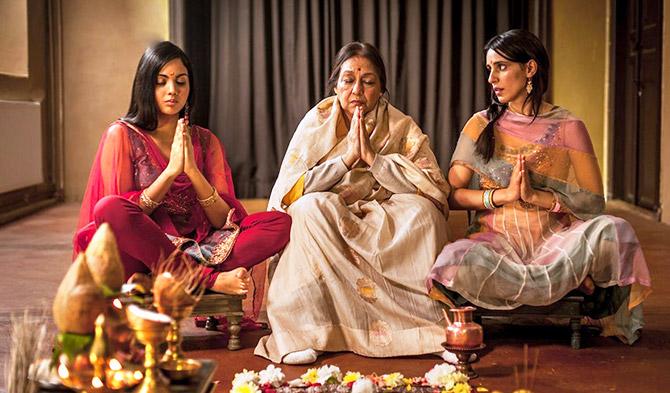 IMAGE: Bharti Jaffrey along with Maryam Zaree and Mira Kandathil in Marry Me.
How old were you when you did your first film?
I won't tell you that, but I feel like I am 17 years old.
These are not my first films.
I have done Kalpana Lajmi's Daman (2001). I did a serial called Saans (1988).
I did a lot of theatre with Pearl Padamsee.
I acted in A Mouthful Of Sky; it was written by the famous author, Ashok Banker, and aired on Doordarshan in 1995. Pearl got me the role.
I have also been Pearl's assistant director in many plays.
Which do you prefer, theatre or movies?
Both are different. Theatre is an actor's medium while movies are a director's medium.
Movies are more of a visual medium. My father always used to say, 'Have less dialogue and use more expressions and body language.'
I like both theatre and the movies.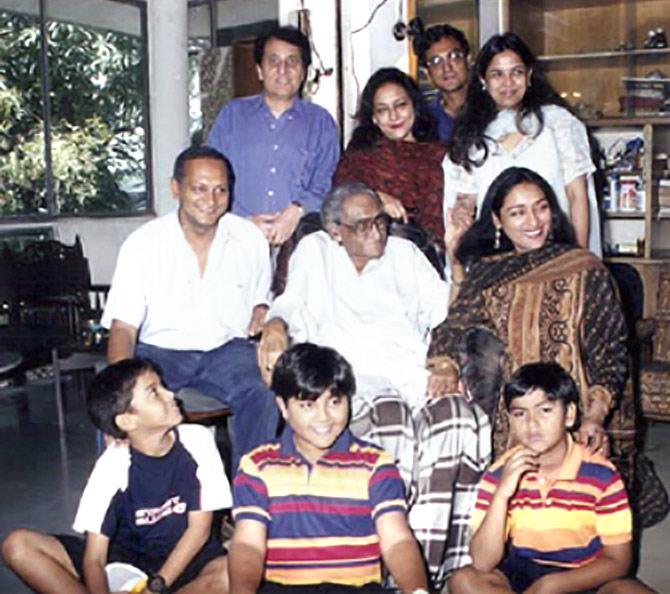 IMAGE: From left to right, bottom row: Great grandsons: Varun Patel, Sidhartha Singh, Aditya Singh. Middle Row: Grandson Rahul, Ashok Kumar, granddaughter Anuradha Patel. Top Row: Son-in-law Hameed Jaffrey, daughter Bharti Jaffrey, grandson Rohit Patel and granddaughter-in-law Kiran.
Can you share some memories about your father?
There are too many for this interview. But I can tell you one thing though... people called him a great actor, but he never wanted to be one.
Papa always wanted to be a director.
He had studied law. His father was a lawyer.
How has he inspired you?
Papa exposed us to world cinema and the creative arts.
I used to go to the sets with him and we used to be treated like little princesses.
Those days, there was no television.
He did not want us girls to get into films and since I was the eldest, I followed his diktat.
Preeti went to the FTII and then movies.
Maybe, I subconsciously always wanted to act.
What advice did your father have for you?
Acting is a form of self-expression and I was always very expressive.
I could not get into acting earlier as I was married at a young age and by the time I was 23, I already had three children.
When my father saw me in Saans, he liked my work very much.
He asked me, 'Why didn't you tell me that you wanted to become an actress?'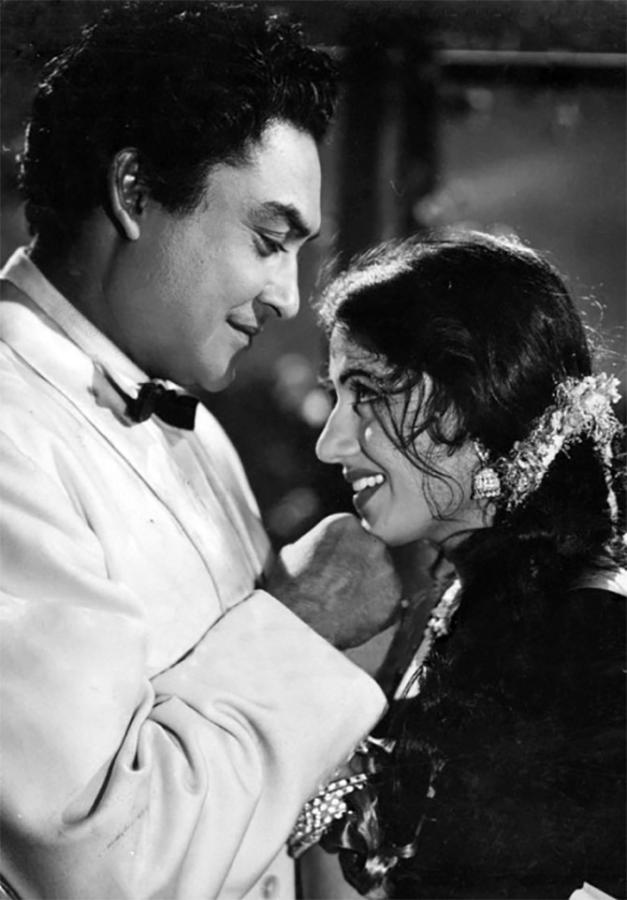 IMAGE: Ashok Kumar and Madhubala in Mahal.
Has being Ashok Kumar's daughter been an advantage or a disadvantage in your career as an actress?
Papa was a legend, so people expect you to have talent.
He did 325 films.
People have a lot of love and respect for my father.
It has never been a disadvantage.
Do you feel there should be an award in Ashok Kumar's name?
Of course! It should be given for 'Outstanding performer of the year'.
What do you think about the film industry, and the kind of films, being made today? What would your father have thought?
I feel the attention span is very short today. Times have changed. People will not sit through a three-hour long movie.
My father would have liked Piku and PINK. I don't think he would have liked item songs though.
He always said, 'Films are made for entertainment, but, somewhere, it has to touch you and reflect the human condition.'
Do you feel the film industry has forgotten your father?
They have forgotten (V) Shantaram, my father and others who laid the foundation for what Bollywood is today.