Ranbir Kapoor discusses Sanjay Dutt, and Sanju.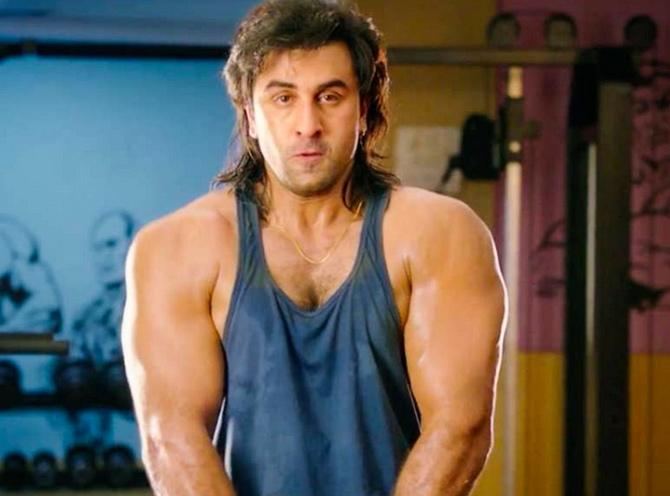 A huge Lionel Messi fan, Ranbir Kapoor is likely upset with Argentina's fate in the 2018 FIFA World Cup.
But he's thrilled about Sanju, the Sanjay Dutt biopic, directed by Rajkumar Hirani.
Ranbir set his life aside for the last two years for the film and hopes it will give him that elusive hit in return.
The actor hailed as the finest in his generation hasn't had a hit in a long time.
"You can't believe that so many things can happen in one person's life. It has been a blessing for me and my career at this point to have played this part," Ranbir tells Patcy N/Rediff.com
The first part of a multi-part interview:
Have you watched the film? Has your confidence shot up after watching it?
Yes, I have seen it.
Confidence doesn't exist in the film industry because you do not know what will happen when your film releases.
Yes, I have kept my fingers crossed. There is that hope that hopefully, the audience will accept it, like they accepted the trailer.
I am waiting with bated breath that everything will be alright.
Sometimes when you do a film, you may not be a big fan of that, then you live on hope that maybe the audience will like it...
But with this film, the fact that I got to work with Rajkumar Hirani, the fact that it was Sanjay Dutt's biopic, I am really happy with the process.
Do you think Sanju will work for you?
I don't know.
Ajab Prem Ki Gajab Kahani was my third or fourth release and I felt it would not do well, but it turned out to be such a hit!
We never thought Yeh Jawaani Hai Deewani or Rajneeti would be hits, so you never know which films will work.
When Raju Hirani messaged you for a film, you said, 'I hope it is not the Dutt biopic'. Why did you say that?
I am sure when you guys heard about me doing Sanjay Dutt's biopic, you must have wondered how is it possible, how will Ranbir play Sanjay Dutt?
He is larger-than-life with a macho image, and my personality is very different. I am way younger.
Also, this is the first time in the history of cinema that you are making a biopic on an actor who is still acting in films.
He is still relevant and loved by so many people.
I thought these were big challenges. How would I be able to do it?
But once Raju sir gave me the script, all my doubts and fears went away.
There is so much of content in his life. It is an honest true take to his life.
And it is a dream-come-true for any actor to do a Rajkumar Hirani film or a Sanjay Dutt biopic.
We did the superficial things like looking like him, getting the phases right, then actually feeling like him and believing in the material because even when I would read a scene, I would ask Raju sir if it really happened.
You can't believe that so many things can happen in one person's life. It has been a blessing in disguise for me and my career at this point to have played this part.
What was Sanjay Dutt's reaction when he saw your look?
He first saw my look when Raju sir sent him my photograph. He replied, 'Tu meri picture kyun bhej raha hai mujko?'
That was his reaction.
I look forward to his reaction to the film because he will see his own life from the age of 20 to the present and relive the emotional, controversial and conflicted moments.
I want him to have a nice nostalgic feel -- the drugs phase he went through, how his father helped him come out of it, what he went through when his mother died, when he was in jail, when the AK-56 controversy broke out, terrorism...
There is so much in his life, which I had to represent in an honest way.
I remember I would call him up in the middle of the night before the shoot and ask him what he went through...
I would probably give my own interpretation to the script, but to actually get it from the man himself is different.
When I was doing the verdict scene, I called him up and asked him what was going through his mind during that time.
He said, 'When I sat there and they announced the verdict, everything became slow motion and all I could think of was my father. My father died with a question mark in his head: Was I a terrorist or not? And he was not alive for that hearing.'
That's such a strong emotion.
As an actor, when you have that, it becomes your artillery because you can play the emotion from a different perspective.
Even today, Sanju sir is very open about his feelings.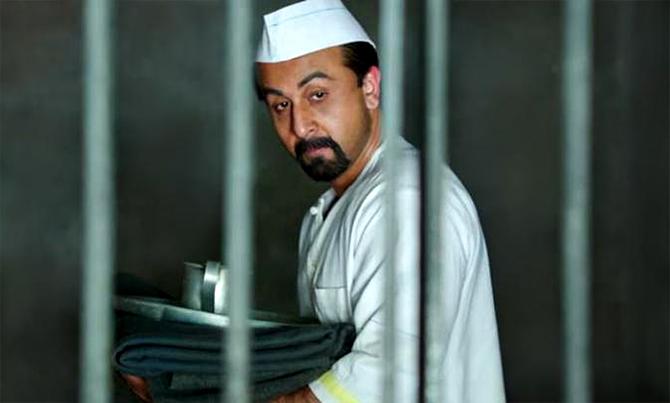 Rajkumar Hirani said you did research as well.
I play Sanjay Dutt from ages 20 to 60. So, I am not playing one character, there are six characters.
I had to do my homework. It was my basic job as an actor to understand how this guy walks, his faces...
So I would look at him, how he scratches his beard, how he wears his clothes... I used to collect his pictures.
In the 1980s, Sanjay Dutt's style had not developed yet. He was very awkward and raw.
His style came in the 1990s, when his body grew, his hair. Then, his image changed.
We had to incorporate these nuances in the different phases of his life. How his shoulders kept drooping lower and lower as he got older, his hairstyles kept changing, the way he spoke.
Are you nervous that Sanjay Dutt may not like something in the film?
Of course.
A lot of people will have different opinions, some will like it and some may not.
His reaction is very important to me because he may feel this is not my life. But I will know that only after he sees it.
Was there a conscious effort to copy Sanjay Dutt's mannerisms?
I tried my hardest not to mimic him.
I tried to be him because there is a very fine line between mimicry and trying to be somebody.
As we all know, people still copy Sanjay Dutt. So it was harder for me because I didn't want to look like a caricature.
I wanted people to see the vulnerable side of Sanjay Dutt.
This is not the Sanjay Dutt we know on screen. This is Sanjay Dutt off screen, what he was going through, his dynamics with his family and friends, and at every juncture of his life.
So I have tried my hardest to remind the audience this is me playing Sanjay Dutt.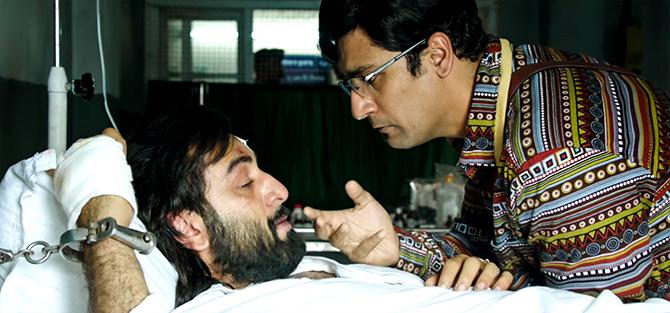 How do you think Sanju will influence the younger generation?
A lot. Like, where drugs takes you, how it ruins your life, how hard it is to come out of it, how much family support you need...
The film will teach your mistakes through the mistakes that Sanjay Dutt made because of his stardom, his immaturity, bad influence and bad company.
It will also teach you the value of family and friends, how they stood by him. That's why he could rise when he was falling.
So it is a story of a fallen hero, who kept rising and kept coming back.