'I have watched the Kabali teaser probably a hundred times, and each time with the same enthusiasm.'
'I watch other movies, other stars, but no one evokes the same passion.'
S Saraswathi reports on how the superstar's fans are revving up for Kabali.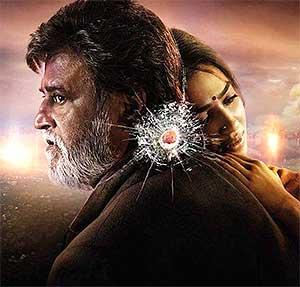 Rajini loyalists give a whole new meaning to the word 'fans.'
Spread across the planet, transcending language barriers, their love and adoration for the superstar is often described as an unexplained phenomenon.
2015 saw Rajinikanth complete 40 years in the industry, but he still rules million of hearts with his inimitable style and magnetic screen presence.
Trade analysts may have predicted spectacular box office success for Kabali, but for his fans this is one more occasion to celebrate, one more reason to show their love.
Rajini Senthil, a senior manager at a leading MNC, has been a Rajini fan for as long as he can remember.
"My earliest memory of being a Rajini fan is the nickname of Billa that I earned from my family and friends. I was probably just about 2 or 3 and everyone use to call me Billa - Rajini's name in one of the biggest hits of his career," he remembers.
"Billa released in 1980 and not surprisingly even at that age, I seemed to have recognized the magic of Rajinikanth. There is probably no rational explanation, and I don't want to pretend to analyse it or give you a hundred reasons for my fascination that has only grown over the years," he adds.
"I am 38 now and I watch other movies, other stars, but no one evokes the same passion. There was a period when I was a very active member of the Rajini fan club and used to watch all his films at least six times in the first week," says Senthil, "but sadly I don't have the time for that anymore."
"I do make a point to be a part of the blood donation camps and other events the fan club organises. And, of course, there is no greater thrill than watching the first day first show of the superstar surrounded by screaming fans," he adds.
C Ramkumar, a software development engineer at Microsoft in Seattle, feels he is immensely lucky to be in Chennai at the time of the film's release.
"I am so happy that the movie is releasing this weekend. For a while, I thought the film might be postponed again," he says. "I have come down for a short holiday and I fly back this month end. Though I never miss a Rajini film even when I am in Seattle, watching it in a theatre in Chennai sitting among diehard Rajini fans is a mind-blowing experience."
"The superstar's electrifying screen presence, his effortless style and energy is incomparable," says Ramkumar. "And it is not just me, so many of my friends both in India and the US feel the same."
"It may sound unbelievable, but I have watched the Kabali teaser probably a hundred times, and each time with the same enthusiasm. And I probably can watch it a hundred times more and not get tired of it," he adds.
"During the release of Enthiran in Seattle back in 2010, my friends and I waited for hours outside a video store that was selling tickets to the premier show," he remembers. "There was a huge crowd, as fans from the other parts of Washington and neighbouring states had turned up in large numbers."
"All the screaming and shouting of Thalaiva reminded me of theatres in Chennai," he says. "Many had come wearing T-shirts printed with the image of Rajinikanth and there was so much excitement."
"Tickets, which were usually available for 10 or 15 dollars, were sold for a record 40 dollars that day, but no one complained. We were just thrilled we managed to buy a ticket. Some newspapers in India carried our picture proudly holding our tickets," he recalls.
"Looking back there are so many moments like these that brought so much joy. The anticipation, the excitement before every film, it is an experience only understood by another Rajini fan," says Ramkumar.
Autorickshaw driver Muthupandi, who just can't stop gushing about his favourite star, says he bought tickets for Linga for Rs 700 and is willing to go even higher this time.
"I am just counting the days until July 22. I will watch at least two shows on the opening day. For Linga I paid 700 rupees, but now I hear that I may have to pay 1,000 rupees per ticket. I don't mind, this is my Thalaivar's film. I plan to celebrate the whole day," says Muthupandi.
Just the mention of Rajinikanth's name to 8-year-old Bala is enough to start him on a near-perfect mimicry of Rajini's dialogue from the Kabali teaser that crossed 25 million views on Youtube recently, becoming the first Indian film to achieve the feat.
"I love Rajinikanth and all his films. The Kabali teaser is super. My friends and I compete with each other to see who can recite the dialogues best. I also know all the lines of the Nerupa Da song," Bala says proudly.
"My father has promised to take me to the theatre this weekend," he adds.
Third-year architecture student Aditya says he is "driving my mother crazy with the speaker blaring out songs from Kabali every chance I get."
"Ever since the film was announced," Aditya adds, "I felt this combination of Rajinikanth and director Pa Ranjith would be special. Ranjith's screenplays are strong and his characters are real, so it will really be very interesting to see how he has woven the magic of the superstar into his creation."
"And going by the teaser, I think he has nailed both the looks and the characterization. There is no one in the industry who can play the stylish don and carry off those spectacular suits with the kind of effortless ease that the superstar does," says Aditya.
"We have already collected the money and arranged for the tickets. About 25 of us have planned to cut (bunk) college and watch the show on the opening day. There is no doubt that the film is going to rock Tamil cinema!"