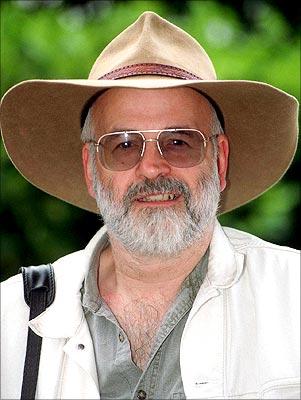 'I am not dead.'
Thus is worded the reassurance from bestselling fantasy writer Terry Pratchett, in a statement published on illustrator Paul Kidby's Web site.
Pratchett, writer of the Discworld series -- and wildly popular British author, second only to J K Rowling -- has used the space to reveal the news that he is suffering from 'a very rare form of early onset Alzheimer's.'
The humourist is typically cavalier, saying that while it is only fair of him to make the news public, he isn't a goner just yet.
'I will, of course, be dead at some future point, as will everybody else. For me, this maybe further off than you think,' he writes, calling the affliction an 'embuggerance.'
He is also confident he'll be writing more soon. 'I would prefer it if people kept things cheerful, because there's time for at least a few more books yet,' he writes.
Pratchett, 59, was awarded with an OBE for his services to British literature in 1998.
Meanwhile, the first of his Discworld series novels -- 36 have been written so far -- The Colour Of Magic is being adapted for television at Pinewood Studios, featuring Christopher Lee and Tim Curry. Terry fans, rejoice, because Pratchett pops up on screen too, in a brief cameo as an astrozoologist.
Last year, when Pratchett was under the impression that he had suffered a stroke, his doctor asked him, The Daily Mail wrote, if he had suffered any loss of memory.
Pratchett's answer? 'Not that I can recall.'
Photograph: Phil Walter/Getty Images