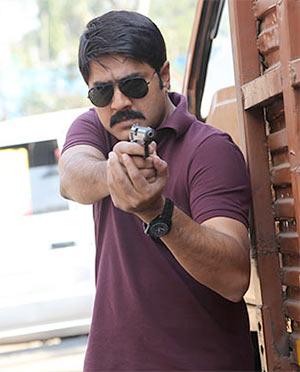 'In a typical Telugu film, the sub plot would be the love story. That is not there in my film.'
'The focus is on the job. There is no heroism. The main character is a normal cop.'
Terror director Satish Kasetty talks about the film.
National award-winning director Satish Kasetty returns with his third film, Terror, after making brilliant films like Hope and Kalvaramaye Madilo.
Starring Srikkanth, Nasser and Nikitha, the film will release on February 26.
Satish tells Rediff.com contributor Radhika Rajamani all about it.
What triggered the idea for Terror?
I have immense respect for uniformed people: the army and the police. I have done a film on the police and will do one on the army.
The premise of the film is that the Intelligence Bureau cautions about a terror act that may happen. If someone wants to take advantage, they can. In this situation, I place a corrupt police officer with a tagline Mr Dependable.
Did you feel you were treading on difficult ground with this subject, since terrorism is a sensitive issue?
No, not even for a second.
The film is not about terrorism. Terror activity is going to happen. In parallel, there is a cop story and the film is from his point of view. There are no details about the terror group.
What kind of research did you do for this film?
I had to do plenty of research. I had to talk to cops in different departments. I had to know what kinds of bombs are there, and for that, one had to speak to the army.
The film also has an emotional story -- a conflict between a father and a son. It is a family drama sans songs.
Why family drama?
If there is a cop, he has to have a family -- parents, wife and children. There is an undercurrent of emotions. Terror is a small thing in his line of duty. There are dilemmas, questions and frustrations in his life.
How did you select the cast?
I chose Srikkanth as I wanted someone in that age group. I wanted to give the best for the film, so I got Nasser Sir for the father's role.
Did you face any difficulties while filming this movie?
No. I shot with three-four cameras. It was difficult for the cinematographer as he had to light up the areas and the actors had to get the right look.
The film had to be pacy, so shots had to be cut.
We also did some guerrilla shooting with hidden cameras.
There are many cop stories. How different is your film?
Generally, there is a plot and a sub plot.
In a typical Telugu film, the sub plot would be the love story. That is not there in my film.
The focus is on the job. There is no heroism. The main character is a normal cop.
It is very realistic thriller with a running time of two hours 10 minutes. The film has no songs or comedy.
Were you inspired by any cop films?
The Bourne series inspired me because of the way it is shot.
Why did you take long to make your third film? Your second film Kalavaramaye Madilo released in 2009…
After my second film, producers approached me but I did not have a script. It took me a while to write. I worked on four-five scripts for two and a half years.
Then, I got busy with Terror for two years.
Each of the stories had to be researched. I had to work on characters. I wanted to do something different from Kalavaramaye Madilo.
A cop story was radically different. Srikkanth loved it but the producer wanted some time.
Are you ready with scripts to take up after Terror?
I have about five-six stories. I have fine-tuned two and will do one of them.