'I hadn't just been raped, I was taken to my own house and had been brutalised.'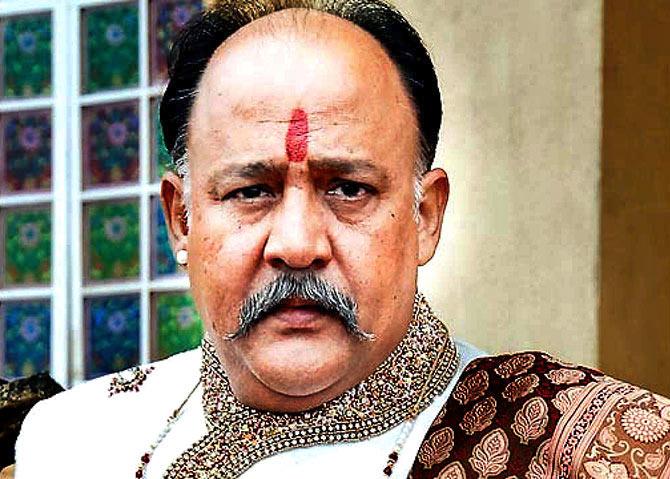 The Cine and TV Artists Association on Tuesday, October 9, said it would send Alok Nath a show cause notice after writer-producer Vinta Nanda accused the 'most Sanskaari person', as the actor is known, of raping her more than once 19 years ago.
Nanda, best known for the television show Tara, gave a detailed account of the alleged assaults in a lengthy Facebook post on Monday night, the latest expose in the #MeToo movement sweeping India.
She did not name Nath, but referred to her attacker as 'the most Sanskaari (cultured) person', a sobriquet attached with the actor courtesy his on-screen image of playing the goody-goody father, uncle and grandfather.
Nanda alleged that Nath sexually assaulted her on more than one occasion after he was fired from the 1993 show for misbehaving with its lead actor, Navneet Nishan.
Actor Richa Chadha was one of many people on Twitter who were quick to put two and two together and name Nath as the person mentioned in Nanda's post.
'#AlokNath,' wrote Chadha in response to the account.
CINTAA General Secretary Sushant Singh extended his support to Nanda.
'Dear @vintananda I am so so sorry. As @CintaaOfficial a show-cause notice will be sent to @aloknath first thing in the morning, why he shouldn't be expelled. Unfortunately we've to follow the due process. I urge you to file a complaint against this vile creature, we extend you full support,' Singh wrote.
Recounting her ordeal, Nanda said Nath's wife was her best friend.
The actor, who played Deepak Seth in Tara, was after the leading lady, Nishan, who was not interested in him.
'He was an alcoholic, shameless and obnoxious, but he was also the television star of that decade, so not only was he forgiven for all his bad behaviour but many of the guys would egg him on to be his worst,' Nanda wrote.
'My lead female actor was being harassed by him. He would mess with her on the sets and everyone would be silent. When she complained to us, we decided to let him go,' she added in the post.
The writer said they needed one last shot between Nath and Nishan and planned to break the news to him that he was being fired.
But he got to know about the plan and came drunk on the sets that day.
'He continued to drink till the time he was called for the shot. When the moment came and the camera rolled, he felt up our female lead and very viciously. My lead actress slapped him.'
'We asked him to leave the sets and told him that he was not going to be on the show any longer.'
The show went on with the ratings soaring, but the management at the television channel changed and it asked for a change in the lead actor.
Despite adhering to the change ordered by the channel, Nanda said four of her other shows running on the same channel along with Tara were sent off air by the newly appointed CEO in the aftermath of Nath's departure.
She alleged the night she was raped, she had gone to Nath's house for a party, which was also attended by several of their common friends.
'As the evening flowed, my drinks were mixed and I began to feel strange.'
'Then at around 2 am I left his house. Nobody followed me or offered to drop me home, which was what was rather unusual.'
'All I knew at the time was that I had to get home. I could sense it wouldn't be right for me to stay there any longer...'
'I started to walk home on the empty streets although the distance to my own house was long. Midway I was accosted by this man who was driving his own car and he asked me to sit in it and said he would drop me home.'
'I trusted him and sat in his car. I have faint memory after that. I can remember more liquor being poured into my mouth and I remember being violated endlessly.'
'When I woke up the next afternoon, I was in pain. I hadn't just been raped, I was taken to my own house and had been brutalised,' Nanda alleged.
When she told her friends about the incident Nanda said she was asked to keep mum and forget about it.
Nath, she added, would use his influence and continued to hound and sexually harass in the years to come which led to her 'nervous breakdown'.
'Here's the most difficult part, the main reason why I have taken so long to come out with the truth. While I was working on this new series, he asked me to come to his house again and I went to allow him to violate me,' she said.
Nanda said she needed the job and needed the money.
After the second attack, she quit. 'I was completely shattered by then,' Nanda wrote.