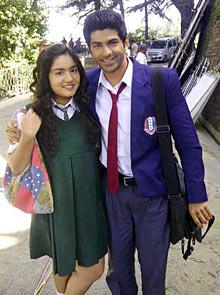 Twenty-four-year old Taaha Shah's first film was Yash Raj production's Luv Ka The End in 2011. He plays the role of the happy-go-lucky Arjun in Karan Johar's teen film, Gippy, that releases on May 10.

The film is directed by Sonam Nair, with debutante Riya Vij playing the title role.

Taaha speaks to Rajul Hegde about the film and how he landed up in the film industry.

This is your second film. How did you get the role?

I had met Faraz (the assistant director) two years ago and was in touch with him. I first met Karan Johar in Yash Raj's office.

Faraz told me that he has a fabulous role for me, which would stand out, and it was by Dharma Productions. After the audition, he discussed the role with Karan. When I met Karan he remembered meeting me at Yash Raj.

Can you talk a bit about your character Arjun in the film?

Arjun is a carefree and irresponsible person. He is into music and thinks it's cool to smoke. He is 19 years old, failed a couple of times and is still in the same class. He meets Gippi randomly, and she is infatuated with him.

How much can you identify with your character?

Different phases in my life put together create Arjun. I used to have long hair, big chains, a big gang, and I used to think that's cool.

I switched off and became a little carefree, so in these areas I match Arjun.

How was your shooting experience in Shimla?

Two months after the auditions, we started shooting in Madh Island (near Mumbai) and later shifted to Shimla.

It brought back memories of my Kodaikanal boarding school. Being in surroundings I had grown up in made me feel great. The people working in the film were so close that we would eat, hang out, and go for long walks together. It was fabulous.

What was Riya Vij like?

Riya is a 14-year-old kid. She is focused, sometimes worked for 16 hours but she never ran way from it. People who were older than her were absent and the crew had to go and find them.

She had to be a little scared and nervous around me in the film. That came out naturally, may be because I am one film old. She was quiet and behaved like a kid, while the younger kids were full-on brats.

Did you know that your co-actress Jayati Modi is Lalit Modi's niece?

The first day I landed there I knew it. Coming from such a good and
rich background, you have to have certain standards.
She is a level-headed girl and we all made fun of each other. She is completely funny, always chirpy and an awesome person.
Where did you disappear after your first film? What did you do during that period?
It's necessary for a newcomer to build a foundation in the industry. I was so lucky that I got my first film within five months of landing in Mumbai.
I didn't understand the necessity of networking, meeting people. This film will have a good viewership and it's going to be watched by industry people too.
Tell us about yourself.
I studied at the Sherwood Academy in Abu Dhabi till the fourth grade and then shifted to a boarding school in Kodaikanal for the next three years.
Feeling homesick, I returned to the UAE and later shifted to Sharjah with my family, where I finished my schooling at Choueifat International School and Sharjah American School, though not with the brightest grades.
I joined American University, Sharjah, for a semester for a business administration course but dropped out because I couldn't find myself in it.
I did a few modelling assignmentsm worked with my mother in her businesses and when the financial crisis hit, I decided to take a break and rethink where I stand.
A month later, I entered the acting course of the New York Film Academy school in Abu Dhabi. I was about to leave for Los Angeles to complete the remainder of this course when my dad (
an orthopaedic surgeon
) thought I should move to Mumbai.
Within a few months I signed my debut film with Yash Raj Films –
Luv Ka The End.
Did you always want to act or was it just by fluke?
Somewhere down the line, I always knew I would be an entertainer. It was my childhood dream but it was a difficult step to take because I didn't know anyone in the industry.
I know
Luv Ka The End
was not considered to be a hit. But I feel every actor has a special niche in this industry and Bollywood has enough work for newcomers. If you have talent, nobody can stop you.
How did you survive in Mumbai for the last two years?
I did a few ads like KFC and Bacardi etc. My parents take care of my expenses.
I am learning new things like kickboxing, weapon fighting, taekwondo, acrobatics, dance, trying to exploring new things.
So, what next?
I have some movies lined up. The southern film industry is also big. My dad is a Tamilian, so you may see me doing a south film at some point (
smiles
).