'We are caring and sweet to each other.'
'We do have our tiffs, arguments on everything; neither of us agrees to be wrong.'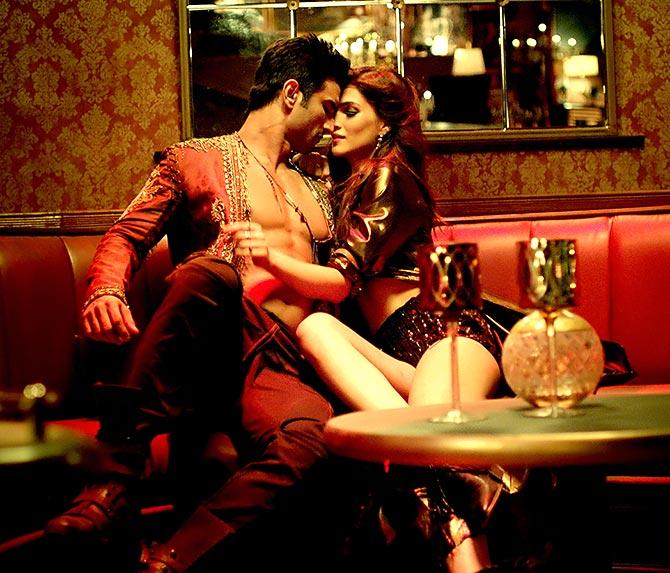 IMAGE: Sushant Singh Rajput and Kriti Sanon in Dinesh Vijan's Raabta.
Actress Kriti Sanon will be seen in dual roles in her upcoming film, Raabta, paired romantically opposite Sushant Singh Rajput, whom she is rumoured to be dating in real life.
Kriti made her debut in Heropanti and then appeared in Rohit Shetty's star-studded Dilwale. She spoke to Rajul Hegde about movies and -- what else? -- Sushant.
So you ou play two characters in Raabta?
Yes, one is from the current time. Saira, who is independent and lives in Budapest. She makes chocolates, owns a chocolate shop. I learnt to make chocolates.
She is a little off, slightly quirky about the way she walks and behaves at times in situations.
She is indecisive; there are lot of layers to her character. There is a reason why she is like that.
The flashback character is Sahiba. She is a warrior princess. She comes from a time where women are not treated that well.
She is someone who has probably been brought up like a guy. She is trained in using weapons, fighting and stuff like that.
She is fearless and can do anything for her land. And she is impulsive when it comes to taking decisions.
At the same time, she knows she is the most beautiful girl in that territory, and is a little arrogant about it.
Is Raabta inspired by the legend of Mirza-Sahiban?
Raabta is not related to the Mirza-Sahiban love story at all.
The past characters are completely different; it is set in a different time.
The era that has been shown has not been explored in Hindi cinema at all.
Often our period films are based around the Mughals or kings and queens, but here it deals with a time much before that.
It is very raw, rugged and almost tribal in nature.
When I was trying to get a reference, we didn't have one.
I watched films like Apocalypto, Braveheart, which were rugged and raw.
Raabta will be a visual treat for the audience. It is something they haven't seen before.
That period is something we take you for about 30 minutes just to make you part of this different world, show you the connection of the different world with today's times in these two people's lives.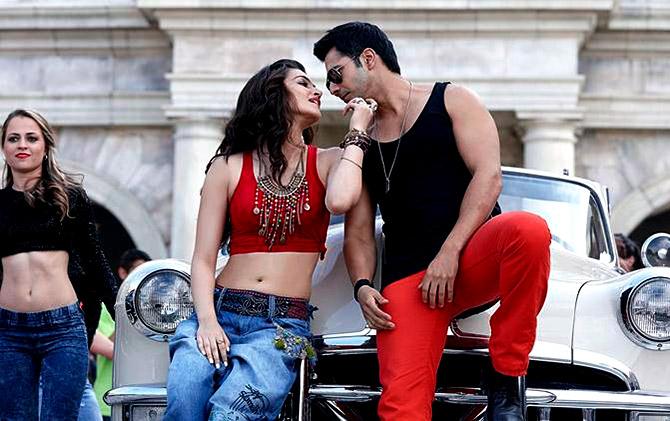 IMAGE: Kriti Sanon and Varun Dhawan in Dilwale.
Would it be right to say that with Raabta you have explored acting in a way that you hadn't in Heropanti and Dilwale?
It is very strange that I chose Heropanti as my debut, not only because of the story and the platform that I was getting, but also the fact that I had a character that had few shades to her.
There was scope for me to perform in the film, which I did to my capabilities at that point of time.
Having not done theatre, I was raw, more like a baby who was still finding her mark on the sets then. I did what I could best at that time.
Thankfully, I got accepted by the audience, not just for my looks. People also sort of commented on how I performed as an actor.
Dilwale was an ensemble. I got to learn a lot from it.
Ishita as a character (in Diwale) was more like a girl next door.
In an ensemble film, there's only so much you can do as an actor.
Raabta has much more scope for me to perform, considering that it has two different characters, a first for me.
I'm really hoping it will resonate with what I have done.
Did working in big banner films like Dilwale help you get better work?
I don't know if it's linked or not. Dilwale had not even released when I signed Raabta and Heropanti.
I think it's more about believing and seeing little things in you as an actor.
Somewhere when I was giving the audition with Sushant, Dinu (Dinesh Vijan, the producer who makes his directorial debut with Raabta) saw a bit of Saira in me.
He felt Raabta is a film which talks about connections, organic chemistry and somewhere even though Sushant and I didn't know each other he felt the way we were improvising and reacting to each other during the audition was very important.
Dilwale has somewhere increased my audience reach.
Obviously, when you don't come from a film background it's very important for people to at least know you or know of you.
Since Tiger (Shroff) and I were new, Heropanti had a certain reach but with Dilwale considering the actors that were part of the film and the budget, it sort of increased the number of people who saw Dilwale.
People realised Kriti Sanon exists in the industry at least; that, of course, really helped.
IMAGE: Kriti and her sister Nupur with their parents Rahul and Geeta Sanon. Photograph: Kind courtesy Geeta Sanon/Instagram
How did your parents react to your career choice?
It was very gradual for me and so it didn't come as a shock for them. I had started modelling when I was doing my BTech.
Initially, my father was sceptical, but eventually he used to be the one most excited seeing my television commercials or print ads.
As I was dreaming of becoming an actor, they were aware of that dream.
I started loving the process of shooting. I enjoyed the little bit of acting that commercials required. I was always into dancing, but I had never done theatre.
I wanted to move to Mumbai and give it a try.
I had refused two job offers. They were aware and very supportive of my decision. My parents always encouraged us to follow our dreams.
I had a little deal with them. I agreed to give my GMAT (Graduate Management Admission Test) and get a good score. It remains valid for five years.
I moved to Mumbai when I was trying for two films. I had shot for one schedule for my Telugu film, Nenokkadine (2014).
Then there was a two-month gap where I signed Heropanti (2014). That was also the time where I gave my GMAT; I got a score of 7, which was considered pretty good.
You have done couple of films in the South. How difficult was it to act in a language that you don't know?
I will give credit to the fact that I have done BTech because of which I could work under pressure.
So I could memorise the dialogues. Obviously, you can't just memorise and speak without knowing what you are saying.
I used to call the assistant director and ask him the meaning of each and every word. A lot of people used to perceive that it was as easy as saying 1, 2, 3, 4. It was more difficult because there I had to really concentrate on dialogues.
The one disadvantage there is that as an actor you can't improvise if you don't know the language.
Sometimes, if the other actor improvises, then you are in trouble.
I didn't dub. No matter what I do, I will not sound so authentic when I speak the language. It doesn't sound right.
It's almost like a firang (foreigner) talking in Hindi.
Sushant Singh Rajput and you watched the IPL final in Hyderabad. Did Sushant turn you into a Dhoni and Rising Pune Supergiant fan?
I was supporting Pune mainly for Dhoni. Yeah, I was seated next to the reel life Dhoni. He was going to box me if I didn't support Dhoni.
I haven't been a cricket fan, but slowly watching the film (M S Dhoni, in which Sushant starred as the Indian cricket legend) I came to know how Dhoni is.
I've always felt that Dhoni has this goodness and honesty on his face, which is very rare.
You may not know him, but you really feel that he's a really good guy.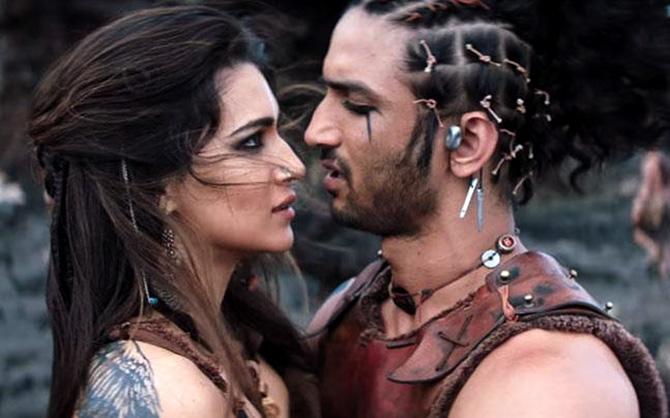 IMAGE: Sushant and Kriti in Raabta.
In the Raabta trailer, Sushant's character, Shiv, is cheesy. During the trailer launch you said Sushant is like that in real life too.
Shiv has got a very good sense of humour. He says all these cheesy lines, but they are funny. I personally feel humour is a very important part of a personality.
If a guy can make me laugh, no matter how cheesy his line is, I would react to it.
At times, Sushant's one liners are almost like Shiv. They are funny.
Earlier, when he said these one-two cheesy lines, I told him that he's actually like Shiv. He would say, 'I am just getting into method acting and I am getting into the character'.
He continued to do so even after the film got over (laughs). I told him it is high time you get out of this character. Some things about Shiv are part of Sushant.
What kind of equation do you share with Sushant?
It's a fun equation. We do care about each other a lot.
When I was doing action sequences, he knows that I clumsy.
He used to keep a watch over me, check if I was wearing the harness the right way, check if I was landing the right way.
We are caring and sweet to each other.
We are good friends, we can have conversations, but at the same time we are strongly opinionated people.
We do have our tiffs, arguments on everything; neither of us agrees to be wrong.
At times we fight even when we give interviews like kids. We kind of have a khatta-meetha equation.
There has been so much chatter about you and Sushant.
Initially, it came as a surprise. The first few articles were more about Budapest. One article spoke about a concert which neither of us went to.
We were blaming each other whether any one of us went to the concert without informing the other.
In between, it became a little annoying when we both started reacting on separate platforms.
It gets a little annoying when one starts involving families.
We've just taken it with a little bit of laughter. We take it more like daily soap.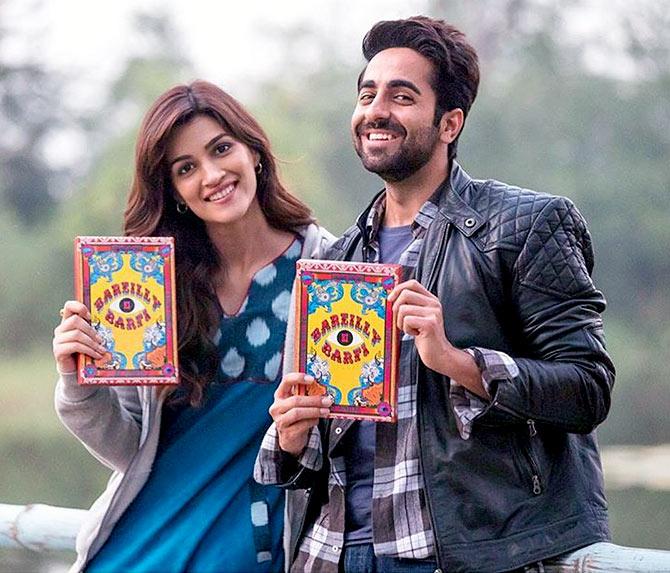 IMAGE: Kriti and Ayushmann Khurana's first look in Ashwiny Iyer Tiwari's Bareilly Ki Barfi. Photograph: Kind courtesy Kriti Sanon/Instagram
Your next film is Ashwiny Iyer Tiwari's Bareilly Ki Barfi.
Bareilly Ki Barfi is a very quirky film. I can't put it into one genre. It has got a little romance, lots of comedy.
I'm playing a de-glam character. She is tomboyish, she hides and smokes, probably the only girl in Bareilly who does break dance, but in Bareilly style.
Ashwiny Iyer shows relationships between characters very beautifully.
I got to work with fantastic actors like Ayushmann Khurrana and Rajkummar Rao.
My parents in the film are Pankaj Tripathi and Seema Pahwa.
I had many moments in front of them where I couldn't control my laughter. The poor guys had to give retakes because of that.