Suresh Krissna is a popular name in South Indian cinema. He has directed top stars like Kamal Haasan, Rajnikanth, Chiranjeevi, Revathi and Salman Khan, as well as upcoming actors in films made in all four South Indian languages as well as Hindi.
His latest, the Telugu film Asthram, is due for release on June 30. He is also doing a Hindi film after 14 years -- Rocky, starring Zayed Khan, Minissha Lamba and Isha Sharwani.
rediff.com caught up with the master director to find out more. Excerpts:
Going by the title, does Asthram have something to do with weapons and violence?
As the title suggests, it deals not only with weapons in its literal term, but also about how each individual unleashes the weapon inside him -- anger, courage, revenge, sacrifice.
The rumour is it is based on a Hindi film. If so, how has it been adapted for the Telugu audience?
The correct word would be 'inspired', as it has from various films. One may find shades from not only a Hindi film but also from some English and even Tamil films. The attempt is to make a successful film.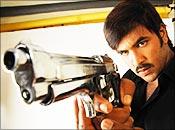 What are your creative inputs in this film scripted by the Parachuri Brothers?
The film has a joint screenplay between the Parachuri brothers and I. There have been lots of inputs from each side. I believe in teamwork completely.
How did you choose Jackie Shroff to play the role of a Carnatic singer?
Strangely, the day we planned the script, I suggested Jackie's name for the role, but everybody pooh-poohed me and we tried other actors from the South. When the shooting schedule was approaching and we had still not finalised the actor, I was asked again. I mentioned Jackie's name once more, and everyone decided to give him a try. I met him in Mumbai through a common friend and, when I described the character, he agreed immediately. He has given an amazing performance. More than anything, he is a great human being. I would love to work with him again.
You normally direct big stars. How was it directing Vishnu Babu and Anushka for a change?
Over my career of nearly 20 years and after about 34 films, I have worked with big stars and upcoming ones too. When I did Prema with Venkatesh, he was an upcoming actor. Likewise, I worked with young actors in some Tamil and Telugu films. I have never wanted to brand myself into a particular category, which is why I tried comedy, romance, action films, musicals, etc. But when films like Baasha (with Rajnikanth), Master, Indrudu Chandrudu (with Kamal Haasan) became big hits, I came to be known as a big star director. Even though there is lot of fame and money in big films, there is always creative satisfaction working with youngsters.
I knew Vishnu well as a young boy, when I directed his father Mohanbabu in Rayalaseema Ramanna Choudhry. He is talented and obedient -- a surprise package in Asthram. Anushka is a beautiful, friendly person. We had a great time working together. One of the main aspects of working with youngsters is their tremendous energy and enthusiasm.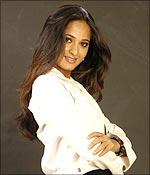 What, according to you, is the film's USP?
It is a fast-paced entertainer -- a film about how each person reacts to a particular dramatic situation.
You are directing Rocky in Hindi starring Zayed Khan. Why did you choose it?
I re-made Prema (called Love) in Hindi with Salman Khan and Revathi and also directed Jaagruti with Salman Khan and Karisma Kapoor. Rocky is the story of a man who reacts to all the hypocrisy and nonsense around and how the people, in turn, react with their laidback attitude. To prove his point, Rocky has many hurdles to cross. When I narrated the script, Zayed liked the screenplay -- it is non-linear storytelling. The producers Shyam Bajaj and Naren Bajaj (who, incidentally, had produced Love) were also impressed. Himesh Reshammiya sets the score to Sameer's lyrics. The cinematography is by Raja, Janak Hriday has written the dialogues and the film is edited by Sanjoy.
You have worked in all four major South Indian languages as well as Hindi. How comfortable are you working in different languages?
I was born and bought up in Mumbai. I received my B.Com from the University of Bombay. Even though my mother tongue is Tamil, my parents are from Palghat in Kerala. So, I can understand Malayalam as well. Having done Telugu cinema, I can speak Telugu fluently and can understand Kannada too. I am comfortable with all languages. I want to direct films in Bengali, Marathi, Bhojpuri, Gujarati and even French and English!
What do you look for when you take on a directorial venture?
First and foremost, the script - that is the soul of the film.
Do you have any desires regarding the kind of films you want to make, or stars you want to work with?
I have been discussing a few subjects in Tamil, Telugu and Hindi too. I have always wanted to work with Amitabh Bachchan, as I grew up on his films.
How did you learn the craft of filmmaking?
From the university called K Balachander. I worked with him for seven years on 14 films in various languages. All I know of cinema is purely his blessings.
Do you like cinema for entertainment or cinema with a message?
It is a mix of both, but the bottom line should be entertainment -- a message wherever possible, without underlining it too much, unless you have taken a subject predominantly to convey a message. Rang De Basanti is a classic example of entertainment with a message.