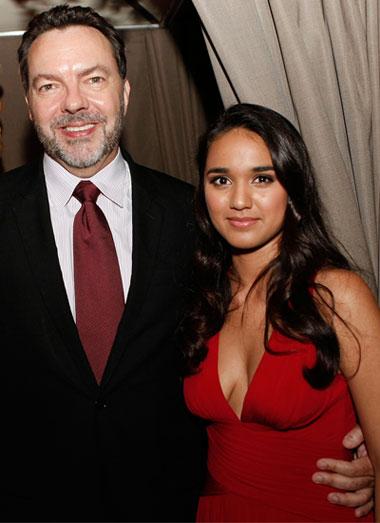 As the film Towelhead heads into the third week in a few dozen theatres in America, Sikh and Muslim activists who were worried that it could increase racial hatred in America can relax.
The movie, which is actually against any bigotry, is so dark and humourless that some critics have called it American Ugly. It is directed by Alan Ball, who wrote the smash hit, Oscar-winner American Beauty. There's little chance that this film replicates his earlier success.
But there is indeed hope for Towelhead's Summer Bishil, who plays a 13-year-old Arab girl in American who must face not only an unhappy family life but also ridicule by her classmates. They call her towelhead, hence the name, and camel jockey and make sexist remarks against her because she looks too overgrown for her age.
Many critics have praised Bishil, the daughter of an American woman and her Indian husband who took Saudi citizenship many years ago. Slate critic Dana Stevens said, 'Her performance is the truest thing in a movie that, for all its good intentions, feels thoroughly phony and mildly embarrassing.
The New York Times, which did not like the film, noted, 'Ms Bishil, who is 20, creates a convincing portrait of a confused 13-year-old girl being manipulated from all sides.'

Bishil was chosen by the influential trade publication Variety three years ago as one of its '10 Actors to Watch'. In addition, this year, at the Young Hollywood Awards, she was named 'One to Watch'. She also recently appeared in Vanity Fair in its young Hollywood portfolio.
Bishil lived with her family in Saudi Arabia and Bahrain where she was attended the department of defense school but returned to American with her brother and mother following the September 11 attacks. The return was not easy, she has said in interviews.
'I initially had some tough times trying to assimilate,' she said. 'It really makes you think about who you are and where you're at.' She began taking acting classes at age 14, appearing in several short-lived television shows including Just for Kicks. Bishil will soon be seen in Crossing Over in a small but important role.
The movie starring Harrison Ford, Ashley Judd and Sean Penn, focuses on issues relating to immigrants: document fraud, the asylum and green card process, work-site enforcement, naturalisation, and the clash of cultures.