If you close your eyes and listen to Adhyayan Suman, you could easily mistake him for his father, actor and singer Shekhar Suman. Such is the similarity between papa and beta. 
Barely 20-years old, the boy is all set to make a debut in Kumar Mangat's upcoming film Haal-e-Dil.
"My childhood has been very interesting. I used to watch all of dad's movies and television serials and hero worship him. I would even try out his clothes when he was not at home!" confesses the young and handsome hero.
Adhyayan did his initial schooling in Utpal Sanghvi School but later went to Millfield Public School, London. He spent five years there.
"I always wanted to become an actor, but my physique was against it. By the time I turned 15, I weigh over 110 kgs. That is when dad told me that with my physique I could be anything but a film hero," remembers Adhyayan.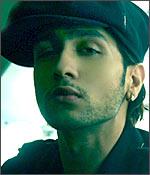 He started exercising vigorously and managed to lose 10 kgs in no time. However this was temporary. "Unfortunately, I started gaining weight more rapidly and went to New York Film Academy in Manhattan to do a course on acting and film direction. That is when my outlook changed completely," says the young and handsome hero who managed to lose 45 kgs in a span of few months.
But how did Haal-e-Dil happen?
"There is a very interesting story. I had gone to my regular hairstylist who insisted that I stay back for some time, even though my haircut was done. I refused but he insisted that I stay back. While we were having these arguments, Ajay Devgan himself walked in," recollects Adhyayan.
Since Kumar Mangat (Ajay's secretary) was looking for a fresh face for his film, Ajay called him and told him about his latest find in the saloon. The rest, as they say is history. 
Adhyayan plays the role of Rohit, a guy who is in love with Amita Pathak (daughter of Kumar Mangat).
"If you have seen the promos, you would be thinking that this is a triangle love story. However, though the other guy (played by newcomer Nakuul Mehta) is in love with Amita, she does not echo his feelings," informs the handsome hero. "We even shot on the Indo-China border in Ladakh. It was an amazing experience to work near the Indo-China border at Lake Pangong."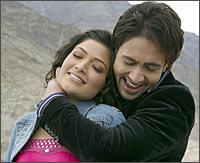 Was he very scared during the first take?
"Let me narrate a very funny incident that will answer your question. We were scheduled to stay in that hotel for a month and after settling down we were all getting ready for the early morning schedule next day. We were supposed to leave in the morning at six and drive uphill for another 45 minutes and reach the spot," remembers Adhyayan.
As luck would have it, just before the shot, he felt the urge to answer nature's call and had to take the car to the hotel. After he returned to the shoot and just before they were ready for the shot, Amita wanted to go to the rest room. "It meant another delay! But it was great fun and we enjoyed a lot," says the hero who has bagged a two-film contract with Vishesh Films, directed by Mohit Suri.
"One of them -- Raaz The Mystery Continues (sequel to Raaz) is already on floors. My co-stars are Kangana Ranaut and Emran Hashmi," says Adhyayan.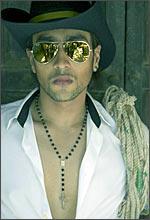 "There is an interesting story behind me getting this role as well. When my dad was participating in the reality show Jhoom India, he went and showed my pictures to Mahesh Bhatt sir, who was very impressed and wanted to meet me. I got the role after meeting with him," says the hero who plays a media guy in the movie and has a live-in relation with Kangana.
"As a journalist, I take everything logically and suddenly a lot of strange unnatural events happen in Kangana's life through Emran Hashmi. The story deals with the mental clashes of Kangana and what I have to suffer as a result."
So how is Adhyayan, shaping up his career?
"By the time I turn 30 I want to direct a film. But before that I want to act in a variety of roles and in every genre," says the hero. "I always follow my father's example and have learned to be focused and determined. I always follow what he keeps on saying -- don't compromise on your priorities," he concludes.