'The title of Khalnayak was Be Negative then.'
'I had started working on the screenplay with Hollywood writers.'
'And then after three-four months...'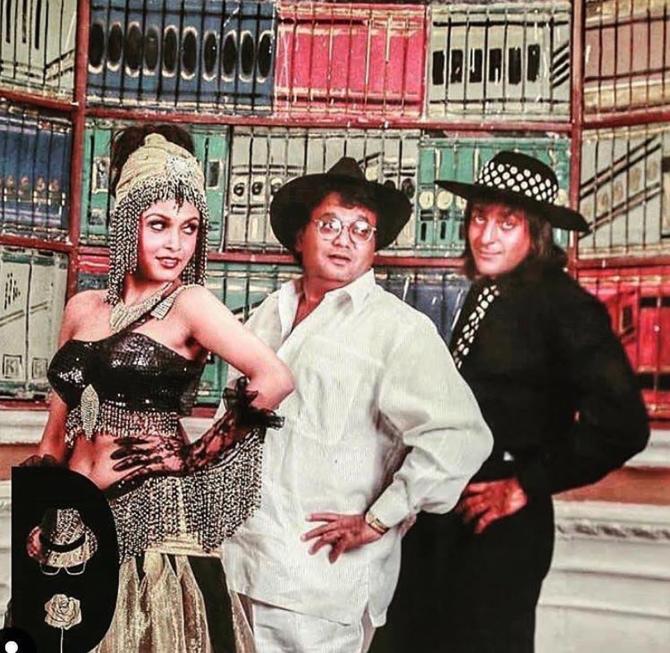 Thirty years ago, Subhash Ghai turned Sanjay Dutt, an established Hindi film hero, into a villain in his 1983 film Khalnayak.
The trend is not new.
In the 1940s, Ashok Kumar had popularised the anti-hero with Kismet.
In the same year, we saw Shah Rukh Khan as a psychotic killer in Baazigar.
"Will Sanjay Dutt return in Khalnayak 2? Wait and watch," Subhash Ghai tells Rediff.com Senior Contributor Roshmila Bhattacharya.
'The idea came to me when I was on vacation'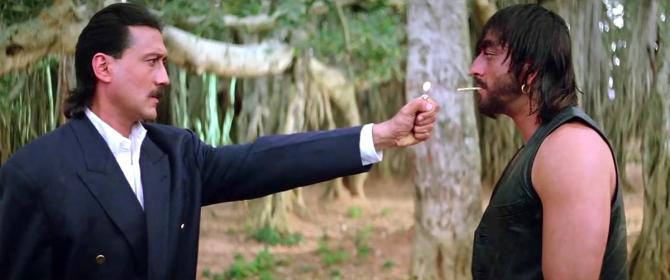 I worked on the script of Khalnayak for three years.
The idea came to me when I was in the US on a vacation.
I was staying with tennis ace-turned-Hollywood film producer Ashok Amritraj and he suggested I make a small film there.
I narrated this idea to him and he liked it.
We got it registered with the Writer's Association there and sent the story to the agents of two top Hollywood actors.
Eddie Murphy was approached for Sanjay Dutt's role while Omar Sharif was offered Jackie Shroff's role.
The title was Be Negative then.
They liked it and negotiations were going on.
I started working on the screenplay with Hollywood writers.
But after two-three months, I realised the working culture in the US was very different from that in Mumbai.
They would send mails to each other every day, but rarely met.
I did not think I would fit in Hollywood and could make films in competition.
So I returned to Mumbai.
For me, to this day, it is important to excel in what I do.
Else, I would rather not work.
'Khalnayak was a dholakwala who comes out of Yervada Jail'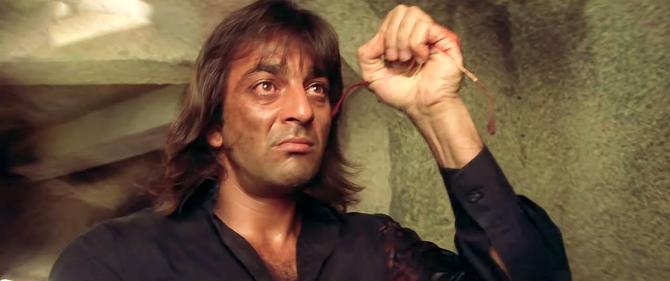 Since I liked the subject, I decided to turn it into a small budget, art, film.
But the story and character of the khalnayak was very different then.
He was a dholakwala who comes out of Pune's Yervada Jail and heads for Mumbai.
There is a chase in the course of which he meets his mother.
In the Hollywood version, Eddie Murphy's character meets Isha, a Japanese, whom we changed into the mother in the Hindi version.
After the first draft of the new script was ready, I called Nana Patekar. He liked it.
But when I narrated it to my writers and other fellow members, they suggested I turn it into a commercial film since I would have to work just as hard.
That's when I brought in Sanjay Dutt, Jackie Shroff and Madhuri Dixit.
So, there were three drafts of the same script in three different schools of film-making.
'The villain is a tragic hero in my eyes'
The villain is usually the favourite of the masses, particularly children.
He is stronger than the hero, who has various virtues because of God's blessings, his mother, the heroine's love and support, and of course, destiny.
Having researched the psychology of the villain and his philosophy of life, I have come to understand that what defines the villain is that he is in a self-destructive mode because he does not get what he wants.
What he does get is punishment, even death, at the end and that makes him a tragic hero in my eyes.
That's why I decided to make a film on him called Khalnayak.
I had Raavan in mind who was a wise, intelligent and powerful king, yet he abducts Sita and in doing so usne apne maut ko bulaya (he invited his own death).
He doesn't get her, but tarnishes his own reputation and becomes a villain in the eyes of every generation.
With this thought, this psychology and philosophy, I moved ahead.
'Anil wanted to play the khalnayak, he was ready to even go bald'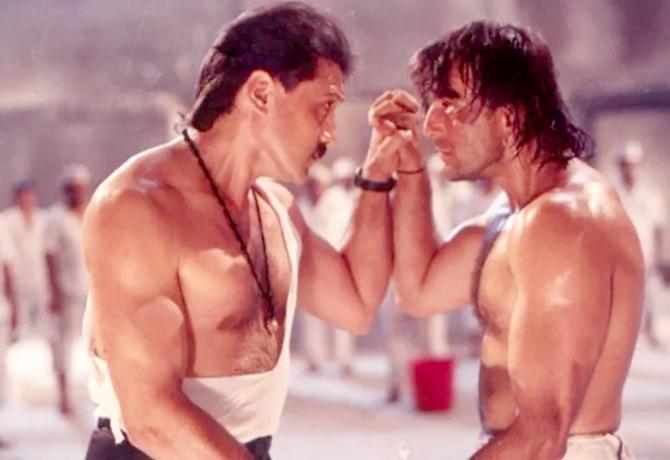 To this day, I don't write a script with actors in mind.
It is only after the script is complete that I think of the casting, keeping in mind the availability and viability of the actor, how friendly he is with me and his faith in me as a film-maker.
When Anil Kapoor heard about this script, he visited me at home and told me he wanted to play the khalnayak.
He was even ready to go bald for the role.
Anil is a passionate, talented and versatile actor who loves to experiment.
I told him that in this case, the character did not suit him.
If he insisted on playing Ballu, tu bhi doobega aur main bhi doobunga (we would both drown).
Anil understood, and we remain friends.
I wrote the character of Vikrant Kapoor (for him) in my 1999 film, Taal.
I had worked with Sanjay Dutt earlier in Vidhaata.
A decade had passed since and he had matured into a more polished and disciplined actor.
With his large eyes, innocent face and his action skills, I thought Sanju was best suited to play my khalnayak, Balaram Prasad aka Ballu, who was driven to crime by circumstances.
I called him over and Sanju was happy to accept the role on my terms and conditions.
I told him that he would have to work very hard and he didn't disappoint me.
I've seen Sanjay Dutt toil till 2 am.
'I'm looking forward to working with Jackie in future'
For the role of the cop, Inspector Ram Kumar Sinha, I cast my Hero.
Jackie Shroff is Mukta Art's most faithful talent.
With his good looks, charisma and the way he interacts with the camera, he can create magic on screen.
It's just that he doesn't know how to market himself so occasionally he ends up doing small roles.
But he is one of our finest actors and a great human being.
Everyone loves Jackie, and I love him the most.
I'm looking forward to working with him in future too.
'Ganga's character was not there in the original script'
Madhuri came to me as a beautiful, innocent girl, a dedicated student of cinema.
For her, there's nothing bigger than acting.
I may have supported her in the early days, but I can't take credit for her success.
She's worked very hard to become The Madhuri Dixit.
When the script was narrated to Eddie Murphy and Omar Sharif, there was no heroine.
Ganga's character was not there in the original.
We incorporated Gangotri Agnihotri aka Ganga when we decided to make the film in Hindi.
I turned Ganga into a cop so she can go undercover to catch Ballu after he escapes from jail and Ram's reputation is in tatters.
She wants to be abducted so she can facilitate his capture.
Along the way, he falls in love with her while she, realising that intrinsically he's a good man, tries to rehabilitate him.
She even stops the police from shooting him, allowing him to escape as a result of which her professional credentials and personal reputation is tarnished.
Here, I drew a parallel between her and Sita whose reputation is also tarnished because of the time she spent in Ashok Vatika even though Raavan never touched her.
It was only right that Ballu should return and exonerate her in count.
I always have our epics, Ramayan and Mahabharat, in mind when I'm writing a script, they are my eternal muses.
I had the option of casting another actress as Ganga, but I zeroed in on Madhuri because we were comfortable with each other and she lived the character.
'Controversies are a part of the entertainment world, hoga hi hoga'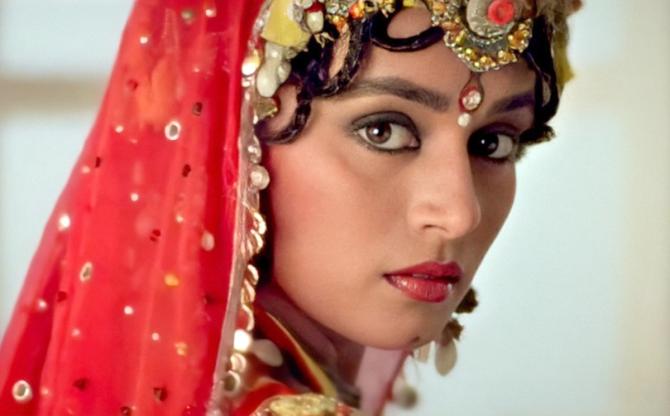 When we decided to turn Khalnayak into a commercial film, I incorporated songs and dances into the narrative.
I write my music into my scripts, it's an integral part of the narrative, and I had written the line, 'Ji haan, main hoon khalnayak'.
It was picked up and developed by Bakshisaab (lyricist Anand Bakshi) and my composer duo, Laxmikant-Pyarelal.
They turned this line into the chartbuster.
'Nayak nahin khal nayak hai tu, zulmi bada dukhdayak hai tum iss pyar ki tujko kya kadar, iss payar ke kahan layak hai tu,' the lyrics embody the essence of Ballu.
Not just the title track, the Khalnayak album had many other hit songs which still resonate, including Palki Mein Hoke Sawar Chali Re, Pyar Ki Ganga Bahe, O Maa Tujhe Salaam and, of course, Choli Ke Peechey Kya Hai.
The latter was penned by Bakshisaab, and in the next two lines itself, he answered the question, saying, 'Choli mein dil hai mera, chunri mein dil hai mera, yeh dil mein doongi mere yaar ko, pyar ko'.
Yet, the song created such a furore.
Controversies are a part of the entertainment world, hoga hi hoga.
When it's a film or a song, people will find double meanings in anything you say. You have to live with it.
What was heartening is that Tips Music sold 1 crore (10 million) cassettes in just a week and created history.
The song won Saroj Khan the Filmfare Award for Best Choreography.
Alka Yagnik and Ila Arun jointly took home the award for Best Playback Singer (Female).
'Chinta toh hogi when children are in trouble'
A bigger problem was when Sanjay Dutt was arrested on April 19, 1993, under TADA and the Arms Act for his alleged role in the 1993 Mumbai serial bomb blasts and jailed.
We had completed the film by then, but you will still be disturbed if something like this happens with your lead actor.
In Sanjay's case, he wasn't just another actor.
I was very close to Duttsaab (Sunil Dutt, Sanjay's actor-film-maker father) and Sanju had been family since Vidhaata.
Chinta toh hogi when children are in trouble.
We advised him to tell the truth and he was released on bail in May, but re-arrested in July.
However, this did not affect the film's box office run.
'Will Sanjay Dutt return in Khalnayak 2?'
I had 11 premieres in Delhi, 11 on Mumbai and 10 in Kolkata.
During every show, there were at least 10,000 people waiting outside the theatre. Such was the interest the film generated!
It's been 30 years since Khalnayak opened on August 6, 1993, but till today, I am asked when the sequel is releasing.
I have written a fantastic script and we have been working on it in-house for the last three-four years.
But the timing and the setting must be right.
As soon as we finalise that, we will make an announcement.
Will Sanjay Dutt return in Khalnayak 2?
Wait and watch.