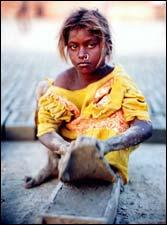 The advertisement for Stolen Childhoods, a probing documentary about oppressive child labour in seven countries including India, is so small in The New York Times that readers may miss it.
But the review for the film in the newspaper, one of the very few publications where the documentary is advertised, could make a difference.

'This earnest, unsentimental documentary describes the lot of the 246 million children for whom, as the narrator Meryl Streep says in the prologue, "life is nothing but work,"' said The Times.
Stolen Childhoods was seven years in the making, partly because of shortage of the $60,000 budget. It premiered on May 20 in New York City.

Among the powerful voices heard in the film is that of Wangari Maathai, the Kenyan environmentalist who won the Nobel Peace Prize last year. 'Misusing children as workers is a form of murder,' she asserts. 'It is slow death, a sentence of death that you are giving to the child.'  
The film also shows Indian activist Kailash Satyarthi rescuing children from sweatshops.
Director Len Morris's eye-popping work, currently showing at the Quad Cinema in New York, is being distributed by a tiny company -- and is scheduled to open in only half a dozen cities. "It is not usual for a documentary like Stolen Childhoods to reach theatres," says Morris.
If the film -- which was featured a few months ago on CNN with Aaron Brown praising it highly -- succeeds in drawing a decent number of people in New York, Los Angeles and Boston, it will be released in more cities. A strong word of mouth will also make a big difference.

Stolen Childhoods' release was partly postponed because the continuing popularity of the Oscar-winning Born Into Brothels, which ended most of its run recently with an impressive gross of $3.2 million in North America.

Though Stolen Childhoods has received praise at a few film festivals, it has not got the high profile recognition Born Into Brothels did prior to the Oscar nomination. Besides, the new documentary may be seen by moviegoers as being downbeat. Its distributor -- Balcony Films -- lacks the clout of ThinkFilms, which pushed Born Into Brothels quite hard.
A benefit show of
Stolen Childhoods
is being held at Coolidge Cinema in Brookline, an affluent Boston suburb, with the proceeds going to CARE and UNICEF. It is also set to open in Portland, Oregon, on June 24.
For more information and release schedule, check
www.stolenchildhoods.org