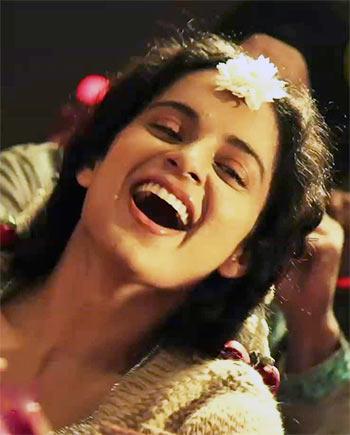 'A budding career ends before seeing a complete bloom.'
Bollywood reacts to Labh Janjua's sudden passing.
Punjabi singer Labh Janjua, who has sung hits songs like London Thumakda and Jee Karda, was found dead at his Mumbai residence.
Members from music industry share their reactions:
Amit Trivedi, composer
I am very sad and still in shock after hearing about his death.
Labh was a dear friend. He sang some of my hit compositions like London Thumakda. He had a very earthy and real Punjabi flavour in his voice. One more major loss to the music industry this year. God bless his soul.
In the picture: Kangana Ranaut in the London Thumakda song in Queen.
Shankar Mahadevan, singer-composer

Shocking beyond belief!
I really loved his singing. In fact, he was in touch with me as we were planning to use his voice in a song. May his soul rest in peace.
Lalit Pandit
It's very unfortunate.
A budding career ends before seeing a complete bloom.
Labh Janjua had a very impactful voice; his style of singing had a lot of punch.
He had reached a stage in his career where the composers were designing songs to suit his style of singing, and that stage is very precious for an artist. May his soul rest in peace.
Sajid-Wajid
Labh Janjua was one of my favourite Punjabi singers. A very humorous guy, he always joking.
I remember when I was recording him for Sonide nakhre sohne lagde, he was very new. At that time, he got stuck in the 'kendi po po' line, and we all were laughing so much.
Labh Janjua was a simple man with a golden heart. I'll always remember that charming smile.
Anu Malik
Saddened!
I never met him personally but I heard his voice in London Thumakda.

Lovely voice, great dexterity.