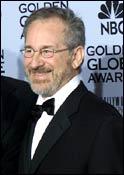 Steven Spielberg is on to his next film.
The untitled project, reports People magazine, revolves around the Palestinian terrorist attack on the Israeli team at the 1972 Munich Olympics.
Eric Roth, screenwriter of Forrest Gump and The Insider, will pen the script. Gandhi star Ben Kingsley, who has previously worked with Spielberg on Schindler's List, will feature in this movie as well.
The untitled film, which begins filming in Europe in June, will be a joint production between Spielberg's DreamWorks studio and Universal.
According to palestinefacts.org, at 4.30am on September 5, 1972, five Palestinian terrorists climbed a six-and-a-half-foot fence surrounding the Olympic Village in Munich, Germany. They were dressed in track suits. Inside, they met three other companions 'who had gained entrance with credentials.
Within 24 hours, 11 Israelis, five terrorists, and a German policeman were the reported casualties. Israeli wrestling coach Moshe Weinberg and weightlifter Joseph Romano were killed in the attack.
Four years ago, British filmmaker Kevin MacDonald had made a documentary, One Day in September, based on this incident.
Photograph: Getty Images