Veyil became the first first Tamil film to be screened at the recent Cannes Film Festival. Director Vasantha Balan, along with producer Shankar and lead actor Pasupathi, were there to represent the film at the festival.
Veyil was screened under the Tous les Cinemas du Monde section in a theatre called Le Cinema du Monde on May 19. Looking back on that momentous day, Balan recalls his unforgettable experience in this interview.
What was your reaction when you learnt that Veyil had been invited to Cannes?
On March 30, I got a call from the director of the film festival informing me that Veyil had been selected for Cannes. I thought one of my friends was playing a prank on me. Never in my wildest dreams did I imagine my film going to Cannes.
Then I got another call, this time from my producer Shankar sir asking me if the film has been selected for Cannes. I was confused and told him so. Then, Shankar sir confirmed the news. I was speechless.
Did you celebrate?
We didn't but from that moment onwards, I was in seventh heaven. I never imagined that my film would have the logo of Cannes on the cover. It was an amazing feeling.
We spent April subtitling the film, and on May 17, Shankar sir, Pasupathi and I went to Cannes.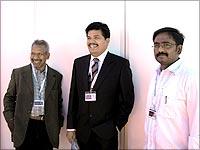 How excited were you?
This was my second trip abroad. The first time was for the shooting of Jeans. Coincidentally, I was assisting Shankar sir in that film. Now, this was my second trip with him. Isn't it amazing?
However, when you travel as an independent director, there is a lot of pride in the trip.
As we sat in the plane, I asked myself several times, is it really happening? I come from a small town (Virudhunagar) with no connection with films at all. Coming from such a background, my film being selected by an international film festival like Cannes gives you an indescribable feeling. I couldn't believe it was really happening.
Did you want to meet any internationally known filmmakers there?
I really wanted to meet Alejandro González Iñárritu, the director of Babel. His Amores Perros is one of my favourite films. But I couldn't meet him. But I was fortunate to meet Michael Moor.
How was the experience before and after the screening of your film?
My film's show was at 6 pm on May 19. There were about 500 people in the hall. The program director introduced me to the audience as the director of Veyil. Many people asked me the meaning of Veyil. I told them it meant sunshine.
They also wanted to know why I had such a title. I told them that Veyil was not just sunshine but a character in the film. Like sunshine is harsh to human beings, the place where the story unfolds also is very harsh on its people. I told them that the film was about how the harshness affected the mind of a child. I spoke in English which was then translated into French.
How did you feel when your film unfolded onscreen in front of an international audience?
As you know, Veyil is my second film. I would have felt great if my film got screened in Chennai and for it to be screened in Cannes! When my name appeared on the screen, I was overwhelmed.
Did you remove the songs from the film?
The prescribed length was 100 minutes and my film was 120 minutes long. So we cut 40 minutes from it. I removed two songs and retained only the ones that carried the story forward.
People enjoyed the action comedy scenes thoroughly but they were shocked to see the kind of violence that was there in the film.
Were you nervous about the response?
Yes. I knew the audience would be speechless after the climax. There was complete silence after it ended. I could see that they were all disturbed. I saw the same expression on the faces outside the theatres in Tamil Nadu.
An 70-year old lady came over and told me that it was a great film. "It touched my heart but I feel very sad," she said with tears in her eyes. She was sad because her eldest son went missing when he was seven and my film reminded her of him.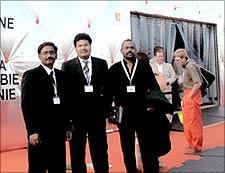 I spent an hour answering questions. The greatest reward for me as a filmmaker was that old mother's tears.
I had asked you before the release of the film whether the urban audience would identify with the emotions of the characters in the film, and you said that emotions are universal irrespective of the place.
Exactly. A mother in France could identify with the emotions of a mother in Virudhunagar. That is human emotion; it is universal.
I must add that Veyil has been selected for the competitive section at the Shanghai festival also.
Pasupathi was there with you. How did people react to his acting?
He made a lot of fans there. People were clamouring for his autographs! I was surprised that more people wanted the actor's autograph than the director's! (laughs)
Yours was the first Tamil film that went to Cannes festival. Now, everyone will be anxiously looking forward to your next movie. Does that make you nervous?
The thought has made me more responsible. I know my next film will be scrutinised by everyone. The script is ready and I will announce it when I come back from the Shanghai festival.