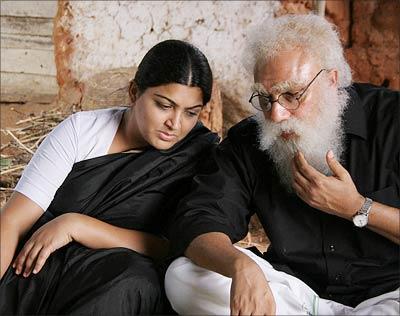 In Tamil, Periyar means 'the respected'. How the reformist leader EV Ramaswami Naicker came to be known by that name is an amazing story, with all the elements of controversy well in place.
It is to know the real Periyar that Gnana Rajasekharan, an IAS officer working currently as director, Rajiv Gandhi National Institute of Youth Development, decided to make a film on Periyar.
Rajasekharan is a respected director, the man who made a feature film on one of the most revered Tamil poets, freedom-fighter Subramanya Bharati.
His debut feature Moha Mullu won him the Indira Gandhi National award for Best First Film.
His second film was a short one, Oru kan oru parvai, based on an incident in a village in Salem, Tamil Nadu. A Dalit girl was beaten up and blinded when she dared to drink water from a glass kept reserved for those of a higher caste. This film was selected for the Indian Panorama in 1998.
In 1998, he had told rediff.com, "I do not know how films fascinated me. During childhood itself, I fell under the magic spell of the medium and its grandeur. Watching a movie was like reading a book for me."
It is this fascination that led him to increasingly interesting projects. He told us in 2000 why he made Bharati, "No Tamilian interested in arts and culture can escape Bharati's influence. The quantum may vary from person to person, but the influence will definitely exist. Even those who are not interested in arts and culture are greatly influenced by Bharati."
Similarly, no Tamilian can grow up without having heard and read about Periyar. Periyar created the Dravida Kazhagam, the father of all Dravidian parties. Anybody who is familiar with Tamil politics knows that it is very risky to make a film on the man. On top of that, there are a lot of descriptions for Periyar: a rationalist, atheist, social reformer, anti-Hindu, etc etc.
Rajasekharan said, "It is to show the real Periyar to the world, to remove the misconceptions and to show how he became Periyar that I made this film."
Like selecting an actor who resembled Bharati (Sayaji Shinde), selecting an actor to play Periyar was an even tougher task for Rajasekharan -- if Bharati was a poet during the freedom struggle, Periyar was seen by many people who are still alive. He chose Satyaraj, a follower of the principles of Periyar, to play the leader and Jyothirmayi as Periyar's first wife, Nagammal. Khushboo acts as the revolutionary's second wife, Maniyamma.
All those who have seen the Periyar stills are amazed by Satyaraj's uncanny resemblance to the leader.
The film is ready and will reach theatres on May 25.
Text: Shobha Warrier