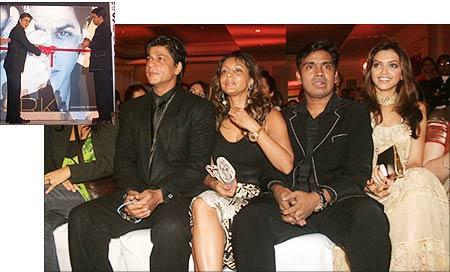 Mumbai's ITC Grand Maratha Sheraton hotel witnessed quite a few film and television stars when Mushtaq Shiekh unveiled his new book, Still Reading Khan, a biography of Shah Rukh Khan.
SRK, who launched the book, got especially emotional when a video clip showed images of his earlier home in Delhi -- the home where he lived with his parents before he moved to Mumbai.
"The best part of today's function was when I saw my old house in Delhi," he said. "It brought back memories of my mom and dad. I wish they were alive to see how much importance is given to me."
The clip also showed SRK's friends and colleagues like choreographer-turned-director Farah Khan, her brother actor-director Sajid Khan, producer Viveck Vaswani (in whose home SRK stayed for a year when he first came to Mumbai), filmmaker Subhash Ghai, director Farhan Akhtar (who's directing SRK's latest film, Don), Juhi Chawla's husband Jay Mehta and SRK's sister Shabeena Khan talking about the star and Mushtaq.
While most of them praised SRK, all Sajid seemed to love was Shah Rukh's 'big house and big car.'
Later, SRK laughed about Sajid's comments and said, "Sometimes I think that all I have is a big car and a big house, and nothing else."
After the book was launched, Shah Rukh invited his directors like Farah Khan, Aziz Mirza, Farhan Akhtar, Karan Johar, Abbas-Mustan on stage to cut a cake.
When the event was about to wind up, Ekta Kapoor, a close friend of Musthtaq, made her entry. Interestingly, Mushtaq wrote Balaji serials like Kya Hadsa Kya Hakeekat, Kahiin Toh Hoga and Kahani Ghar Ghar Kii for two years.
In the picture: Shah Rukh Khan, Gauri Khan, Mushtaq Shiekh, model-turned-actress Deepika Padukone. Deepika may star in Farah Khan's Om Shanti Om, starring SRK. Mushtaq is currently penning its script.
Text: Ronjita Kulkarni | Photographs: Pradeep Bandekar