'My filmography is filled with films that are unique, out-of-the-box and quirky.'
'These films are taboo-breaking, but still consumable by the masses.'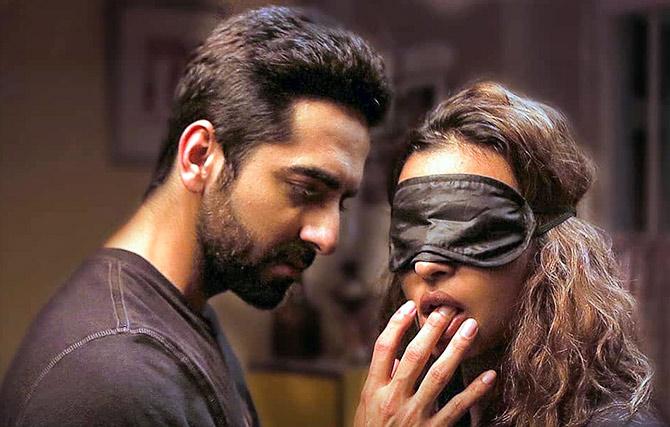 Ayushmann Khurrana plays a blind pianist in Sriram Raghavan's much talked about thriller, Andhadhun.
"You will get shockers and revelations every seven minutes of screen time," Ayushmann promises Rediff.com contributor Ramesh S about Andhadhun.
The trailer of Andhadhun has got great feedback. Are you excited? What prompted you to star in a thriller like this?
I am very excited with the reactions.
It's a unique genre that Sriram Raghavan has cracked. It's a thriller, but not a dark one.
It has a lot of fun and quirky moments.
You will get shockers and revelations every seven minutes of screen time.
Besides, doing a thriller was in my bucket list.
Sriram Raghavan is one of the most respected names in the industry who has given path-breaking films.
I did not want to do anything different with a new director or with someone I don't trust. That's why I am in safe hands with Sriram Raghavan.
People tend to spoil the fun of thrillers by revealing the suspense on social media. Are you worried?
We have to take a leap of faith because every film lover will not give away the spoilers.
But yes, the thriller genre does survive on that.
I still remember watching Gupt for the first time in a Chandigarh theatre. Before buying the ticket, one man next to me said Kajol was the murderer in the film.
I was a kid and still remember that spoiler moment.
So yes, that should be a worry for sure.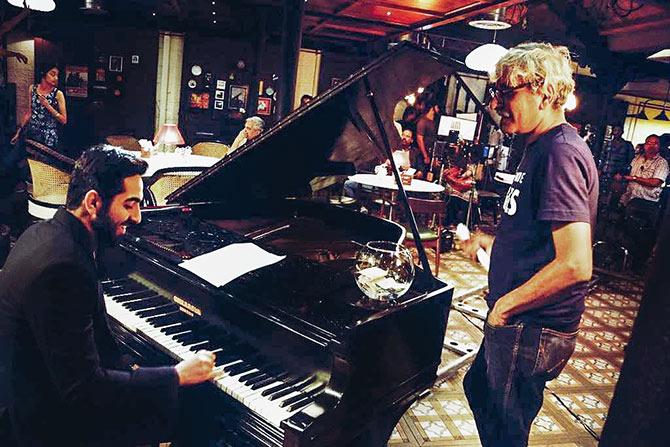 How challenging was it to play a blind man? And a pianist at that.
It was truly challenging.
Sriram told me not to watch any film with a blind character for reference because everyone would imitate the same.
We went to a blind school in Worli (south central Mumbai) and spent time with students.
I met a blind musician and observed him carefully.
I incorporated such observations and experiences.
Playing a blind pianist was difficult for me. Though I am a musician and have played the guitar, playing the piano was a different ball game together.
Being a musician truly helped because I could learn faster.
Sriram did not use any kind of body double for such scenes, so I focused on those.
How did you switch off from the character?
I switch on and off quite easily. I'm not a person who lives with the characters (I play).
I am a very spontaneous actor and don't get affected by things happening around me.
For instance, if someone is making faces behind the camera, it will not affect my performance.
That's the training I got from my theatre days; we have to perform anyhow on stage.
At the same time, I have started seeing my life in a different way after playing a blind character in Andhadhun.
When you lose one sense, your other senses automatically get elevated.
We have started consuming music visually, which is quite ironic in nature. The purest way of consuming music is only audio.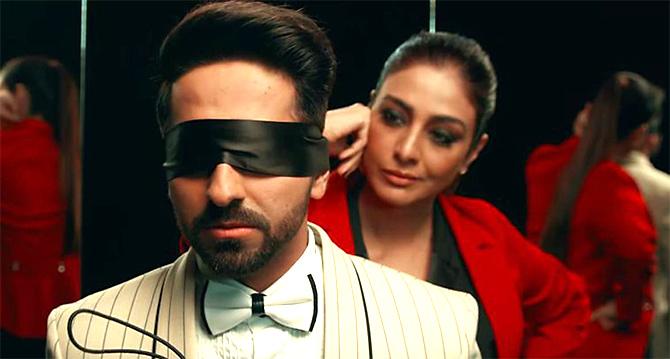 What was it like working with Tabu and Radhika Apte?
I have always been a Tabu fan. She's one of the most versatile actresses in the industry.
She shifts her acting gears flawlessly, she's very malleable as an actor.
From films like Vijaypath to Virasat, or from commercial films like Golmaal to content-driven films like Cheeni Kum, it shows how versatile she is.
Radhika Apte is a very brave actor. It's great working with her because she is very different and radical with her choices.
And Anil Dhawan better known for his 1970s movies?
Actually, that's beautiful nostalgia for us. Sriram Raghavan is obsessed with such nostalgia.
You will get a '70s feel when you hear the background music of Andhadhun.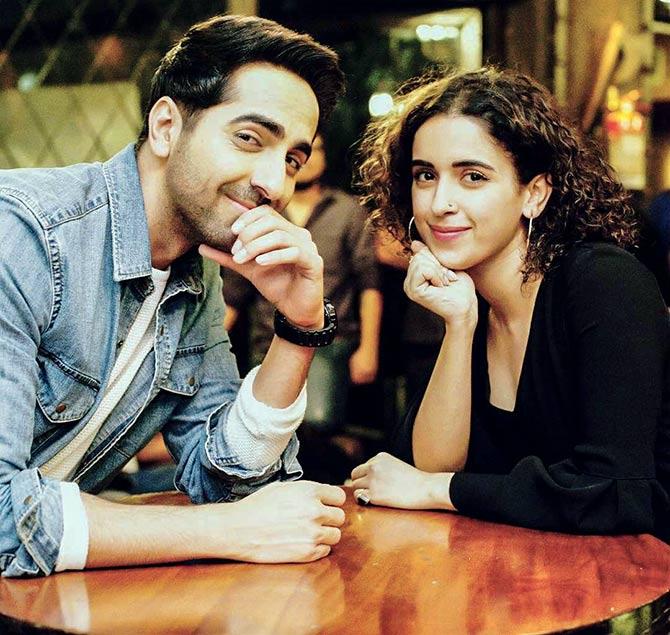 You were supposed to be a part of Manmarziyaan and Stree. If that had happened, it would have been like an Ayushmann Khurrana film festival!
(Laughs) I think you can do only certain things at certain points of time because of things like clashing dates, band performances, and so on.
At the same time, the choices that I have made are quite interesting. For instance, Badhaai Ho is the talk of the town now.
I am glad I have made my choices wisely.
You made your debut with a character-based role in Vicky Donor, and you are continuing that with Andhadhun and Badhaai Ho. Are you happy as an actor?
Yes. I am really content as an actor because I have carved my own niche in the industry.
My filmography is filled with films that are unique, out-of-the-box and quirky.
These films are taboo-breaking, but still consumable by the masses.
At the same time, I would love to do different kinds of genres like Andhadhun.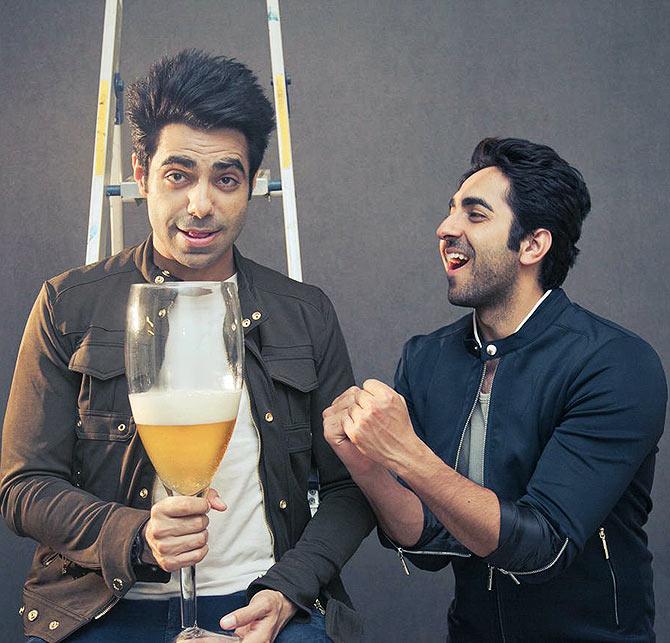 From a sperm donor to a blind pianist, what's next?
I really don't know.
Script-writers are really talented these days.
I never expected to play a sperm donor in my debut film. Likewise, I never expected to play a blind pianist in Andhadhun.
When I read a script or hear a narration, I do it as the audience. If I, as an audience, gets entertained, I go ahead.
We take ourselves very seriously; people don't want to see a 'different you', but they want to see a 'different film'.
Your younger brother Aparshakti is making his mark with his films. Do you give him ideas or suggestions?
Yes, he discusses everything with me. But I am glad he makes his own choices, like Stree.
He is so different from me -- his acting and comic timing is quite dissimilar from mine.
He has his own journey and I am proud of him for that.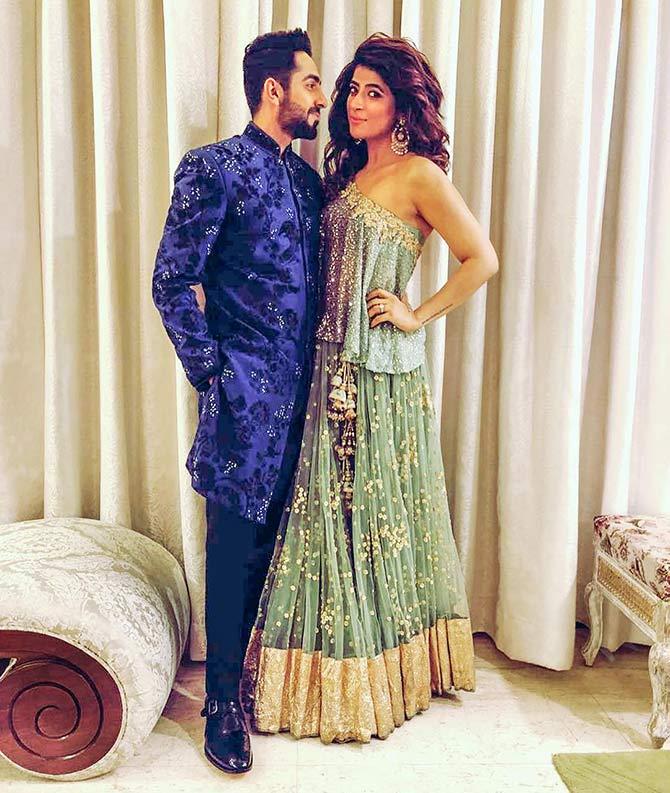 Andhadhun is releasing with films like LoveYatri and Lupt. What's your take on that?
This is not an era of a solo release. During Independence Day, both Gold and Satyameva Jayate were commercially successful.
Also, all three films have a different tonality and belong to different genres.
Your wife Tahira had a cancer scare. How is she feeling now?
She is better now. Fortunately, we got to know about it at an earlier stage.
I don't think we will undergo chemotherapy, but we are still waiting for the final reports.
As of now, she is in a better situation.