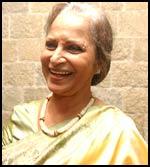 Three legends gathered on a rainy Saturday evening.
Waheeda Rehman, Shammi Kapoor and Vyjayanthimala were felicitated June 19 at Mumbai's Homi Bhabha Auditorium, at a programme called Phir Wahi Shaam, organised by the Ladies Organisation of the Federation of Indian Chambers of Commerce and Industry.
Sheela Bhatt records a few moments from celluloid history, as the stars shared anecdotes from the past:
Waheeda Rehman
Waheeda stood out like a superstar at ease with her glorious past. Her eyes still shine bright.
She had an interesting story to narrate when asked about her perfect Urdu. Waheeda was born near Chennai, in 1938, but she first met Guru Dutt in Hyderabad. That is what gave rise to the perception in the industry that she was Telugu. That she spoke Urdu well only added to it. It so happened that she spoke chaste Urdu because her parents spoke only Urdu at home.
She shared another nugget from the past, about how she is still amazed when she watches the song, Jaane kya tune kahin, jaane kya main suni. The song from Pyaasa, her second film, was shot in Kolkata (then Calcutta). She was new to films, and was used to going to bed at 9 pm.
This song was picturised during the night. And she says, "Every time the sets were ready, the assistant director would come and wake me up. I was dozing most of time. Later, I wondered, itna achcha gana kaise bana [how did it turn out so well]?"
By 1965, she was a veteran. Piya tose naina lage re in Guide, in which she co-starred with Dev Anand, took more than 15 days to shoot because each antara meant a new set and new dress for her.
While talking about Dev Anand, she said, "On the sets, he was silent. But he had tremendous energy and was always charged. He always said, 'Never think about the past'."
After husband Kanwaljeet's death, Waheeda Rehman has moved back to Mumbai from Bangalore.
Shammi Kapoor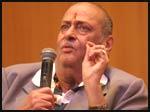 The hero of Kashmir Ki Kali is sophisticated and stylish in real life too.
Though he has not been in the best of health -- he is unable to stand for too long -- he did come up on stage for a few minutes.
With an old world charm, he said his involvement in the song recording of all his films was 'total.' Melody, he said, was most important to him.
He revealed the story behind Yeh chand sa roshan chehra, yeh jheel si neeli aankhen, the hit song in Kashmir Ki Kali shot in a shikara on Kashmir's Dal Lake.
Apparently, composer O P Nayyar was not happy with Kapoor's suggestion to Mohammed Rafi to sing the word taarif in a high-pitched tone each time with a greater energy level.
Kapoor said, "The song recording was almost cancelled because I wanted Rafisaab to encore the word taarif."
Later, Rafi intervened and told Nayyar, "Ye badmash ne kuch socha hoga [This rogue must have thought of something]. Allow me to sing taarif like he suggests."
The song was recorded as per Kapoor's wish. "Rafi ne saath nahin diya hota to yeh gana aaj na hota [Had Rafi not sung it this way, the song would not have existed]," Shammi Kapoor said.
He said jumping into the lake at the end of the song was part of the script and not a spontaneous act.
Vyjayanthimala
The star of Raj Kapoor's Sangam is now known as Dr Vyjayanthimala Bali.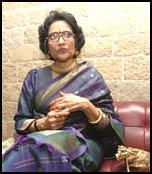 In a dark blue Kanjeevaram sari over a slim frame, she looked more like a retired dancer than an actress.
A Bharata Natyam dancer, she was discovered by AVM Productions at one of her dance recitals. The Tamil film, Vazhkai (1949), was later remade in Hindi as Bahar. Hindi viewers will remember the hit song, Saiyan dil mein aana re, aake phir na jana re, from Bahar sung by Suraiya and Shamshad Begum.
After so many years, her resentment was still visible, when she said she refused to accept the Best Supporting Actress Award at the Filmfare Awards for Devdas because the roles of Chandramukhi and Paro (essayed by Suchitra Sen) were parallel and of equal importance. She added, defiantly, "And I don't change my mind, normally."
Photographs: Jewella C Miranda