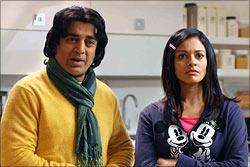 Radhika Rajamani writes that the Kamal Haasan starrer Vishwaroopam is a well-made film.

Kamal Haasan really does push the envelope with every film.

With Vishwaroopam, he has not just touched upon a relevant aspect of global terrorism but made a technically brilliant film.

Visualised and executed on a large scale, the film keeps us engrossed, barring a few moments where it dips in pace and the subtitles come in when Arabic is spoken.

The content is a bit confusing in the beginning and one has to concentrate to put the pieces together.

As the film opens, we are introduced to Dr Nirupama (Pooja Kumar), a Nuclear Oncologist, who is married to Vishwanathan (Kamal Haasan).

Since he's a dancer and displays a lot of feminine traits, Pooja is attracted to her boss Deepak. But Nirupama discovers there's more to her husband than meets the eye. Vishwanathan has a mysterious past. But they are trapped in a dangerous situation. Can they get out of it? Does she know who Vishwanath really is?

The film's narrative moves back and forth as it is set in different milieus -- US and Afghanistan.

The first half is pretty entertaining thanks to Vishwanathan's accomplishments, his Kathak thumri in particular. Later the film gets grim given the serious nature of its subject. At times it's like watching a piece of reality on screen. Kamal has ensured a certain amount of authenticity though there are some loose areas too.

Vishwaroopam undoubtedly rests on Kamal Haasan, who is brilliant. He has also written, directed and produced the film.

His thumri sequence, choreographed by Birju Maharaj is graceful and elegant.

Haasan has also managed to get good performances from his co-actors as a director.

Pooja Kumar stands out with her portrayal as the nuclear oncologist. She exudes a sense of vulnerability and confidence. Rahul Bose, Shekhar Kapoor and Andrea Jeremiah play their parts well.

The film has a grand canvas and to envisage and execute it is a tall order and Haasan has managed to pull it off.

The action sequences are well executed and considering the inhospitable terrains they were shot in. Sanu Verghese's camera work is noteworthy as he brings a certain slick look to the whole film.

The art department also deserves mention for locating some fine spots. Mahesh Narayanan could have been tighter with his editing.
As Kamal Haasan says in this interview, a sequel may follow. Watch out for it!

Rediff Rating: