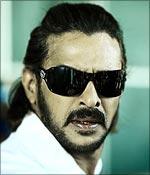 Shruti Indira Lakshminarayana reviews the title-less Kannada movie. Post YOUR reviews here!


Young accessible political leaders, plush Vidhan Soudha,
firang
beggars, swanky cabs with
videshi
drivers, highly valued Indian rupees, keenness for Kannada...that's 2030 Karnataka as shown in director-actor Upendra's just released title-less film.
It's been ten years since
Upendra
 directed a film, and he vowed to come out with something different. The film is different alright starting with the opening credits where the editor becomes 'head eater' and producer a 'fraud user'.
The opening scene that follows is entertaining. Splendid visuals of futuristic Mysore city and the patriotic and punch dialogues mouthed by the characters there is a perfect start to the film which stars Subashchandra Gandhi as the main protagonist.
Gandhi (Upendra) is a London bred
desi
at heart business tycoon. He eats, talks and lives India. But why is he in London? And why is a woman named Indira (Nayanthara) after his life? 
The first half is predominantly shot in London's corporate hubs and shifts to Bangalore following Indira's entry. In his trademark style, Upendra plays with the narration mode and by interval time you'll be curious to know not just about Indira's past but also about the fate of
desh bhakt
Gandhi in real India. So was the plot worth your curiosity? While we'll let you decide that for yourself, what we'll tell you is this: like in his previous films, here too Upendra takes on the system.
Like in one of his former directorials,
Operation Antha
, this film also comes as a slap across the faces of self-centered power hungry politicians. Even the media is not spared. The film is no less kind to the
aam aadmi
who has done nothing but become complacent to the
sarkar raj
. In fact it is scenes where he mouths sarcastic dialogues about how unlike our western contemporaries, we Indians live by the principles of Gandhi and put forward the other cheek to those who have slapped us on one side already, that lift the film.
The track of
Chaddi
-brothers and a chief minister who burns and swears in anger like fire and cries and melts like ice when needed, are very entertaining. A fight in a government office which brings to fore the bribes taken by officials is also hilarious. Gandhigiri is passe is the point that's being driven home. The movie comes as a wake up call to 'we the people' and pits the question: Do  governments hold the sole responsibility of a nation?
The film foresees the state as a clean green safe heaven but up to a point where you are left wondering if this is bordering on wishful thinking. The 'real' star does move away from reality at times. Prolonged scenes about patriotism get to you. It also slackens the pace of the film.
You also get a sense of Upendra's previous directorial Om in a few scenes. Music by Harikrishna especially in the song kai kai uppinakai... is going to be a sure hit with the audience. The hero's looks and dialogue delivery style will please his fans. Nayanthara does justice to her role. Tulip Joshi and Telugu comedian Ali appear in cameos.
Apart from ardent Upendra fans, can others too picture the incredible India awaiting us as shown in the film? Watch and find out!   
Rediff Rating: