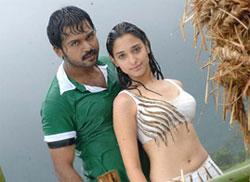 Pavithra Srinivasan reviews the Tamil Film Siruthai. Post YOUR reviews here!
After establishing himself as a serious actor and then a middle class lover-boy, Karthi seems to have decided to make the transition into an all-out action hero. And
Siruthai
(Leopard), a remake of the Telugu smash-hit
Vikramarkudu
might prove to be the vehicle that carries him to stardom; director Siva has done his best to make sure the star, rather than the actor, takes precedence.
Among
Vikramarkudu
's best features were Ravi Teja's quirky, flaky turn as a pickpocket and the dry-as-dust, bleak landscape occupied by villains, who made the perfect foil for the dashing police officer.
In its Tamil remake, the directors have made a clever adjustment. They post a disclaimer at the beginning, explaining the loudness of the villains: They're from Kurnool, Andhra Pradesh, and have kept the flavor intact. A master stroke, which later helps you get used to the exaggerated gestures.
But the film belongs to Rocket Raja (Karthi), the sort of adorable ruffian Tamil cinema has been missing for a while. He picks pockets, slices off handbags, charms women and even bashes (!) them up without a single jolt to his conscience. In this, he's aided by hilarious cohort Kaattu Poochi (Santhanam). The two live in an interesting area filled with various items they have "lifted". There's everything from a park bench to phone booths and even neon signs of a mobile service provider (kudos to the original art director).
During one of their numerous adventures, Rocket Raja runs into Swetha (Tamannaah), who falls for one of his tricks of trade and believes he is above reproach. The two ham their way through a hilarious romance, before things take a serious turn. Someone drops off a little girl Divya (Baby Rakshana) with Raja, and he's suddenly being hunted by gangs of long-haired men intent on murder.
The reason for their vendetta? A fearless cop, Rathnavel Pandian (Karthi, again),
whose path unexpectedly crosses Raja's, leading him to Devi Pattanam, Kurnool, where the nemesis waits.
Karthi had a ball, trying his hand as both the silly-yet-adorable Raja, and the impossibly brusque Pandian, but the applause clearly goes to the thief. Few people can pull off Ravi Teja's zany antics and Karthi has managed to do it, with his artless grins and wobbling accent. As the stiff and muscled cop who has the powers of Superman, he has to work harder. The problem is not so much with the actor as with the script; this sort of superhuman character has been passé for a few years, and it's only his screen-presence that keeps you in your seat.
Santhanam is clearly the comedian of the moment; the man manages to wring laughter just by appearing on-screen. The first half's momentum is largely due to him, and picks up in the second half when he arrives.
Tamannah is little more than arm-candy, shows plenty of skin in a throwback to 1980s vamps. Baby Rakshana is cute and appealing, but the rest of the cast is barely there.
R Velraj's camera shows off every glower of Karthi to perfection, while the stunts are truly knuckle-shattering.
Vidyasagar's music is bland; nothing, expect maybe
Rocket Raja,
stays on your mind.
The going's pretty racy for the first half and some part of the second half too, until the superhero complex takes over and everything unravels. The end is just pure silliness as everything comes together to deliver everyone to safety.
Yet, despite the ridiculous plot and sheer lack of logic in some places,
Siruthai
manages to snag your attention. A good deal is because of Karthi, and Santhanam, and the suspense in the beginning.
Don't expect too much. Siruthai feels like a homage to the good old spicy thrillers of at least a decade ago - it is a mass entertainer with the best of escapist fantasy.

Rediff Rating: