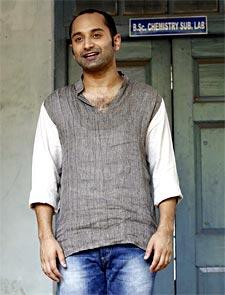 Paresh C Palicha says that Olipporu's director A V Sasidharan depended too much on lead actor Fahadh Faasil's popularity to get the movie going but but has made no effort to get even the basics right.

Filmmakers seem to have lost confidence in simple storytelling and try to invent new forms such as multiple narratives or other such devices to keep the viewer engaged.

Newcomer A V Sasidharan is the latest victim of this 'new gen' syndrome. In his first film Olipporu, the leading man's spirit talks to us, moving around as the narrator, while his body is on the deathbed in a hospital.

Ajayan (Fahadh Faasil) is a techie working in Bengaluru. He is an avid blogger writing under the pseudonym Olipporally (guerilla warrior). Right at the start he is shown riding a bike for a long while (with awkward camera angles) and getting fatally injured. He is rushed to hospital where he is put into intensive care.

We see him come out of there and talk to us facing the camera. We get to know that he is a very creative person who writes poems and has opinions on the serious issues of society. He is directing a show staged in partnership with fellow bloggers who have weird pseudonyms like Brake, Clutch and Gear.

To make this situation more complex, the Ajayan who is narrating the story posts the news of his accident on his blog using a laptop and a wireless internet connection (we are not given a clue about where the laptop has come from).

We know that before the advent of social networking sites lots of Malayali youth working outside the state or abroad used blogs as a medium of expression to give went to their feelings and used pseudonyms. There were a number of online bloggers clubs and groups.


But the treatment given to this concept is tacky here. The blogger friends do not know anything about Ajayan except his cellphone number (which is switched off) and his pen name. Even his intimate online girlfriend Vani (Subhiksha), who is also part of this group, does not know anything about him.
The script by P N Gopikrishnan is predictable. The hero has spent his childhood surrounded by lush paddy fields and taking care of his blind grandfather, played by Thalaivasal Vjay.

As we go along, we see that Ajayan has a problem with his speech (reminding us of art films of the eighties where young people with impairments would go on to become revolutionaries of some kind). <One gets the feeling that the director has depended on Fahadh's popularity to get the movie going but has made no effort to get even the basics right.

Olipporu is an experiment that has gone horribly wrong.
Rediff Rating: