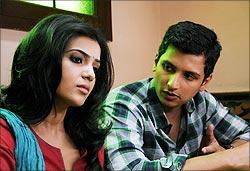 Pavithra Srinivasan feels that Tamil film Needhane En Ponvasantham isn't as good as director Gautham Menon's previous films.
There's no doubt that when it comes to urban rom-coms, director Gautam Vasudev Menon knows his stuff.
He knows how to introduce his characters, put them against an appealing backdrop, slowly allow us to watch them as they evolve, and then introduce a conflict that seems to destroy everything.
In
Photon Kathaas
and RS Infotainments'
Needhane En Ponvasantham
he attempts to do something similar, but falls into the trap every seasoned filmmaker dreads -- of repeating his own mandatory formula.
Varun Krishnan (Jiiva), a clean-cut, fresh-faced youngster is at a college cultural festival with his friend Prakash (Santhanam) when he sets eyes on Nithya Vasudevan (Samantha Ruth Prabhu) and that changes his life.
She's a bewitching beauty and he can barely take his eyes off her. It's when he comments to his friend, "She's so beautiful! How did I ever let her go?" that you realise that Varun and Nithya have a history.
He shows her what he feels when he sings the classic
Needhane Endhan Ponvasantham
number, and it's obvious that she has feelings for him as well.
Their love story unfolds through a series of flashbacks, starting from their friendship as children, through school, when it blossomed into love.
He finds her dazzlingly beautiful and she acknowledges that he's "cute," but beyond that there seems to be little to explain the romance. Still, you're invested enough in Varun and Nithya to find out how their relationship progresses.
The relationship soon hits a road-block.
Varun refuses to commit and Nithya, puzzled and hurt, breaks off. And this is when the tedium begins.
The second half of the story is full of tears, recriminations and quarrels that make little sense.
The arguments and debates that made the first half intriguing now fall flat, and you get tired of the back-and-forth.
The screenplay unravels swiftly, weighed down with supposedly deep feelings which leave one cold. By the time Varun confronts Nithya during the climax, the theatre hoots with laughter.
Jiiva is his usual confident self, and there's genuine appreciation in his eyes as he looks at his co-star, which makes his acting convincing.
Samantha is pretty, graceful, and does an excellent job of conveying the emotions of a girl in love, especially during the school sequence. She carries the film on her slender shoulders.
Of the rest, only Santhanam makes a mark, especially during the
Vinnaithaandi Varuvaaya
spoof. The fact that he receives more applause than anyone else in the film tells its own tale.
As in many Menon films, the supporting cast is there just to provide the backdrop.
Maestro Ilaiyaraja's score brings back a rush of nostalgia, reminding us of his best works in the 1980s and '90s.
Satru Munbu
, is especially effective, but where he truly makes his mark is in the background music.
Rajeevan's art-work fits the bill, while Antony's editing tries to make sense of a swiftly unravelling movie. M S Prabhu and Omprakash's cinematography is unobtrusive.
This one is certainly no
Vinnaithaandi Varuvaaya
, and ends up being rather disappointing.
Rediif Rating: