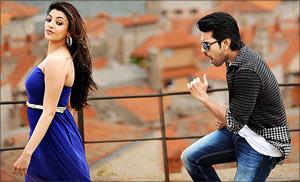 Director V V Vinayak has mixed in the right ingredients for this Sankranthi film says Radhika Rajamani.
Director V V Vinayak treads the oft-trodden path with
Naayak,
a film essentially dealing with the triumph of good over evil.
The film follows the formulaic pattern and has all the necessary ingredients for an entertaining potboiler. The storyline isn't new, but the audience has fun throughout. Ram Charan does just about everything--fights (which he does valiantly with a lot of gore too in some scenes), dances (he's surely light-footed) and horses around with Brahmanandam who has quite a meaty role too.
In such films it is essential to suspend logic. The high voltage violence is a bit hard to digest and could certainly have been toned down.
Jilebi (Brahmanandam) has an altercation with the local don Gandi Babji (Rahul Dev). His nephew Cherry (Ram Charan Tej) sorts it out but in the process falls in love with Madhu (Kajal Aggarwal), Babji's sister.
At the same time in Kolkatta and Hyderabad there are some deaths. Rawat (Pradeep Rawat), the local minister, feels that Cherry is the person behind all this.
The first half of the film moves at a breezy pace while the interval brings in the twist. In the second half there's mostly stomach-churning violence
which is pretty repulsive.
Having Brahmanandam throughout and M S Narayana in the second half ensures a steady stream of laughs. Posani too chips in to raise the humour quotient in the second half.
There are several songs, three of them shot in breathtaking locales. To keep the film socially relevant there is something about doing social service and references to the media thrown in.
The characterisation of Babji (Rahul Dev) is too sketchy. So is Amala Paul's character Nandini, who anyway has very little time on screen.
There are several unrealistic occurrences and the link to the Kolkatta incidents seems a bit unconvincing, but it's all passed off in the name of entertainment. Both heroines have little to do. Kajal Aggarwal looks as bright as a flower and Amala too looks good.
Ram Charan dances brilliantly. He has matured as an actor over the last four films. The comedians are hilarious.
The songs are shot in picturesque locales in Slovenia and Iceland, like the stalactite and stalagmite caves at Postojna. Chota K Naidu has done a great job as cinematographer. Technically the film is top-notch.
V V Vinayak delivers a hardcore commercial entertainer for the festival. If you can watch
Naayak
without analysing it, you will find it fun.
Rediff Rating: