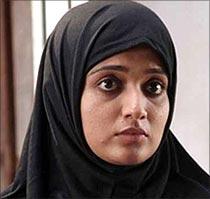 Paresh C Palicha reviews the Malayalam movie, Khadama. Post YOUR reviews here!

Director Kamal's latest venture Khadama is one example where he deals with a subject that requires realistic treatment and he has come up on top. Khadama is also a comeback film for Kavya Madhavan after her marriage and bitter divorce.

The film deals with the atrocities suffered by Indian women who go to the Middle East to work as domestic help. We are told in the beginning itself that this film is based on a true story.

It is the story of Ashwathy (Kavya Madhavan), who goes to Saudi Arabia to work as a domestic help due to financial difficulties. She has to support her in-laws after the untimely death of her husband (Biju Menon). Usman (Suraj Venjaramoodu) promises to get her a job in the same household where he is working as a driver. Her problems begin as soon as she lands up at the airport where she has to wait for one and half days for the sponsors to pick her up. She has to suffer physical and mental abuse when she starts working there. She is even made to believe that there is nothing unusual in the situation as her mate from Indonesia had to go through similar grind in the initial period.

The treatment of this film is 'in your face' with the physical violence transposed literally on the screen. The screenplay credited to Kamal and Gireesh Kumar, do not believe in subtleties. Respite from violence comes through Razak (Sreenivasan) who acts as a Good Samaritan for his countrymen in trouble.

Kavya Madhavan, who played the part of a mute sufferer does well even though she does not have much variety in displaying emotions here. She just has to have a distraught look on her face and rarely bring the angelic smile on her face. Sreenivasan fits the role of Razak. He even gets a chance to pepper it with self deprecatory and pointed dialogues.

Manoj Pillai's camera work helps to enhance the gloom that the characters suffer in this film, whether it is in showing the desert as the unending sea of sand or in the depiction of deplorable condition in which lower class labourers have to live in.

Director Kamal earlier dealt with the subject of people working in the Gulf region in Perumazakalam but it was based in the local milieu. In this film, he goes deeper to depict the depressing conditions of people living there.
Khadama is a winner on that count.
Rediff Rating: