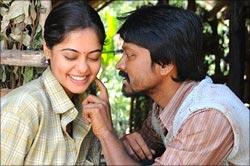 Tamil film Kazhugu starts off well but the extreme predictability of the screenplay makes sure that tedium sets in, leading to a rather tame climax, writes Pavithra Srinivasan.
One of the best things about Talking Times Movies' Tamil film
Kazhugu
is that it takes a very interesting premise as its plot-point: the lives of men who routinely climb down steep mountain slopes, 3000 or 4000 feet down, and scrounge around for dead bodies usually of those who have committed suicide from the summit. 
A horrifying job, and a dangerous one given the sheer difficulty of trekking in virgin forest, looking through the undergrowth for decomposing bodies that are frequently wedged between rocks or have fallen into pits.
Director Sathyasiva has certainly chosen a novel story. As to whether it satisfies its very promising start, is something else altogether.
The beginning is interesting: Sera (Krishna), Shanmugam (Thambi Ramaiyya), Nandu (Karunaas) and a friend are all involved in the aforementioned job of retrieving corpses of those who have fallen or leapt to their deaths. A good deal of their time is spent drinking and trying to forget the horrors of what the
see. They try to deal with this by referring to the bodies as 'pieces' and entertain extremely cynical notions about life and love in general.
Meantime, there's Kavi (Bindhu Madhavi) who is fond of Sera, despite his drunken fits. 
At the other end of the spectrum is the factory owner Ayya (Jayaprakash) who is engaging in illegal activities and you know straightaway that they're going to tangle later on.
So far, so good. But from here, the screenplay starts wobbling. The dialogues are all right and there's a thread of realism that anchors the characters, but the extreme predictability of the screenplay makes sure that tedium sets in, leading to a rather tame climax.
Bindhu Madhavi is a ray of sunshine in the story, and Krishna does a fairly good job, while Thambi Ramaiyya adds a good deal of humour in the scenes he's in. But the real hero in many ways is P Sathya's camera, which zips and zooms through the forests and hills and takes you close to the tragedies.
Yuvan Shankar Raja's music is melodious and adds depth.
Had Sathyasiva managed to keep proceedings as interesting as he does in the first hour,
Kazhugu
would have turned out a classic.
Rediff Rating: