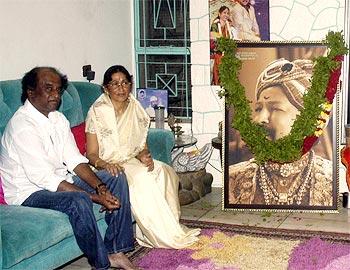 The sudden demise of Dr Vishnuvardhan has left many fans and those close to the Kannada actor shattered.
One such person is Tamil super star Rajnikanth who could visit the late actor's house only after his return from a long shooting schedule in Pune-Lonavla.
Rajnikanth's friends Mohan Babu, Sharath Kumar and wife Radhika, and Vijayakanth have already visited Dr Vishnu's house to console Bharathi and other family members.
Rajnikanth finally paid a visit to Dr Vishnu's house on Wednesday evening after coming straight from Mysore. Rajni was accompanied by his close friend Ambareesh, Kannada film producer Rockline Venkatesh and many others.
Rajni came to Vishnu's house around 6.30 in the evening and spent more than an hour with the family. He offered floral tributes to the star with whom he has acted in two Kannada and two Tamil films.
Rajni recalled how Vishnu's performance in Puttanna-directed Nagarahaavu impressed him. "I saw the film many times and my resolve to become an actor strengthened after I saw that film," he recalled.
He also remembered a meeting he had with Vishnu two months ago at a party arranged by Lizy Priyadharshan and Radhika Sharath Kumar where many artists of the seventies got an opportunity to interact with each other. "He was a tall man spiritually and had abundant knowledge about many things. He was an inspiration to many artists," said Rajnikanth.
When Rajnikanth started acting in films, Vishnu was already a big star. He acted with Vishnu in two films -- Sahodarara Savaal and Galaate Samsaara. Both were big hits. Later Vishnu acted with Rajnikanth in the super star's hundredth film Raghavendra. The other film they did together was Vidudalai.
Image: Rajnikanth and Bharathi