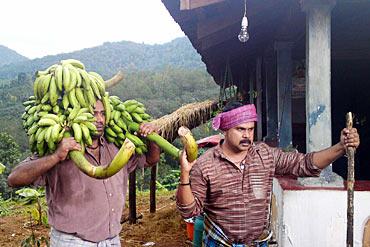 Director Shafi, who has made several hit films in the past, is teaming up with Dileep once again in the Malayalam film, Marykkundoru Kunjaadu (Mary has a little lamb).

Shooting of the film is currently underway at Thodupuzha.

The film has been scripted by Benny P Nayarambalam.

The story takes place in a remote village where the majority of the people living there are Christians. Dileep plays Solomon, a simple soul who is quiet in nature and fears virtually everything around thus earning the nickname Kunjaadu (lamb).

His mother, played by Vinaya Prasad, is called Mary. The other Mary is Bhavana, the daughter of Ittichan, a rich landlord. Bhavana has been in love with Solomon right from their childhood days. Sometime later a strong man with a rugged look comes to Solomon's house. Solomon, who was known as a weak guy until then, has a strong company now.

Marykkundoru Kunjaadu is being produced by Vasaikha Cinema. Lyrics by Anil Panachooran have been set to tune by Berny-Ignatius. Cinematography is by Shyam Dutt.
The film is slated for December.