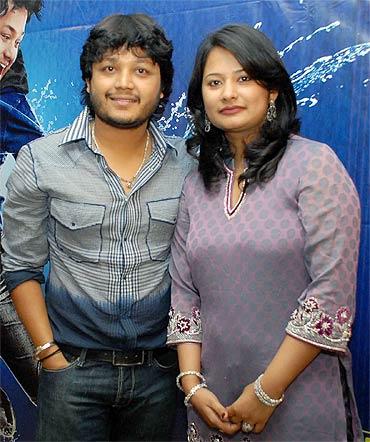 Producer Shilpa Ganesh is teaming up with husband Ganesh for her second Kannada home production Kool. The film is being produced under the banner Golden Movies.
It will see the actor playing a college student. Aamna Sheriff aka Kashish of popular Ekta Kapoor serial Kahin Toh Hoga plays the Golden Star's love interest.
For her first production Maleyali Joteyali also, Shilpa had roped in Hindi actors Anjana Sukhani and Yuvika Chaudhary as Ganesh's leading ladies.
Speaking about why she chose Aamna, Shilpa says, "I used to watch her serial and she is such a pretty face. I felt she would look good on the big screen as well and wanted to be the first one to introduce her to South Indian cinema and here she is."
By signing on a Hindi heroine, the team also aims to target a larger audience.
While as Kashish, Aamna was seen in Indian outfits, in Kool she will sport trendy outfits. In fact Shilpa herself will be involved in Aamna's styling. Ganesh will be seen in designer and branded outfits like the ones he wore in Maleyali Joteyali. He has even reduced three kgs for the role.
"I'm playing a college student so I needed to look fit," he says. Wife Shilpa is monitoring his diet, he adds.
The film will include pranks and incidents from Ganesh's college days. "I was a big prankster in college and each day was great fun. In the film too, the first half will reflect the fun days. The second half is interesting as it is then that the knots formed in the first half of the story get untangled," he adds.
According to the actor, the film comes with a tension free plot. It'll have a very relaxing effect on the audience, he claims.
Kool will be shot in Leh apart from Bangalore and Mysore. Ratnavelu, who is currently working in Rajiniknath-Aishwarya Rai starrer Endhiran, is the cinematographer. He had handled the camera for Ganesh's Gaalipata previously.
Harikrishna has composed the music. 'Mussanje' Mahesh, who has directed Ganesh in the yet to be released Eno Onthara, is the director.
Ganesh had invited his fans to suggest a title starting from Kannada alphabet 'Ka' and a female fan came up with the title Kool.