The battle has moved to the small screen and guess who's winning? Urvi Malvania reports.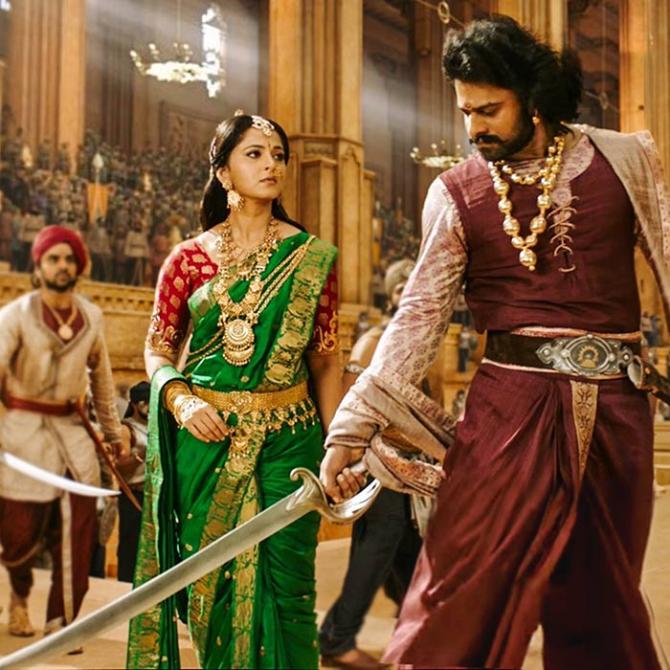 IMAGE: Prabhas and Anushka Shetty in Baahubali: The Conclusion
South Indian films dubbed in Hindi seem to be gaining wider acceptability among audiences, particularly on the small screen, as more and more Bollywood films are proving to be duds at the box office.
Over the weeks since February -- when the Broadcast Audience Research Council of India made modifications to the universe of TV viewing after setting up the establishment survey -- Hindi general entertainment channels have seen a marginal rise in viewership, but Hindi movie channels have witnessed a significant jump.
Raj Nayak, chief operating officer, Viacom18, says, "As markets mature, we are seeing this (the popularity of dubbed south Indian films) across the board, including theatrical releases (eg Baahubali and Robot).
"Audiences are becoming more open to dubbed film content... Production values are important and some genres like action lend themselves more easily to dubbed viewership than others. And yes, Tamil and Telugu films have generally crossed over more easily for a variety of reasons."
Viacom18 launched its first dedicated movie channel in the form of Rishtey Cineplex in the first half of 2016. Since its launch, the channel has managed to maintain its spot among the top five channels in the rural markets. Recently, it was at number 2, behind market leader Sony Wah.
Neeraj Vyas, head, Hindi movies and the music cluster of channels at Sony Pictures Network India, says, "Hindi films, especially the newer ones, are losing market for various reasons. For one, there seems to be no hook for the viewers even in the first airing, let alone repeats.
"Gone are days when the second, third and fourth airing of a popular movie would get us phenomenal ratings. Dubbed south Indian films, however, rate consistently."
Vyas runs three channels under SPN's Hindi movie cluster -- Sony Max, Sony Max 2 and Sony Wah; the last-mentioned is a free-to-air Hindi movie channel.
"The popularity of south Indian films dubbed in Hindi has been on the rise for a while now.
"We have been focussing on the acquisition and marketing of these titles and it has helped us maintain the leadership position in the genre. Also, over the past couple of years, films coming out of the south have evolved, so they appeal to a wider audience once the language barrier is overcome," he says.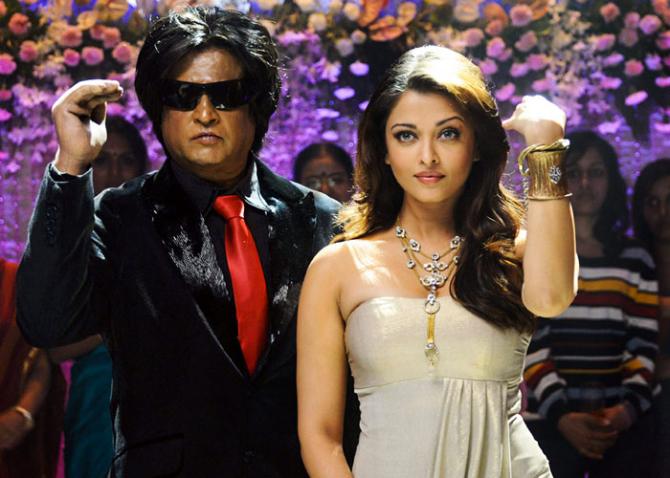 IMAGE: Rajinikant and Aishwarya Rai Bachchan in Robot
According to data provided by BARC, Sony Max has been the number one channel in urban markets since February, while Sony Wah has taken the pole position consistently in rural markets.
The only time Sony Wah was dethroned was during the Vivo Indian Premier League, when Sony Max was number one in rural markets as well.
While broadcasters are seeing the success of dubbed south films in terms of viewership, the segment is yet to see the appreciation in advertising rates. Vyas says the parity between the inventory rates for Hindi films and dubbed south movies can sometimes be up to 50 per cent.
"These movies rate equally well in urban and rural markets, so advertisers can target a wide territory with south dubs. It's an under-appreciated category on Hindi movie channels for sure," he adds.
Acquisition rates for south Indian titles, however, have been on the rise.
"Yes, there has been an increase for certain dubbed films, especially sequels of successful films or of stars who have gained wider recognition.
"But it's important to understand that the unviable increase in satellite rights prices for Hindi films is what drove channels to experiment with dubbed films in the first place.
"So, a steep increase in the acquisition rates of dubbed films will be killing the golden goose. Channels will look for other viable options," Nayak says.