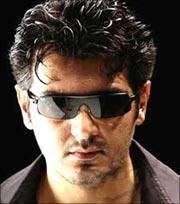 After the unprecedented success of Tamil film
Billa
, there were rumours of a sequel.
Now, it's official. There will be a Billa 2 -- but it will be a prequel. The movie will take us through the journey of how David became Billa.

Director Vishnu Vardhan remade superstar Rajnikanth's 1980 film Billa with Ajith playing the title role in 2007. Nayantara was the heroine.
It was one of the most stylish films ever made in Tamil cinema. Nirav Shah's scintillating photography and Nayantara's style statement had became the talk of the town. There was criticism too, that the actors looked like mannequins in many scenes.

Unlike the 2006 Hindi take, Don, where the film's ending was changed to keep lead protagonist Shah Rukh Khan alive, Ajith's Billa had the same story as the original Rajni film.

Late film producer Balajee had produced the original Billa in 1980. His son Suresh Balajee gave permission to another producer to make the Ajith remake in 2007.
Unlike the first part, IN Entertainment (India) Limited (INE) along with Wide Angle Creations -- the production house led by Suresh Balaje and George Pius -- will produce Billa 2.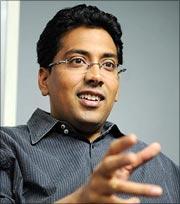 Ajith will continue to play Billa in the new film but the director has been replaced with Chakri Toleti, the director of the Kamal Haasan-Mohanlal starrer Unnaipol Oruvan (the A Wednesday remake).

He is also remembered as the boy photographer, who had accompanied Haasan in Saagara Sangamam.
Chakri is currently in the process of developing the story.

On asked why they replaced Vishnu Vardhan, Suresh Balajee replied, "He is stuck with a Telugu film. He would have loved to direct Billa 2 but we were not sure whether he would be able to do justice to two films at the same time.
"Chakri, who was to direct a film for the Hinduja group, stepped in," he continues. "His experience with Disney Studios has made him savvy with the current technology."

"I am looking forward work with Chakri Toleti on Billa 2, who, in a short period of less than a fortnight, has brought in the freshness, energy and vigour required for this project," Ajith said.

In a statement, Sunir Kheterpal, CEO–IN Entertainment, said, "With Chakri Toleti coming on board to helm the directorial reigns of Billa 2, pre-production work has gathered steam. We are currently meeting with key technicians and holding auditions for the remaining cast. We plan to commence principal photography for the film in the first week of May."