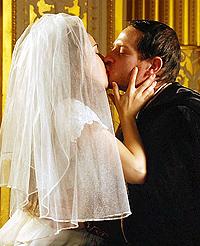 This is the season for every community and even profession, to feel offended because of the way they are portrayed in films. The latest film to feel the heat is Rupesh Paul's English film Saint Dracula 3D. It is being dubbed into Malayalam, Tamil, Telugu and Hindi.
The film was screened at various international film festivals, including Cannes, and was long listed in this year's Oscar race in three categories.
Saint Dracula released on Good Friday, March 29.
The Kerala Catholic Youth Movement (KCYM) wants a ban on the screening of Saint Dracula 3D, saying that it hurts the religious sentiments of Christians.
Joining KCYM is the Youth Front, the youth wing of the Kerala Congress (Mani group). It has been tearing down posters of the film in many places in Kerala where there is a Christian population. What has angered the protesters is that the posters show Dracula kissing a nun.
Director of the film Rupesh Paul, a Catholic and a strong believer, says, "Saint Dracula is a pure love story and it is not about sexual starvation in convents."
He continues, "It's due to ignorance and lack of historical knowledge that people are clamouring for a ban. The character of Dracula depicted in my movie is not Bram Stoker's fictional Dracula, but the real historical Dracula who lived under the name Vlad 3 in 15th century Romania.
"He was not a vampire or a bloodsucker but a crusader who killed 100,000 Ottoman Turkish Muslims when they tried to invade Europe after the fall of Constantinople. He was promoted and congratulated by Pope Pius 2 for his bold crusades. He is the guy who is remembered as the person who stopped Islam from invading the whole of Europe."
The director says that all these details were deleted from the movie on the suggestions of the censor board and the fear of distributors after what happened to Viswaroopam.
He adds that all these details are included in the book Love Letters and Secret Diaries of Saint Dracula published by Taurus Books and its Malayalam translation by DC Books, on which the film is based.
"Yes, the character Clara, though a nun, makes love with Dracula not because of any sex starvation as somebody alleges. It is the reunion of two souls who were born after 500 years."
The director further says, "The controversial posters are not my shots. I have uploaded some of the uncensored video on YouTube for viewers to check. It was better to ban my movie than cut it like this. The long version of the movie was appreciated by people at film festivals, including at Cannes, but the Indian version is a pathetically censored one. So, no sentiments will be hurt, I can guarantee."